What Was Vin Scully's Net Worth When He Died?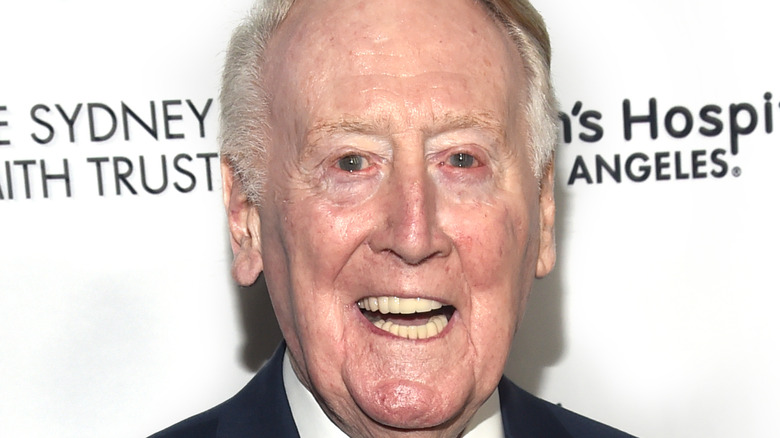 Alberto E. Rodriguez/Getty Images
Vin Scully was most known as the Dodgers' lead broadcaster for more than six decades — the longest tenure for any major sports announcer — before his retirement in 2016. Before each Dodgers game began, fans always heard the announcer exclaim the five most awaited words: "It's time for Dodger baseball!"
Scully was born on November 29, 1927, in Brooklyn, New York, and gained interest in baseball at 8 years old. He studied journalism and broadcasting before landing a job covering college football games for CBS Radio Network. According to Dodger Blue, Scully became known in the sports broadcasting world in the 1950s when he became the youngest broadcaster to call the World Series at 25 years old. Scully made a mark as one of the most beloved broadcasters for his talent for storytelling. In 2016, he described how he approached his job by saying, "I guess it's kind of a running commentary with an imaginary friend" (via the Los Angeles Times).
Vin Scully's death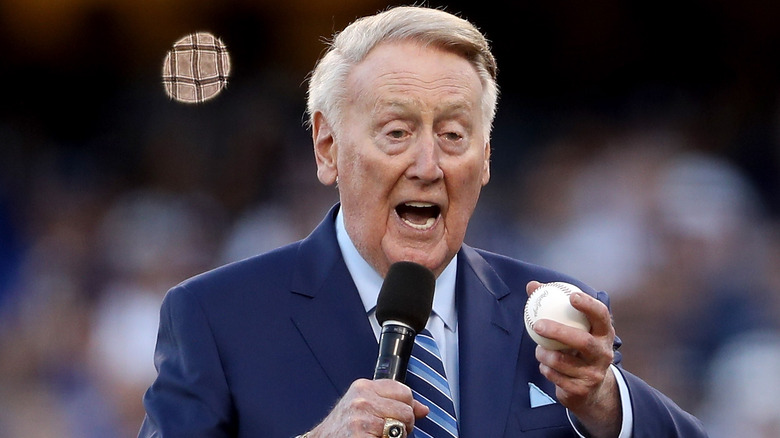 Christian Petersen/Getty Images
After 67 years of serving as the Dodgers' lead broadcaster, Vin Scully did his final broadcast in 2016 at the age of 88. During that time, many shared their thoughts about how great Scully was, not only in his job but also as a person. He had his own unique style of commentating and became the voice of Los Angeles. Dodgers director for digital print and content, Jon Weisman, told MLB, that Scully was part of the Dodgers. Throughout his career, Scully has been honored with numerous awards, including the ESPY Icon Award, the Sports Lifetime Achievement Award, and the Presidential Medal of Freedom, just to name a few.
On August 2, 2022, the Los Angeles Dodgers shared a tweet announcing the death of Scully at 94 years old. The president and co-owner of the Dodgers, Stan Kasten, described Scully as "a giant of a man, not only as a broadcaster, but as a humanitarian." No cause of death was shared with the tweet.
Vin Scully's net worth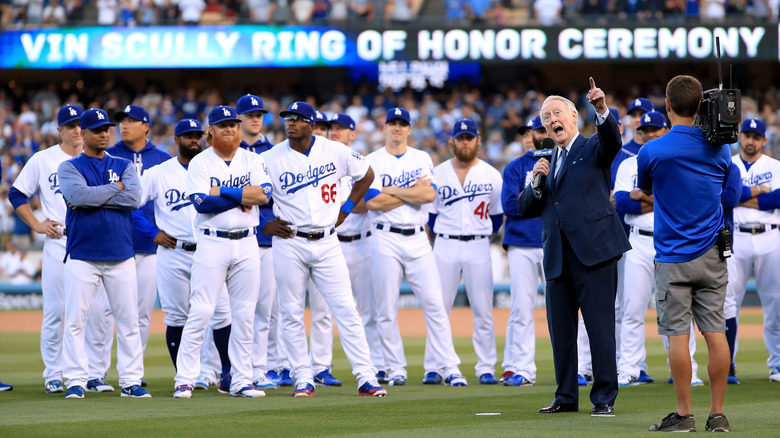 Harry How/Getty Images
As reported by Celebrity Net Worth, Vin Scully's first contract with the Dodgers in 1949 paid him $100 weekly during the baseball season that lasted for about 30 weeks. The contract, which was sold in an auction, also showed that Scully requested a pay increase to $6,500 for the 1951 season and $7,500 for the 1952 season. From 1990 until 2008, he was reportedly making between $1 million to $1.5 million per year, and his salary doubled from 2008 until his retirement to $3 million per year. Furthermore, Scully had other contracts with networks, such as Fox and NBC, throughout the years.
As his popularity increased, Scully was given more opportunities, including appearances in TV shows, movies, and sports video games. The report also noted that Scully purchased a property in an exclusive community in Hidden Hills, California for $1.587 million in 2001, which is roughly $2.656 million in today's money. Scully's net worth at the time of his death was reported to be $25 million.