How Do You Score A Gravesite On A Golf Course?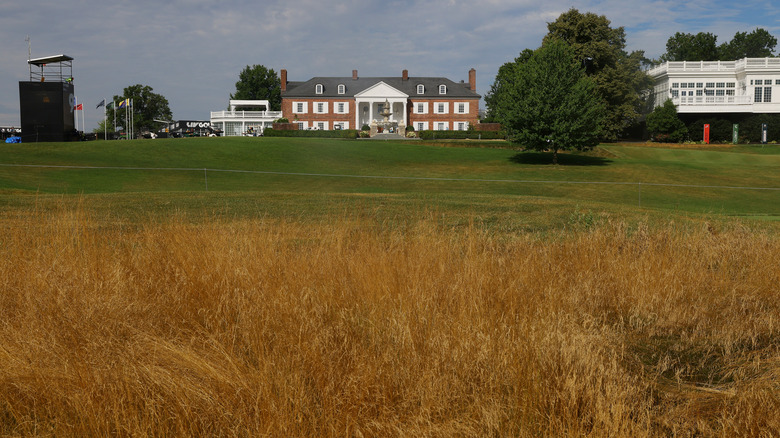 Mike Stobe/liv Golf/Getty Images
Insider reports that Ivana Trump, the ex-wife of former President Donald Trump, has been buried at Trump National Golf Club in Bedminster, New Jersey. According to ABC News, the socialite died in July 2022 after a fall in her Upper East Side apartment. Per CNN, the cause of death was "blunt impact injuries" to her torso. She was 73 years old. Now, Ivana's final resting place is raising eyebrows; she has been buried near the first hole of her former husband's golf course. The Guardian writes that Trump may have done this to receive a tax break as New Jersey law indicates that land used for cemetery purposes is exempt from all taxes.
A 2012 article from NPR explains that Trump himself wants to be buried at his Bedminster golf course. He had previously told Page Six ​​"It's never something you like to think about, but it makes sense," Trump added, "This is such beautiful land, and Bedminster is one of the richest places in the country." Insider notes that he wanted to build a mausoleum for himself but then opted to create a large cemetery on the land.
However, Trump later decided on a 10-plot cemetery for his family along with a 284-plot cemetery (per The Washington Post). Nevertheless, Ivana Trump is the first person to be buried at Trump's golf course (via Insider). GolfPass states that golf courses and cemeteries are more similar than one might believe. In fact, golf courses and cemeteries are likely to intersect.
Golf courses are usually built near cemeteries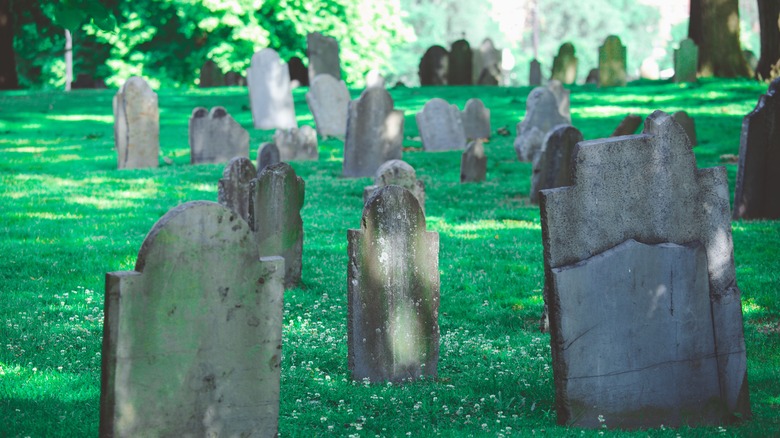 2p2play/Shutterstock
According to GolfPass, several golf courses in the United States and around the world are situated in or next to old cemeteries. This includes the Bellerive Country Club in St. Louis Missouri, the Darby Creek Golf Course in Ohio, and many more. Reports indicate that each respective golf course maintains these cemeteries, which date back to the 1800s. Although it's unknown why these golf courses were built this way, GolfPass notes that in some instances, such as Lincoln Park Golf Course in San Francisco, the golf course was built on top of an old cemetery. However, there is some controversy when it comes to these actions.
Vice reported that 126 Native Americans are buried in unmarked graves on a golf course in South Dakota. They had all been patients at the Hiawatha Indian Insane Asylum, an allegedly abusive institution for indigenous peoples. That being said, Ione Quigley from the Rosebud Sioux Tribe stated that they were attempting to "get these relatives home to where they belong." Per The Guardian, 40 slave graves were found at a Tallahassee golf course in Florida. Upon their discovery, Delaitre Hollinger from the NAACP stated, "They deserve much better than this."
The publication noted that the remains would not be exhumed; instead, officials wanted to build a memorial. In a 2006 article from GolfStyles titled "Stories from the Grave," author Patrick Jones writes that this is a common phenomenon in the South, especially in the Carolinas. The Bloody Point golf course in Daufuskie Island, South Carolina also has a slave cemetery.
Golf courses are a popular place to spread ashes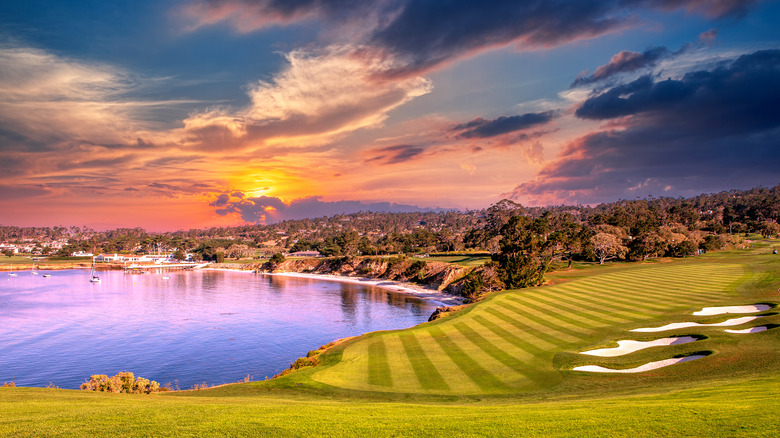 Isogood_patrick/Shutterstock
Although getting buried at a golf course is not common, GolfStyles states that it is a final resting place for many who have been cremated. Phoenix Garden Memorials writes that this tradition was started by Charles Beach in 1937. Beach, per the Wall Street Journal, founded the Olympia Fields Country Club in the south of Chicago. When he died, his family spread his cremated remains on the club's four golf courses. GolfStyles cites Pebble Beach Golf Links near Monterey, California as a prime example, saying it's a common occurrence for security guards to find people scattering ashes along the golf course's striking coastline. 
In a 2021 article in the Los Angeles Times, writer Hayes Jackson describes how he smuggled his father's remains inside of the Augusta National Masters and onto the Pebble Beach golf course to scatter some of his ashes. Perfect Memorials reports that this, of course, is illegal. One must ask permission before scattering cremated remains on private property, national parks, and more. However, The Living Urn notes that golf courses are not usually opposed to allowing one to scatter ashes on their grounds if permission is asked. 
That being said, an opinion letter in the Reno Gazette-Journal suggests combining golf courses and cemeteries to save water and land. Similarly, The Press-Enterprise reported that in 2019, the National Cemetery Administration had purchased the General Old Golf Course in Riverside, California. The golf course will stay open for the next few years until the Riverside National Cemetery takes over the land for further burials.