Inside The Relationship Between Bill Russell And Muhammad Ali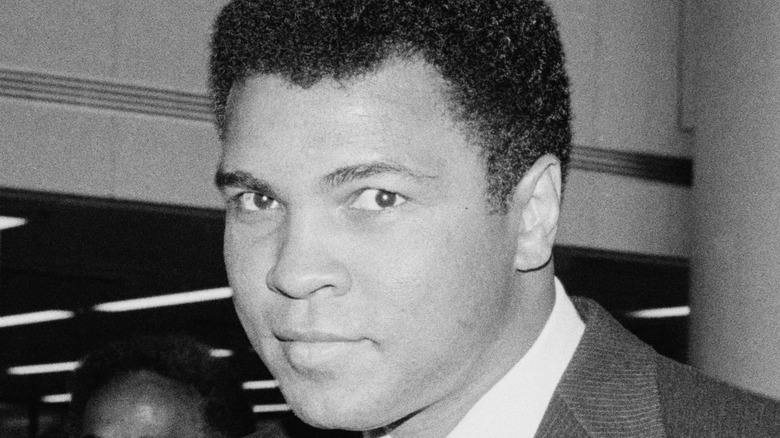 P. Shirley/Getty Images
If you do not know who Muhammad Ali is, you have at least likely seen the iconic photo of a boxer standing over a knocked out opponent at his feet. The highly-revered photo occurred during a 1965 match between Muhammad Ali and Sonny Liston in which Ali knocked him out just one minute and 42 seconds into the match. It happened so quickly that onlookers were unsure of what punch actually did the damage.
Ali was a prominent public figure before the 1965 fight and remained as such for decades before his death in 2016. He crossed paths with countless household names like The Beatles and Malcolm X. His involvement with the latter and conversion to Islam made him a polarizing figure, especially during the Vietnam War era, during which he avoided the draft. In doing so, his heavyweight title was taken away from him (per AAREG). However, not everyone harbored negative feelings toward Ali, including some of his peers in the world of sports.
Muhammad Ali met with prominent black athletes in 1967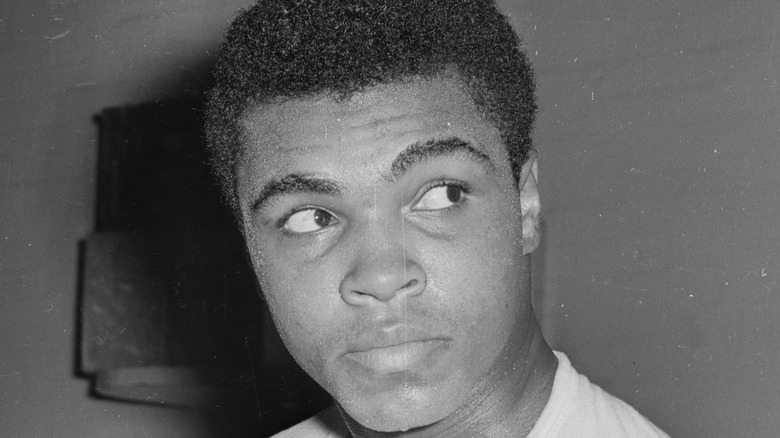 Norman Quicke/Getty Images
Amid the controversy surrounding Muhammad Ali, a group of prominent African American athletes from multiple sports met in Cleveland, Ohio. This group included NFL player Jim Brown, Lew Alcindor (who later changed his name to Kareen Abdul-Jabbar), Bill Russell, and Ali himself. The goals of this meeting — referred to as The Cleveland Summit — have been somewhat misreported, as explained by Jonathan Eig of Andscape. Eig explains that Brown worked with Main Bout, a company that owned closed-circuit television rights for Ali's boxing matches. Brown wanted the group of black athletes to persuade Ali to get back in the ring. Financial gains from the matches would go to those at the meeting. An overarching goal for Brown was also "black economic empowerment," as stated by Eig. However, the media took the meeting as a message of support for Ali's draft decision.
Regardless, such a goal aligned well with Ali and those present at The Cleveland Summit. It was also not the only time that Ali crossed paths with fellow athletes who doubled as activists, including Russell.
Bill Russell was a civil rights activist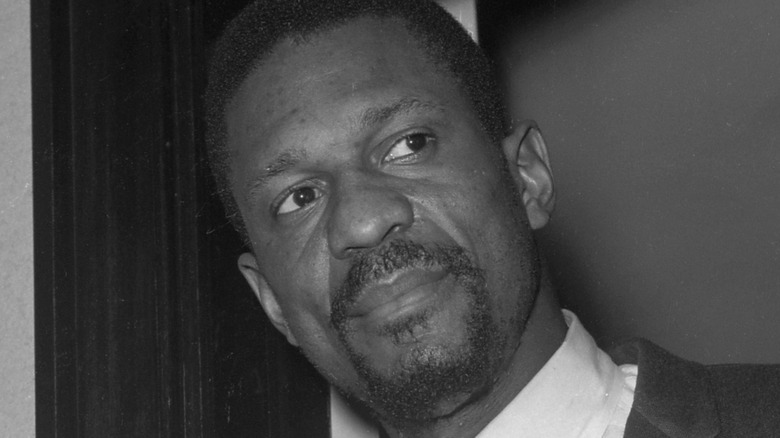 Icon And Image/Getty Images
Bill Russell played in the NBA for 13 years and won a gold medal for basketball in 1956. Off the court, he made his beliefs known just like Muhammad Ali did outside of the ring. Russell led protests during the 1960s and attended the March on Washington led by Dr. Martin Luther King, Jr. in 1967. Given the conversations surrounding Ali's conversion to Islam when the Cleveland Summit occurred, Russell shed light on Ali as a person, stating "[Ali] has something very few people I know possess. He has an absolute and sincere faith" (per Men of Change).
Aside from speaking with Ali at The Cleveland Summit, the two met at a coffee shop in Cleveland. A documentary on Russell which aired on ESPN (posted on YouTube), reveals that Russell gave Ali pointers on how to conduct himself as a black athlete. The documentary shows Russell's desire to not conform to the opinions of others, a sentiment that Ali clearly held as well. This makes Russell an obvious choice for the Muhammad Ali Legacy Award, of which he was a recipient in 2016, further cementing his contributions to civil rights activism and athletic achievements.