The Real Story Behind Farrah Fawcett's Iconic Red Swimsuit Poster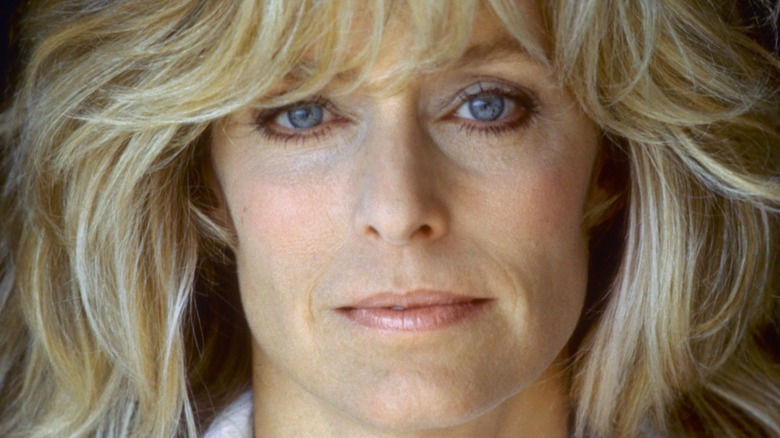 Michael Ochs Archives/Getty Images
We may receive a commission on purchases made from links.
In early spring of 1976, Ted Trikilis — then head of Pro Arts posters — was working on his farm alongside his neighbor's son, Pat Partridge (via Scene). Young Partridge, being of a certain age, fancied himself a certain model he'd been seeing on TV commercials and in fashion magazines. Knowing that Trikilis made posters of famous people like the Fonz, Partridge suggested that Trikilis make a poster of his new muse, Farrah Fawcet. Bemused by the fact that teenage boys were buying fashion magazines to gawk at some model, Trikilis followed his instincts and reached out to Fawcett's people. The decision ended up being a boon for both his business and the rising star.
In early '76, Fawcett was indeed an up-and-coming starlet. Spending the early 1970s as the fresh-faced "Noxzema Girl" (via Best Classic Bands) as well as several guest appearances in popular TV shows, she hit the big time in 1974, starring in a few episodes of "The Six Million Dollar Man." Not only did Fawcett catch young Pat Partridge's eye, but she also got the attention of Lee Majors, the star of "The Six Million Dollar Man" himself.
The poster that launched a thousand smiles
Ted Trikilis, meanwhile, after looking into exactly who this blonde bombshell that had captured the country's attention was, reached out to Farrah Fawcett's then-agent Rick Hersh (via Scene). Pitching the idea of featuring his client on a poster of her own, Hersh relayed the proposal to Fawcett, who, according to Scene, felt the idea was "cute" and agreed. As the actress stated in a 1977 interview with The Washington Post, "The reason I decided to do a poster was, well, if you don't sign a deal to do one, somebody does one anyway, and then you get nothing." Her agreement came with certain terms, however. According to Biography, Fawcett retained control over the images due to her displeasure with past experiences with certain photographers. This time around, Fawcett brought her own photographer to the shoot, freelancer Bruce McBroom.
The shoot for the new poster, held at Fawcett's Los Angeles mansion — which she owned with her then-husband Lee Majors — wasn't without its hitches. Pro Arts wanted the actress to wear a bikini and act seductive. Her reaction? As she told The Washington Post in '77, "They wanted me in a bikini. I said no. Then they wanted me looking out from behind a tree, you know, acting seductive. I said, 'No, that's not me.' I wanted to be smiling. Happy." Due to some embarrassment over a childhood scar, the actress took to wearing one-piece bathing suits as a cover-up (via Biography). Fawcett, of course, won out, ditching the bikini idea altogether and opting to go with several different one-piece suits for the shoot.
The Noxzema girl next door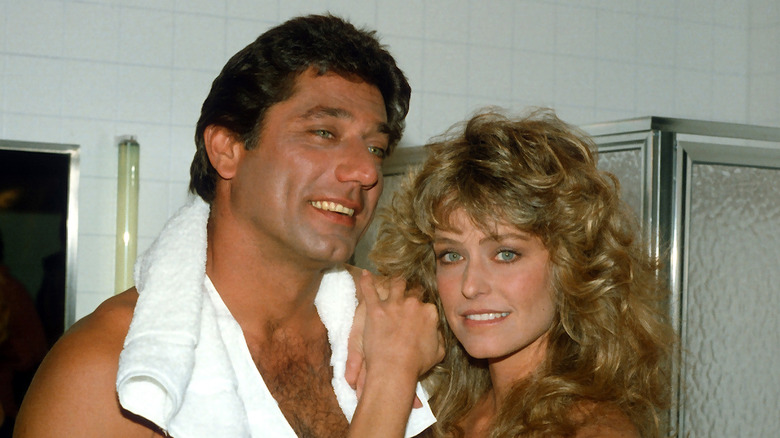 Yvonne Hemsey/Getty Images
The initial tone of the shoot was off for Farrah Fawcett, too. Along with the bikini, Pro Arts wanted the actress in more sultry, seductive poses. "Then they wanted me looking out from behind a tree, you know, acting seductive," she told The Washington Post. "I said, 'No, that's not me.' I wanted to be smiling. Happy.'" Per Biography, after deciding she'd "just do it the way I want," Fawcett also forwent the usual team of stylists, opting not only to style her own hair but also to pick the swimsuits for the shoot right from her own closet.
And while the shoot went well most of the day, photographer Bruce McBroom still felt they hadn't captured the spirit of the actress. Fawcett apparently felt the same way. In an interview with Entertainment Weekly in 2009, McBroom told the actress: "You know how you look best. Is there anything else that you've got that we haven't shot?" Fawcett returned in the now iconic red swimsuit, ready to grace the walls of teenage boys across the globe. According to Biography, the poster would go on to sell a record-shattering 12 million copies, with the actress accruing well over $400,000 in royalties. "There's an old expression, 'A picture's worth a thousand words,'" Ted Trikilis said (per Scene). "And I said, 'A Pro Arts poster is worth 10 thousand.' That's what it came down to. We were the best."
Shortly after the poster's release, Fawcett went on to star in "Charlie's Angels," which earned her $5,000 per episode and cemented her place in pop culture history. As for Trikilis, his role in the creation of the famous poster earned him some fame as well — he notably appeared on "The Regis Philbin Show."