How MGM Resorts Continue To Dominate Almost Every Other Vegas Casino In 2022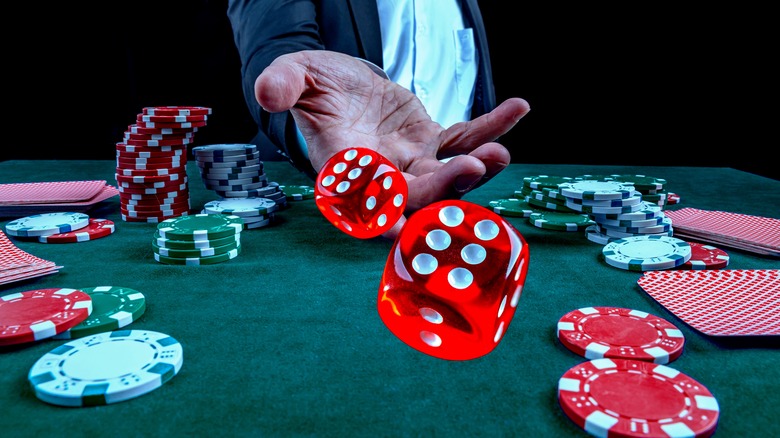 TSViPhoto/Shutterstock
Las Vegas, Nevada is a major tourist destination for travelers from all over the world who love to gamble or to catch chart-topping musicians like Adele perform in residency, according to CNN. As of 2019, in fact, more than 40 million people flocked to the Vegas Strip for all sorts of fun and entertainment, a number which was reportedly cut in half at the onset of the COVID-19 pandemic, as U.S. News notes; much the same as travel and tourism were affected worldwide, based on Brookings' data. When COVID-19 first struck, few people knew what the future might hold for the Las Vegas Strip or how each casino might emerge once the pandemic subsided. As risk lessened, though, Vegas tourism has recovered somewhat despite persistent travel woes and disruptions, as CBS News reports.
On that note, one resort chain, MGM Resorts — with four spots in Vegas: the Bellagio, New York-New York, MGM Grand Las Vegas, and The Signature, per PR Newswire — has emerged as the clear leader in Vegas based on 2022 foot traffic, according to data from Safegraph. Though there's a long way to go before Vegas returns to normal, and with a number of resorts located outside of Vegas, Vegas-based MGM resorts seem to have weathered the COVID-19 pandemic better than others, as Safegraph's numbers, below, reveal. That's possibly due to diverse entertainment offerings at all MGM's Nevada properties and some bold business decisions made by MGM management while the COVID-19 pandemic was at its peak. 
MGM Resorts lead other Vegas casinos in terms of foot traffic
As can be seen in the graph above, in 2022, Vegas MGM Resorts — including Bellagio, New York-New York, MGM Grand Las Vegas, and The Signature — all led other casinos in terms of foot traffic, with visits defined by Safegraph as four minutes or longer. What contributed to this success might be simple square footage: MGM owns a lot of dirt in Vegas, across all four of its properties (via MGM Resorts). On that note, the MGM Grand is the third largest Vegas casino in terms of square footage followed by the Bellagio, according to Las Vegas Then and Now. Considered by some to be MGM's biggest Vegas competition, Caesar's Palace — home to the aforementioned Adele residency (via CNN) — ranks 14th on that list with the third most foot traffic, based on Safegraph data (per Comparably). 
Also according to PR Newswire, MGM Resorts also moved to reopen earlier than other casinos after the onset of the pandemic, which might mean that MGM operations were back up and running and able to handle patrons once travel reopened widely.  More than anything, though, what likely drives Vegas visitors to MGM properties over all others are attractions described by Travel + Leisure as "the dream high-roller Las Vegas experience." Among other offerings, there's a world-renowned wine and cigar program, an art collection, and restaurants run by celebrity chefs like Michael Mina at the MGM Bellagio, among others. Also according to Safegraph data, MGM resorts were busiest in the spring and fall, when Vegas temperatures are at their coolest.