Why Golf Pros Like Phil Mickelson Are Fighting A Ban To Compete In The PGA Tour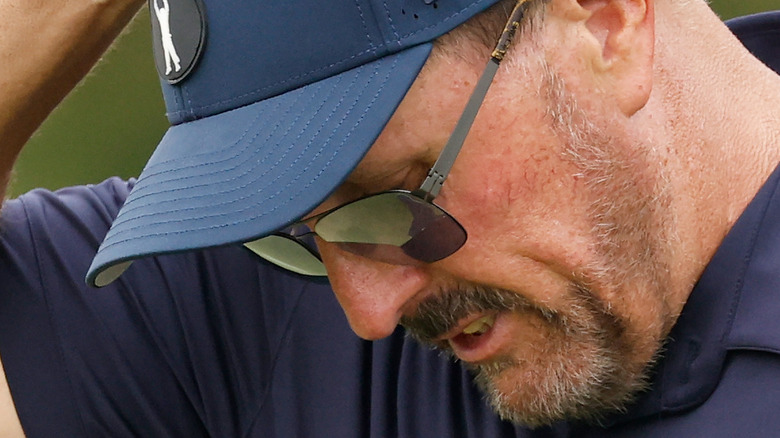 Cliff Hawkins/Getty Images
In June 2022, PGA Tour commissioner Jay Monahan released a statement to the press that the prestigious American golf organizer was suspending 17 of the world's most famous and successful golfers from future PGA tournaments, per CNN. The list included such luminaries as Phil Mickelson, Sergio Garcia, and Dustin Johnson, who PGA Tour says may not compete in any of their events under any criterion or eligibility category.
The news was met with shock by golf fans around the world. Golfers such as Mickelson have been top drawer names in the sport for decades, while Mickelson himself said he deserved a place in future PGA Tour events, as he had a "lifetime membership which he has earned, and worked hard for," according to a statement (via CNN).
The move by PGA Tour came after the launch of the first event organized by LIV Golf, a new rival golf tournament organizer that has managed to poach top PGA golfers to play in their events — for vast sums of money. As The New York Times outlines, the new LIV Golf tournaments offer hitherto unheard of prizes, with $25 million allocated as prize money for each regular-season event, while golfers like Mickelson and Johnson were each given signing-on fees in excess of $150 million dollars. Monahan stated that the golfers' "participation in the Saudi Golf League/LIV Golf event is in violation of our Tournament Regulations ... The same fate holds true for any other players who participate in future Saudi Golf League events in violation of our Regulations" (via CNN).
Mickelson et al.'s antitrust lawsuit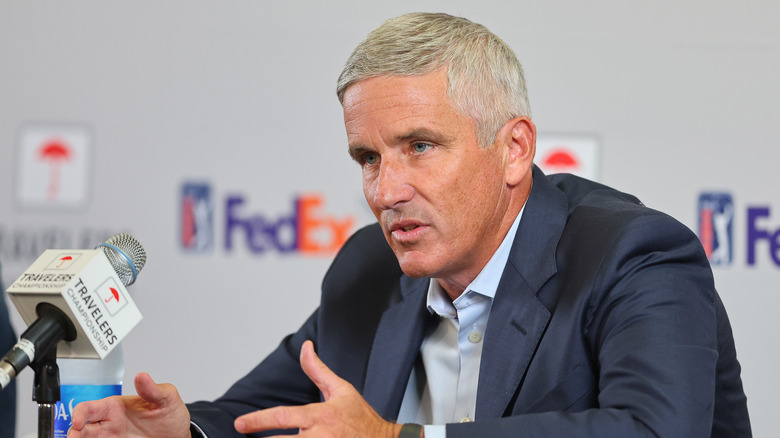 Michael Reaves/Getty Images
In August 2022, a week ahead of the PGA Tour's FedEx Cup Playoffs, Phil Mickelson and 10 other banned golfers responded to the PGA Tour's decision to ostracize them by filing an antitrust lawsuit, according to CNN. The lawsuit, if successful, would essentially enact a temporary restraining order against the Tour, lifting their suspensions in the short term and allowing them to play in the event.
Their complaint claimed that the PGA Tour "has ventured to harm the careers and livelihoods of any golfers ... who have the temerity to defy the Tour and play in tournaments sponsored by the new entrant. The Tour has done so in an intentional and relentless effort to crush nascent competition before it threatens the Tour's monopoly" (via CNN).
The complaint went on to outline how the PGA Tour had threatened golfers with lifetime bans from their tournaments, and that the Tour was attempting to "stifle competition." Responding in a memo, the PGA Tour's commissioner, Jay Monahan (pictured), chastised the golfers in question for trying to rejoin the tour after leaving to join a competitor and argued that reentry would undermine the tournament.
The controversies surrounding LIV Golf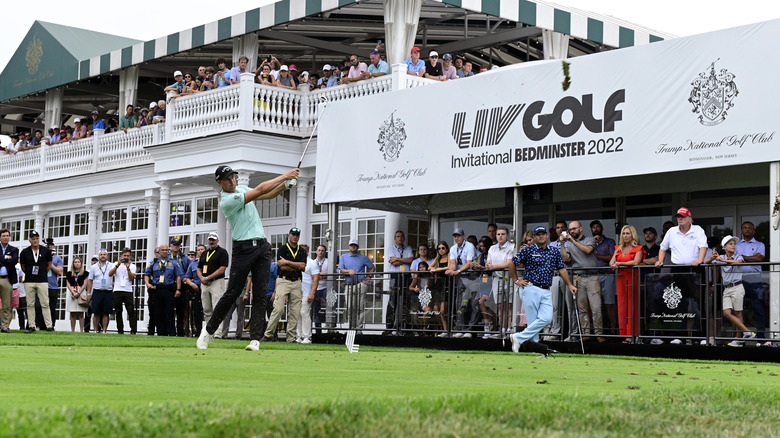 Charles Laberge/liv Golf/Getty Images
But the emergence of the LIV Golf tournaments as a credible rival to the PGA Tour has been made yet more controversial due to the identity of those bankrolling the new organization. As CNN notes, LIV Golf is financed by the Public Investment Fund of Saudi Arabia, a country that has been accused of human rights violations and crimes including the murder of journalist Jamal Khashoggi in 2018.
According to the BBC (posted on YouTube), some of the famous golf names involved have been widely criticized for willingly siding with an organization that various commentators claim is as much a rebranding exercise as it is a chance for Saudi Arabia to diversify their economy away from its dependence on oil, which is what the country claims is the purpose of the Public Investment Fund. Amnesty International has described the establishment of LIV Golf as nothing more than "sportswashing." Veteran golfer Greg Norman, who is one of the figureheads of LIV Golf, stated: "Look, we've all made mistakes and you just want to learn from those mistakes and how you can correct them going forward."
Per the same source, Phil Mickelson ran into controversy when in February 2022 he stated: "They're scary m************* to get involved with ... we know they killed Khashoggi and have a horrible record on human rights. They execute people over there for being gay. Knowing all of this, why would I even consider it?" He went on to justify his joining LIV Golf as a means of reshaping the golfing landscape for the better. He later apologized.