The Truth About Tiger Woods And Phil Mickelson's Relationship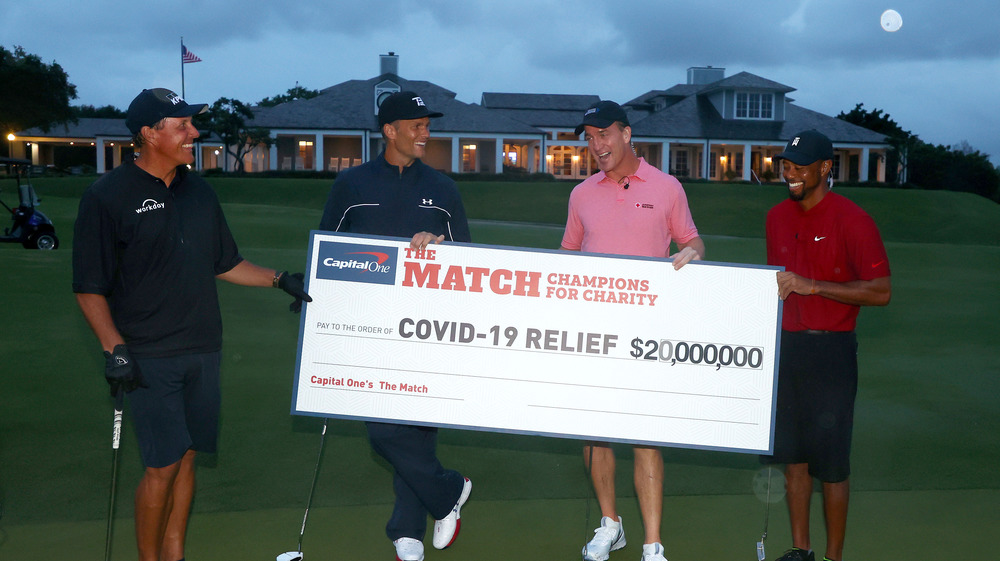 Mike Ehrmann/Getty Images
In May 2020, golf legends Tiger Woods and Phil Mickelson teamed up with NFL icons Peyton Manning and Tom Brady for a charity golf event to raise funds for coronavirus pandemic relief. As CNN reported, the Woods/Manning team came away with the sports victory, but the real winners were those in desperate need of help as COVID-19 swept through the nation. The tournament brought in over $20 million to help with relief efforts. A side bet between Brady and pro golfer Brooks Koepka added another $100,000 to the pot.
The event was a fun, friendly way to raise funds for a pressing crisis threatening the nation, and according to ESPN, it was one that probably wouldn't have come together in years past. While Woods and Mickelson are close buds these days, that hasn't always been the case.
They were actually bitter rivals for years, unwilling to even give the other a "good game" after a match. In 2013, Mickelson came from behind to win the 2013 Open Championship at Muirfield Golf Links in Gullane, Scotland, and Woods was in no mood for sportsmanship. He left the course that day without a word of compliment for his opponent, who ESPN noted had "captured was likely was his finest victory." So how did the two turn it around to end up chumming it with pro football players for charity? Let's take a look into their relationship to see where things turned around.
Mickelson was there for Woods when he was out with a back injury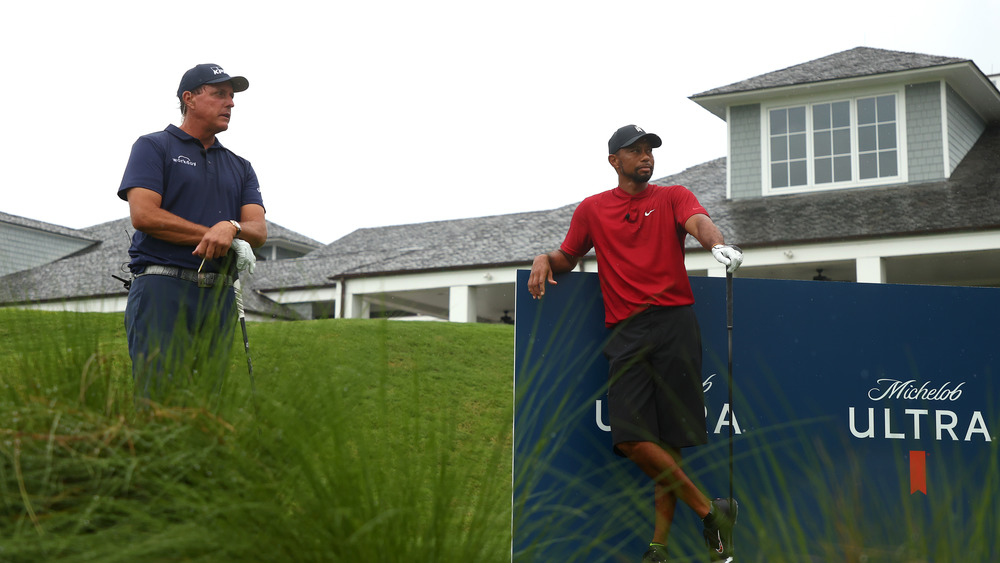 Mike Ehrmann/Getty Images
For a while there, you didn't hear about Tiger Woods, for a number of reasons. First, he was mired in scandal when tabloids went crazy over his infidelity to his now ex-wife Elin Nordegren in 2009. It was pretty bad. Seven women claimed to have had relations with him, and we all kind of understood when Nordegren (allegedly, Sports Illustrated reminds us) came after him and his car with a golf club. Then in 2014 and 2015 he had a series of back surgeries that took him out of the game for months.
It was during this time that Tiger says he and Mickelson began to patch up their rough relationship, according to Sports Rantz. "When I was trying to deal with the nerve [pain] in my back and trying to come back and play and I wasn't very good, he always texted me some very encouraging words," said Woods. "And then on top of that, when you guys all saw how I was chipping so poorly, my nerve and my back was not going very good, and I was flinching a lot, and he offered numerous times to help me out with technique and just talk about philosophy." That was the start of the two patching things up. They would end up becoming all but best buds the following year when a common goal made them work together.
Phil Mickelson's story of how he and Tiger Woods became friends
Ethan Miller/Getty Images
By 2016, Tiger had healed from his surgeries, and Mickelson's texts expressing his sympathy for his one-time bitter opponent's pain had laid the groundwork for the two to build a stronger, more amicable relationship. In March 2018, Mickelson related the change on the Dan Patrick Radio Show (posted on YouTube). "We've gotten pretty close over the last couple of years with the team events and ... we've had a really good relationship the last few years and we've been pulling hard for each other, because we both know and believe that we have the ability to play and compete against these great players." He said that the turning point came when they had to work as a team to achieve a shared objective. "Our relationship turned around in 2016 when we were working together for the Ryder Cup," said Mickelson. "He was an assistant captain. We spent a lot of time on the phone. When we worked together for a common goal, it brought us closer."
In the end, Woods and Mickelson have come to embody all that highfalutin' stuff they say that sports are supposed to teach those who play them: the spirit of competition and teamwork inspiring players to build character, foment leadership, and come together to become better people in general. They've already done good things for the world as a team, instead of bitter rivals, and we're excited to see what else arises from their newfound friendship.