How Much Money Did Richard Branson Earn During The Pandemic?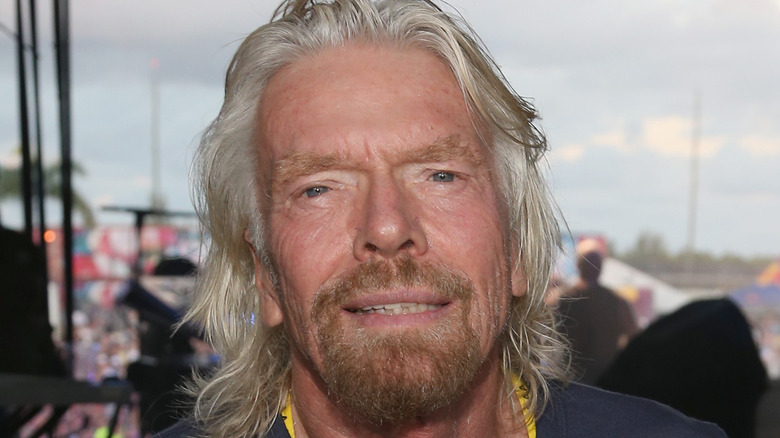 Gary Miller/Getty Images
During the COVID-19 pandemic, some super-rich became richer even as an additional 160 million people globally became poorer. Between March 2020 and November 2021, the wealth of the world's top 10 billionaires skyrocketed from $700 billion to $1.5 trillion, BBC reports. Between March 2020 and March 2021, a new billionaire was created every 17 hours (via Forbes). Pharmaceutical companies, tech billionaires like Larry Page, and e-commerce giants raked in record profits thanks to the ripple effects of coronavirus.
However, not every billionaire was as lucky. Sir Richard Branson, the founder of the Virgin Group, was amongst the richest who felt the pressure of the pandemic and saw his wealth decline. Virgin Atlantic, Branson's flagship carrier, lost $659 million in 2020 (via The Wall Street Journal), processed $810 million in refunds, closed its base at London's Gatwick airport, and filed for bankruptcy in the U.S. as the worst global health crisis of the century destroyed the aviation sector worldwide.
Branson's Net Worth Soared Despite A Struggling Travel Portfolio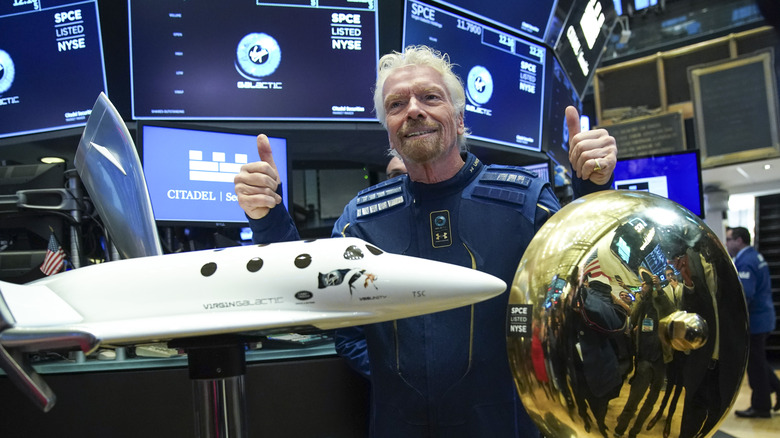 Drew Angerer/Getty Images
After the global travel restrictions suspended Virgin Atlantic commercial international flights, Branson asked his staff of  8,571 to take eight weeks' unpaid leave (per Mirror) to help prop up the airline. After an uproar in the British parliament, he announced a $250 million rescue package (via Forbes). According to Bloomberg, he later sold $300 million of stock in Virgin Galactic –- his space tourism venture –- to ward off the COVID-19 shock.
On February 19, 2020, Branson had an estimated net worth of $7.56 billion, which fell to $4.65 billion on June 21, based on Bloomberg estimates. "We were in the cruise business. In the airline business. In the fitness club's business. In the hotels business," Branson told Traveller. "I thought I'd been quite smart and diversifying everything. But I had to sell 85% of my shares in Virgin Galactic to keep everything on track." Despite contributing a part of his fortune to keep the airline afloat, the savvy businessman's net worth reached $8.04 billion in February 2021, per Bloomberg.
Can Voyage Into Space Make Him A Multibillionaire?
The COVID-19 crisis may have wiped out his fortune to some extent, but Branson chairs the Virgin Group, which, according to Bloomberg, earns $22 billion in revenue annually -– 2020 was no exception. He makes most of his billions (As of August 2022, Branson's net worth was $5.70 billion) from dividends and asset sales ($3 billion), 75% stake in Virgin Orbit, 51% stake in Virgin Atlantic, 13% stake in Virgin Money, and 11.9% stake in Virgin Galactic.
According to the International Air Transport Association, global air traffic is not expected to recover from the COVID downturn until 2024. Nevertheless, with Branson's Virgin Galactic giving millionaires a chance to go to space for a whopping $450,000, per CNBC, the first person to cross the Atlantic in a hot air balloon and the first to blast off in his spaceship would most likely bounce back from the pandemic crash as Branson becomes a part of an industry expected to collect $300 billion in annual revenue in the near future, according to CNN.