Legal Expert Reveals Why Alex Jones Is Unlikely To Be Charged With Perjury - Exclusive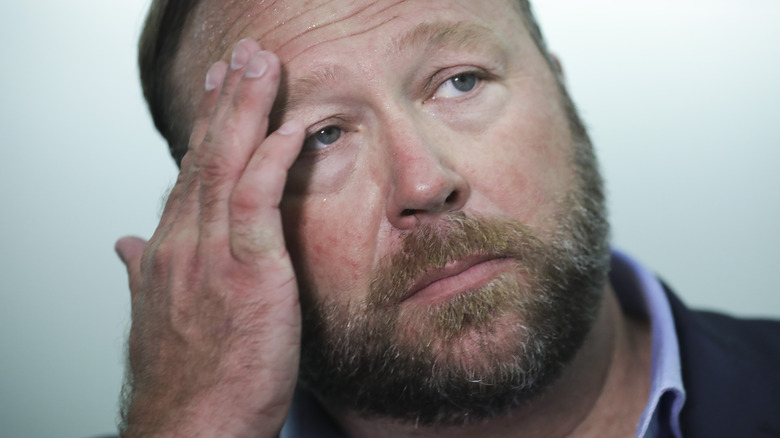 Drew Angerer/Getty Images
During the final day of testimony in the trial of conservative media pundit Alex Jones — convicted of defamation for disseminating misinformation via his platforms that the 2012 Sandy Hook school shooting in Newtown, Connecticut, never happened — lawyers for the plaintiffs revealed to Jones on the stand that defense attorneys for the well-known radio talk show host and conspiracy theorist gave the prosecution two years' worth of cell phone data by mistake. That data proved Jones knew more about the content of his programs referencing Sandy Hook than he had previously testified under oath (via Axios).
Those court proceedings seek to determine how much Jones is liable to pay the parents of children killed at Sandy Hook per his defamation conviction. As lawyers for the plaintiffs told Jones on the stand, the cell phone revelation puts Jones at risk of perjury charges. We spoke with Los Angeles criminal defense attorney Joshua Ritter, a partner with Werksman Jackson & Quinn LLP, and a former Los Angeles County deputy district attorney, to find out how likely that is to happen.
Could Jones' defense team bear some responsibility?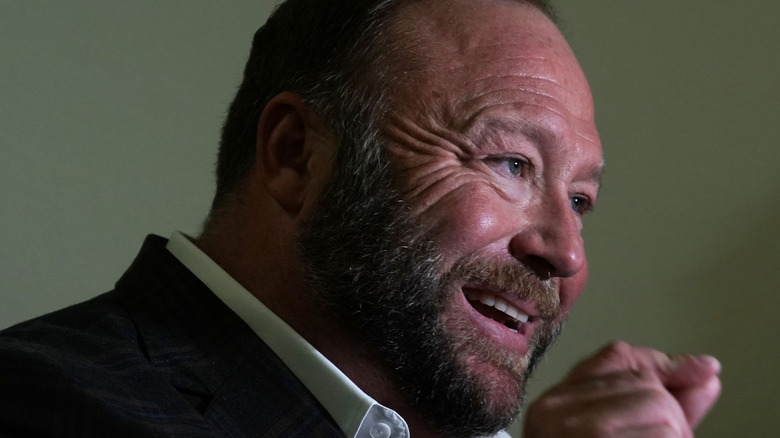 Alex Wong/Getty Images
If, in fact, the cell phone data referenced in the Alex Jones case was supplied to the prosecution by mistake, and Jones was to be subsequently charged and convicted for perjury, does Jones have legal recourse to hold his defense attorneys liable for their error? According to Fort Worth, Texas-based law firm Varghese Summersett PLLC, there are two types of perjury: perjury, or lying under oath, and aggravated perjury, meaning any false statement given under oath that could directly affect the outcome of the case.
As L.A. defense attorney Joshua Ritter explains, if Jones' legal team was, in fact, negligent in those text leaks, Jones could have recourse. Speaking exclusively with Grunge, Ritter said, "[H]e could pursue a legal malpractice claim against them. But only if they proved to be actually negligent or intentionally misrepresented him." Also, according to Varghese Summersett PLLC, perjury in Texas is a Class A misdemeanor, punishable by up to a year in the county jail and a $4,000 fine. Aggravated perjury on the other hand is a third-degree felony under federal law, punishable by at least two years in prison or as much as 10 years in jail with a $10,000 fine.
How likely is it Jones will be charged with perjury?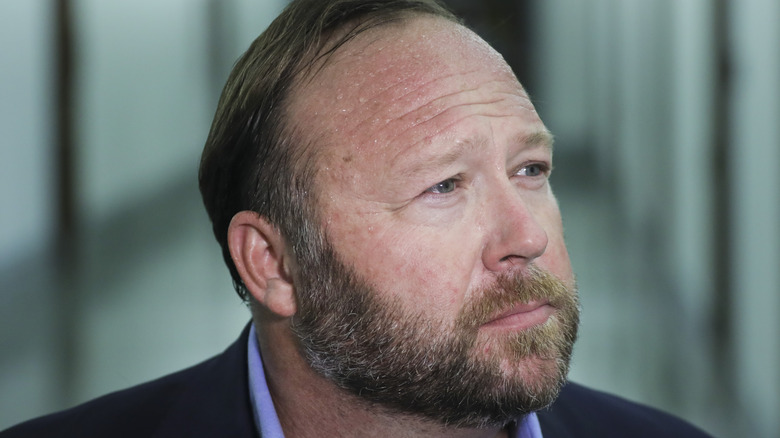 Drew Angerer/Getty Images
As Southern California-based Hartmann Law Firm also explains on their website, perjury charges are rare, and when perjury cases are brought to trial, they're difficult to litigate, according to The Washington Post. Though the cell phone data revelation made to Alex Jones in a Texas courtroom made for high drama on the final day of court proceedings, as defense attorney Mark Bankston representing parents of children killed at Sandy Hook, pressed the controversial talk show host (via Axios): "You testified under oath previously that you personally searched your phone for the phrase 'Sandy Hook' and there were no messages," how likely is it, really, that perjury charges will be brought against him?
According to L.A. defense attorney Joshua Ritter, although the defense in the case asked the judge to fine Jones for lying on the stand, that won't likely happen. "[T]he moment was shocking in court, but as far as leading to actual perjury charges, that is not likely," Ritter said.