How Much Money Alex Jones Has Made Since His First Defamation Trial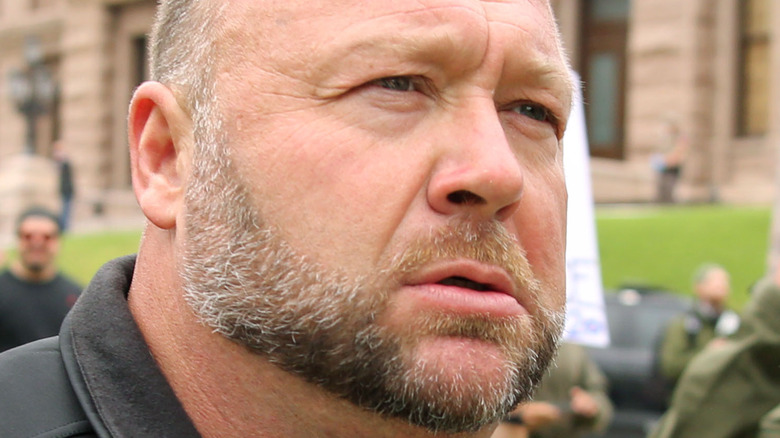 Vic Hinterlang/Shutterstock
Controversial radio personality Alex Jones has already been found liable for damages against the families of the Sandy Hook Elementary School shooting victims (per Newsweek). And pretty soon, he'll probably have to pay up — after all, Jones has already lost four defamation trials against Sandy Hook family members in recent years, per Celebrity Net Worth. How much money has Alex Jones made since his defamation trials began, and how much is his net worth overall?
The New York Times reports that the initial defamation cases were filed in 2018 by families who said Jones' fans were constantly harassing them after he insisted the mass shooting was faked. Some families of the deceased Sandy Hook Elementary School children had to move over and over again because they were repeatedly doxed and harassed by fans of Jones' podcasts and other broadcasts. They sued for defamation for the first time in 2018, and now, years later, the trials are nearly completed.  
Alex Jones has a big audience, and he has previously claimed that he made up to $200,000 on a good day at "Infowars" (per The Washington Post). But after his phone contents were revealed to the court in August 2022, it was discovered that he actually made up to $800,000 in one day during the 2018 CPAC (via Celebrity Net Worth).
He has allegedly made $18 million since the trial started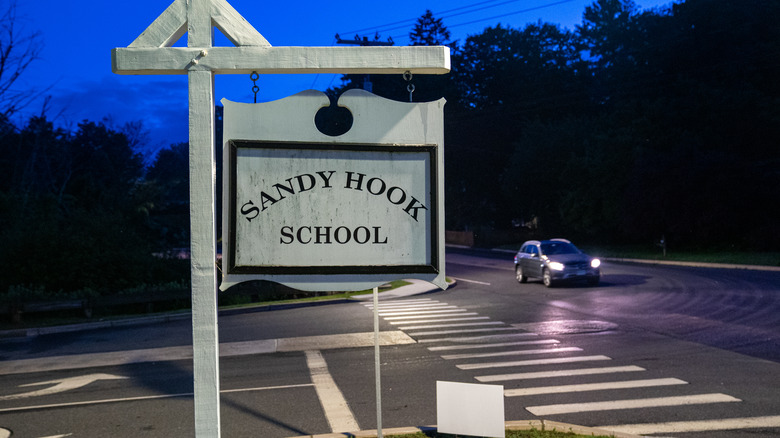 Robert Nickelsberg/Getty Images
Alex Jones' website "Infowars" and his podcast "The Alex Jones Show" make him quite a bit of cash, per Celebrity Net Worth. The outlet claims he has made as much as $100 million on his endeavors since the inception of his media business.
Celebrity Net Worth reports that Jones sells an array of products online, and some of them are highly marked up to increase his profit margins. If Jones makes $200,000 in revenue per day from his businesses, that would equate to $73 million each year. As for Jones' personal income, Celebrity Net Worth says that he made $18 million between 2018, when the trial started, and 2021, when all the income from his numerous businesses was combined.
The Sandy Hook families are seeking $150 million in court. Even if Jones does have to pay out $150 million to the families, he claims there's no way he would have that much money in the first place. Celebrity Net Worth puts his personal equity at $5 million, so he would be financially devastated by such a judgment.
Alex Jones might not actually be bankrupt
Jarretera/Shutterstock
Even after Alex Jones was de-platformed by YouTube and Facebook, his brands generated at least $70 million in 2018 and 2019 (per Celebrity Net Worth). However, according to The New York Times, Jones' company, Free Speech Systems, filed for bankruptcy in 2022. Alex Jones' lawyer has argued that his client shouldn't have to pay more than a single dollar when the verdict arrives (per Newsweek).
In a shocking twist, in August 2022, Jones' lawyers appeared to have accidentally revealed their client's entire cell phone history, which suggests that he has been deceptive (via The New York Times). Apparently, these cell phone records dispute Jones' claims that he is bankrupt. According to The Texas Tribune, the families believe Jones won't stop spreading misinformation about the Sandy Hook Elementary School shooting on his shows until he is appropriately held accountable. As for Jones, he continues to defend himself in court and via his radio show.