Ron DeSantis' Dismissal Of Monkeypox Has Experts Concerned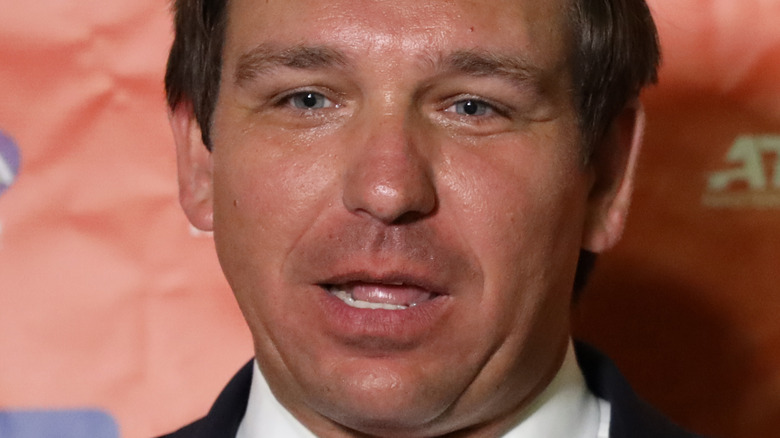 Leonard Zhukovsky/Shutterstock
Much like Florida Governor Ron DeSantis' controversial handling of the COVID-19 pandemic, the Republican state leader has weighed in with a laissez-faire attitude on the U.S. monkeypox viral outbreak, which led the Biden administration in Washington to declare a public health emergency on August 4, 2022 (via CNN). Similar to DeSantis' policies regarding the coronavirus, the governor's words regarding the monkeypox outbreak has public health experts worried, according to Politico.
The World Health Organization (WHO) declared a monkeypox global health emergency in late July 2022, as CNBC reports. Causing a severe rash on the body, among other symptoms, monkeypox is extremely painful, though rarely fatal. It is typically transmitted through skin-to-skin contact, but respiratory transmission is also possible, as Healthline notes. So far, monkeypox outbreaks are largely but not strictly confined to communities of men who have sex with men, according to further reporting from Politico. Monkeypox vaccines exist, but as of August 2022, they were not widely available in the U.S. (per CNBC).
Monkeypox is a public health emergency in several states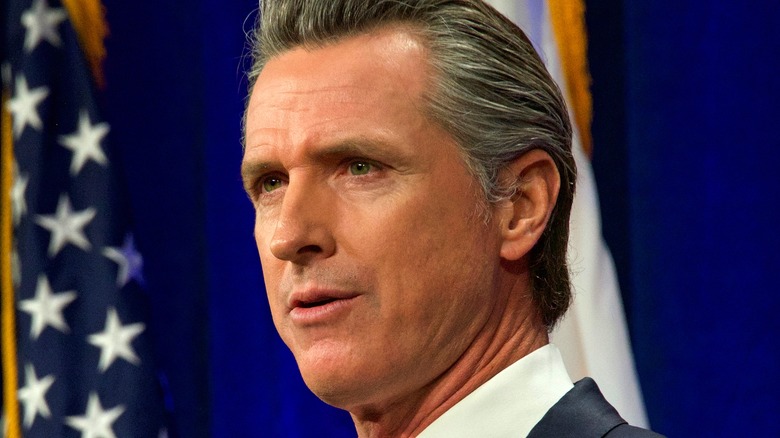 Sheila Fitzgerald/Shutterstock
Prior to Ron DeSantis' comments on monkeypox, departments of public health in several U.S. states declared states of emergency over the outbreak, including California, New York, and Illinois. Several cities — such as San Francisco and New York City — have also declared their own states of emergency due to the virus, according to WebMD. Regarding the move, Democratic California Governor Gavin Newsom (pictured) said in a statement, "California is working urgently across all levels of government to slow the spread of monkeypox."
Governor Newsom went on to add that California would leverage "robust testing, contact tracing, and community partnerships strengthened during the pandemic to ensure that those most at risk are our focus for vaccines, treatment, and outreach." In a press conference, Florida Governor DeSantis also revealed steps his administration will take to safeguard the population in his state, according to The Hill. At the time that DeSantis spoke, there were more than 500 monkeypox cases in his state, according to the Centers for Disease Control and Prevention (CDC).
Florida is 'not doing fear,' DeSantis said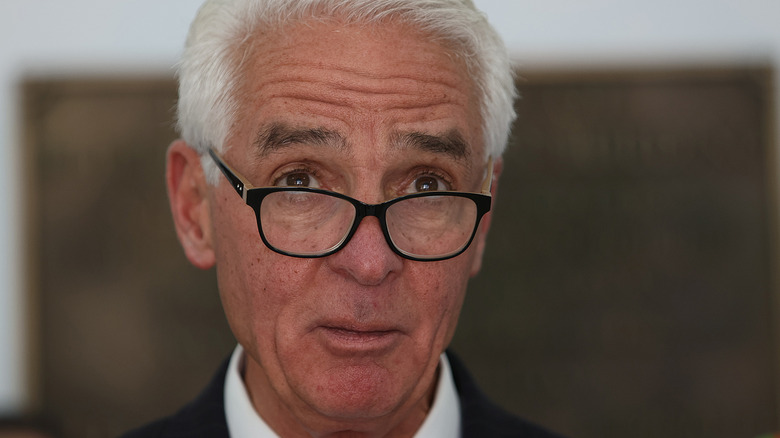 Joe Raedle/Getty Images
In Ron DeSantis' comments regarding his state's response to monkeypox, the governor said (via The Hill), "We are not doing fear." The Florida governor went on to add that he was sick of politicians trying to instill fear among citizens through emergency public health declarations, which he believes are often abused. "We are not going to go out and try to rile people up and try to act like people can't live their lives as they've been normally doing because of something," he added.
Prior to the governor's press conference, Florida surgeon general Joseph A. Ladapo reported adequate amounts of monkeypox vaccine in the state, as Politico notes. In response, Florida Democrat Charlie Crist (pictured), who is running for governor against DeSantis, tweeted, "While Governor DeSantis dismisses monkeypox, at-risk Floridians still need better information, better testing, and access to vaccines for prevention. Get it done!" The monkeypox virus is especially deadly for pregnant women, young children, and the immunosuppressed, as The New York Times notes.