John Wilkes Booth Wasn't The Only Actor In The Family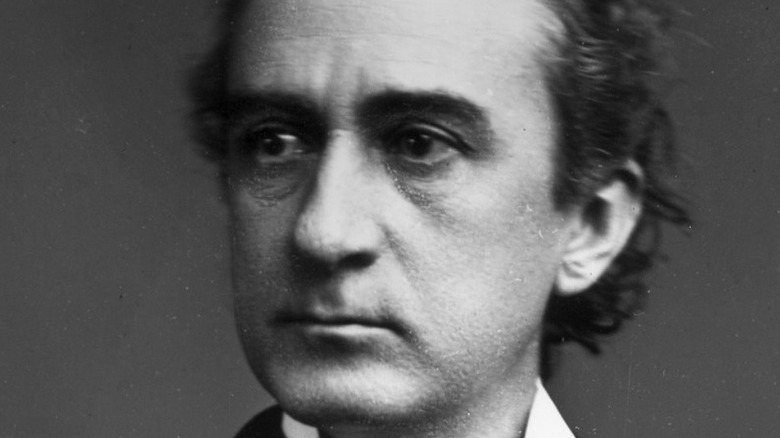 London Stereoscopic Company/Getty
The surname of Booth is infamous in American culture, as it is tied to one of the most significant events in United States history. On April 14, 1865, President Abraham Lincoln was shot by actor John Wilkes Booth; Lincoln died the next day. The Civil War had been raging for four years (per History), and was finally coming to a close, with the Confederacy surrendering to the Union. Booth's sympathies toward the Confederate cause influenced his decision to carry out the first assassination of an American president.
Today, John Wilkes Booth is probably the most well-known of the Booth clan. What many don't know is that he came from a prominent family, and also had a famous sibling. The Booth family was renowned in the acting community as their patriarch, Junius Brutus Booth, was one of the most revered actors of his day. However, John's brother Edwin, five years older than John, was also a celebrated actor, who was famous for a less sinister reason than his kin.
The Booth family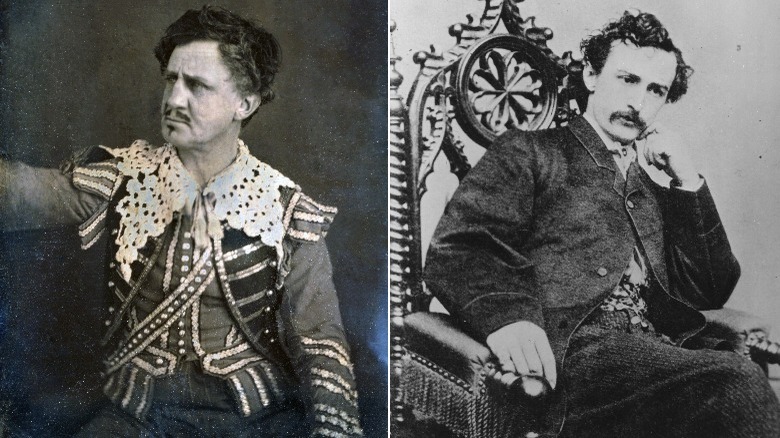 Hulton Archive/Getty & Everett Collection/Shutterstock
According to Britannica, Edwin Thomas Booth was born on November 13, 1833. His father, Junius Brutus Booth, was also a popular actor, considered by some to be the greatest Shakespearean actor of his day. Though his father was a brilliant and talented man, he, like many artists, was a bit of a tortured soul. Junius also struggled with alcoholism, disturbing and dark thoughts, and even attempted to kill himself following the death of one of his sons. As such, Edwin began caring for his father while he was on tour, to ensure that he remained sober whenever he stepped on stage. Edwin was only 12 at the time (per History).
Edwin Booth had nine other siblings. While some did not make it to adulthood, some of those who did left their mark on history as well. His oldest brother, Junius Booth Jr., was also an actor, though he did not cultivate the kind of admiration as his brothers or father. Edwin also had a sister, Asia Booth (Clarke), who wrote biographies of her brother Edwin and her father in an attempt to restore their family legacy after President Lincoln's murder by another brother, John Wilkes.
If you or anyone you know is struggling with addiction issues, help is available. Visit the Substance Abuse and Mental Health Services Administration website or contact SAMHSA's National Helpline at 1-800-662-HELP (4357).
If you or anyone you know is having suicidal thoughts, please call the National Suicide Prevention Lifeline by dialing 988 or by calling 1-800-273-TALK (8255)​.

Acting career and legacy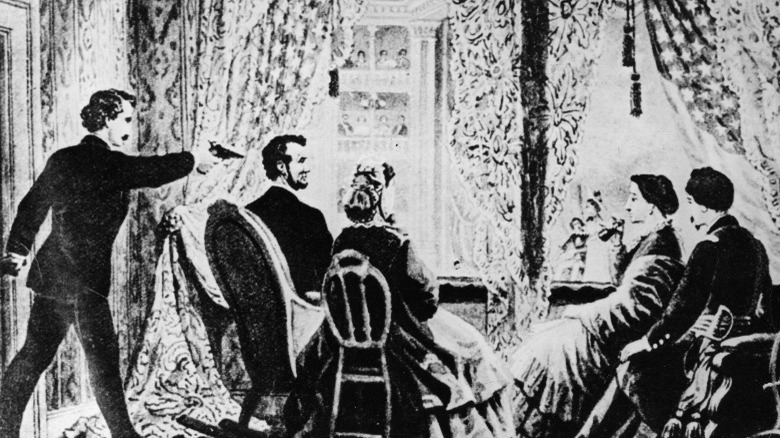 Hulton Archive/Getty
Edwin Booth began his acting career at the age of 15, with his debut in the title role of Shakespeare's "Richard III" when he stepped on stage in his father's stead when Junius fell ill. Edwin appeared on stage with both of his brothers over his career and surpassed them both in popularity. According to the Folger Shakespeare Library, he was one of the 19th century's biggest stars. He made his reputation and career by starring in Shakespearean plays, with one of his most frequent, best-known performances in the title role of "Hamlet." Edwin's acting career ended up taking an abrupt hiatus when his brother killed the President of the United States.
The sibling rivalry between Edwin and John could have been a contributing factor to John's heinous crime. They were competitive in their pursuit of acting jobs, but they viewed politics very differently. While John was a staunch Confederate supporter, Edwin was pro-Union, and performed for President Lincoln on the third anniversary of the president's inauguration (per Medium). In an ironic twist of fate, Edwin also saved the life of Lincoln's son, Robert, who had nearly fallen into the path of an oncoming train after stumbling on the platform.
After Lincoln's assassination the Booth family name and legacy lay in shambles. However, Edwin Booth was able to return to the stage six months after Lincoln's death due to his connections to the Lincoln administration. He lived out the rest of his days performing and managing a theater and club for actors before passing away in 1893.