The Disturbing Details Found In Autopsies Of A Family Murdered At Iowa State Park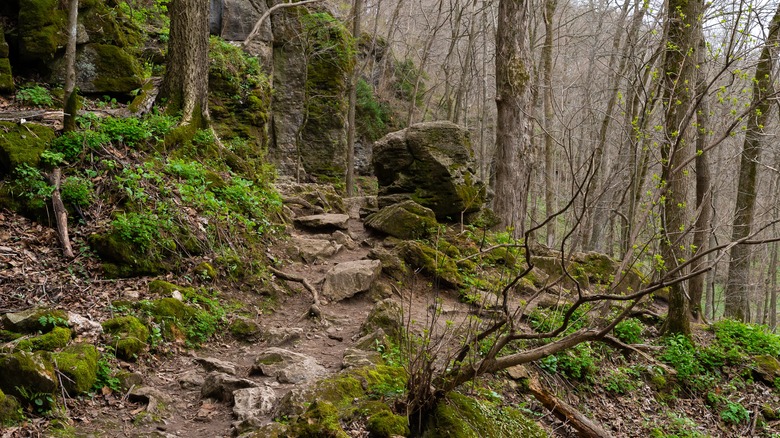 Eddie J. Rodriquez/Shutterstock
On July 22, WKBN reported that three slain bodies, that of two parents and their child, were found in Maquoketa Caves State Park, Iowa. According to CBS News, the victims were later identified by the Iowa Department of Public Safety as Tyler Schmidt, age 42, Sarah Schmidt, also 42, and Lulu Schmidt, age 6, from Cedar Falls, Iowa. Tragically, their bodies were found in a tent and the park was subsequently evacuated. That's when authorities discovered that one person was unaccounted for: 23-year-old Anthony Sherwin. Division assistant director Mitch Mortvedt stated that Sherwin "was known to be armed. That of course heightened our awareness."
Per CNN, Sherwin was later found dead from a self-inflicted gunshot wound. Authorities noted that they believed that he was their prime suspect. AP News writes that Sherwin was from LaVista, Nebraska, and was at the park camping with his parents. There was, however, one survivor of the triple homicide. NBC News states that the Schmidts' 9-year-old son, Arlo (via The Des Moines Register), was uninjured and safe. Authorities did not disclose if he had been in the tent with his parents and sister during the fatal attack.
In a statement released on Facebook, Cedar Falls Mayor Rob Green said he was "devastated" by the murders (per ABC News). Green knew Sarah Schmidt, as she worked at the Cedar Falls Public Library. His statement went on to say, "Please offer some extra grace to the Schmidts' many friends, neighbors, and coworkers as we try to process this horrible tragedy."
The family was shot, stabbed, and strangled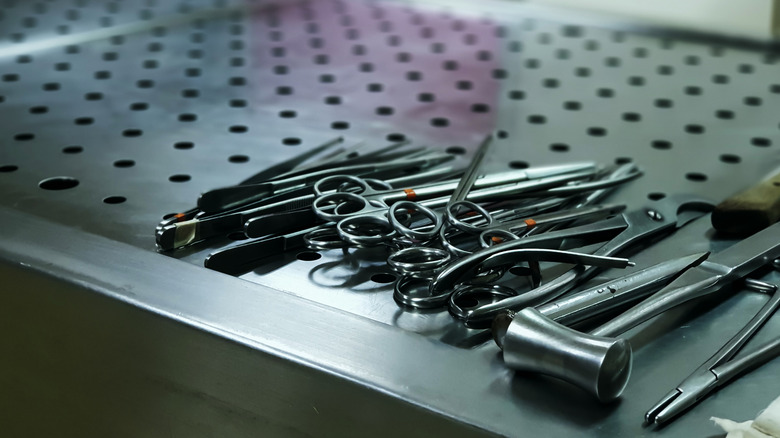 Arpatsara/Shutterstock
According to ABC News, the triple homicide left the local community in shambles. Iowa Governor Kim Reynolds tweeted that she was "horrified" by the murders and was "devastated by the loss of three innocent lives." The Iowa Department of Natural Resources reiterated this sentiment and released a statement that read, "Our long standing tradition of enjoying Iowa's natural wonders was shaken today, but the legacy for the millions of families that recreate at Iowa State Parks will continue." They added, "This heartbreaking incident hits home for the DNR family; not only as people who are passionate about getting folks outside, but as people who regularly camp with our families at these same parks."
Days after the murder, the Schmidts' autopsy results were released by The Iowa Department of Public Safety (via another article from ABC News). The Iowa Office of the State Medical Examiner concluded that Tyler Schmidt died from a gunshot wound and multiple sharp force injuries. Sarah Schmidt also died from multiple sharp force injuries (per NBC News). Their young daughter, Lula Schmidt, was strangled and shot. All three of their deaths have been ruled homicides.
As for Sherwin, ABC News states that his death has been ruled a suicide. Furthermore, the Iowa Department of Public Safety released a statement that said, "the known facts and circumstances, and all evidence collected to this point, substantiate Sherwin was the perpetrator of the homicides and acted alone." However, AP News reports that the investigators failed to reveal why Sherwin attacked the family in their tent in the first place.
The motive for the killings is unknown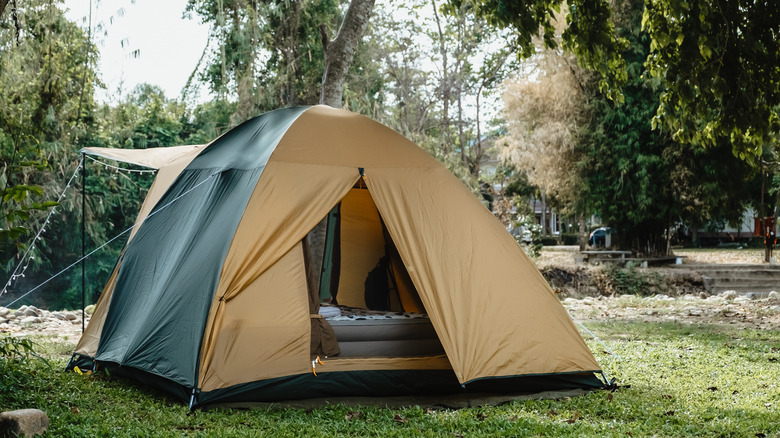 Mut Hardman/Shutterstock
Per CBS News, Sherwin did not have a criminal record and had been living in an apartment with his parents. Moreover, investigators have said that they "have indications as to what the motive was" (via NBC News). They added that they have no plans to release this information. People reports that Sherwin did not have a relationship with the Schmidts prior to the murders. He was, however, camping with his parents only 75 yards away from the Schmidts. On the day of the murders, Sherwin got up at 6:30 a.m. and began to shoot at the Schmidts' tent (per OurQuadCities.com).
Sarah's brother, Adam Morehouse, told OurQuadCities that "All we know is that this was completely random, nobody in either's family knew anybody." He explained, "We didn't know the suspect, the suspect didn't know us. We don't know of any interaction that occurred. It was simply this individual woke up that morning and decided to pick a tent and walk into that tent, where my sister and her family were sleeping, and never got a chance to wake up."
The publication notes that Sherwin's parents, who were also at the campsite, were cooperating with authorities. They are also unaware if their son had communicated with the Schmidts before the attack. Sherwin's mother, Cecilia Sherwin, later told the Papillion Times that "We refuse to believe the news. We are deeply saddened as he (Sherwin) had so much to live for and gave us no indication that anything was wrong."