Disturbing Details About Burt Templet's Relationship To His Estranged Wife Susan Templet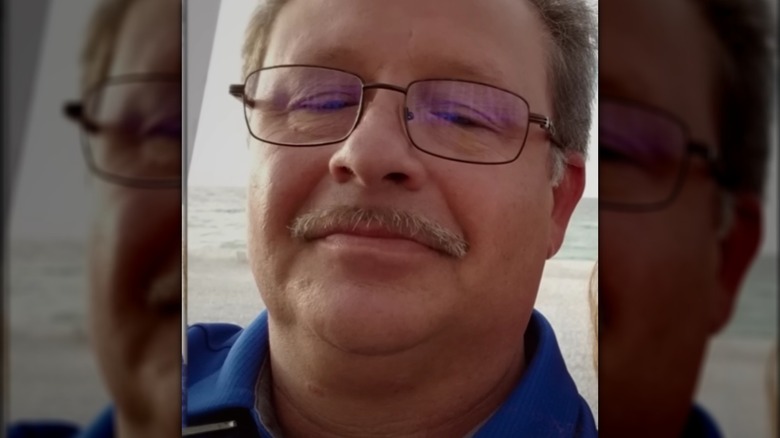 Netflix
After major hits like "Tiger King" and "Making a Murderer," Netflix is preparing to release its latest true crime docuseries on August 9, 2022. Titled "I Just Killed My Dad," the three-part offering covers the shocking murder of Burt Templet, who was shot by his son, Anthony, in 2019. Anthony was just 17 years old at the time of the murder and immediately called the police to confess to the crime.
However, there's much more to the story than the murder itself. According to Insider, Anthony was kidnapped by his father at the age of five and had not seen by his mother or half-sister in over a decade. His half-sister, Natasha, alleged that Burt was abusive towards Anthony during their time together as a family and believes that Anthony lashed out as a form of self-defense.
"My brave brother had to defend himself for the last time against that evil man," she said at the time. However, the police who arrived at the crime scene reported they found no signs of abuse. This has prompted the big question: was Anthony justified in killing his father, or not?

If you or someone you know may be the victim of child abuse, please contact the Childhelp National Child Abuse Hotline at 1-800-4-A-Child (1-800-422-4453) or contact their live chat services.
Some scary evidence supports Anthony
Anthony Templet's half-sister and mother aren't the only people to have accused Burt of violence.The latest allegations could be a boon for Anthony's legal case. According to WAFB 9, Burt's second wife, Susan Templet, filed a protective order against Burt in January 2019. In the filing, she detailed some truly terrifying incidents, with the most recent example claiming that Burt threw a radio and space heater onto the ground in a fit of rage before punching her in the head. Susan Templet also claimed that the month prior, Burt punched her in the face and broke one of her teeth. When she went to wash the blood from her face, Burt reportedly issued numerous verbal threats, such as saying he would "cut her into little pieces."
In addition to going to the police, Susan Templet also took to social media to broadcast the alleged abuse. It was just five months later when Anthony shot his father, claiming that Burt was acting in a similarly violent manner towards him.
If you or someone you know is dealing with domestic abuse, you can call the National Domestic Violence Hotline at 1−800−799−7233. You can also find more information, resources, and support at their website.
But questions still remain
The documents from Susan Templet are more pieces of evidence that help build the case that Burt was violent and controlling. However, Anthony's actions have still faced scrutiny, especially since it did not appear that he had been in an abusive situation at the specific time of the shooting. According to The Radio Times, Anthony said that he and Burt had engaged in a fist fight before he ran to get a gun. However, investigators have expressed skepticism.
"He said his father physically attacked him ... I did not see any bruising or injuries to Anthony," noted a detective in a trailer for the series (via Netflix). Sadly, whether Anthony is innocent or not is only part of the story. Another aspect is how Burt was able to get away with so much of his alleged abuse. For example, the trailer claims that Anthony was kept from attending school — or seeing anyone from the outside world — and that didn't even know his own address or birthday.
It remains to be seen how many of these lingering questions will be addressed by police, Anthony's family, and Anthony himself as the spotlight lands squarely on the shooting and all the years leading up to it.