How Chuck Berry Inspired One Of Bruce Springsteen's Greatest Songs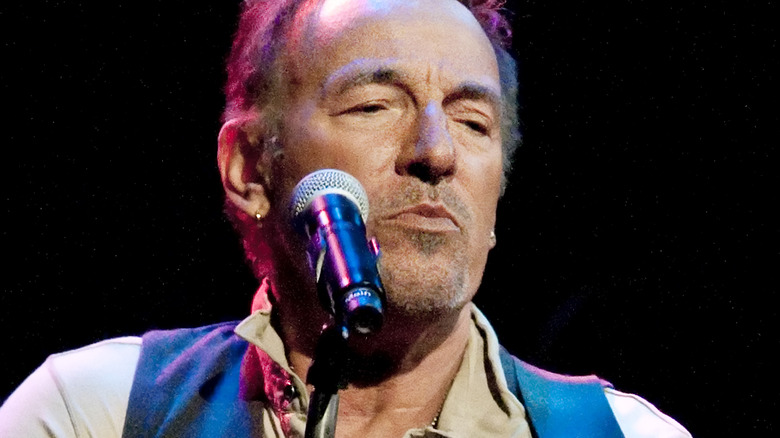 Jack Fordyce/Shutterstock
For as long as most of us have been alive, we've been told that Elvis Presley was the undisputed King of Rock N' Roll. However, there's some contentious dialogue floating around out there that asserts another name as having the real claim to that throne. Chuck Berry was as much a contemporary guitar and music god as anyone else, and plenty of people still point to him as the genre's true King (via Rock and Blues Muse).
Whether or not you agree, there's no denying the man's massive legacy. According to Song Facts, if it hadn't been for Chuck Berry, Bruce Springsteen would have never had the necessary creative fodder to write one of his most iconic bangers. Those aesthetic rudiments that comprised Berry's writing style and general demeanor as a performer and musician are what inspired The Boss to sit down and write "The Promised Land" from 1978's "Darkness on the Edge of Town" (per Discogs). 
The Promised Land was inspired by Chuck Berry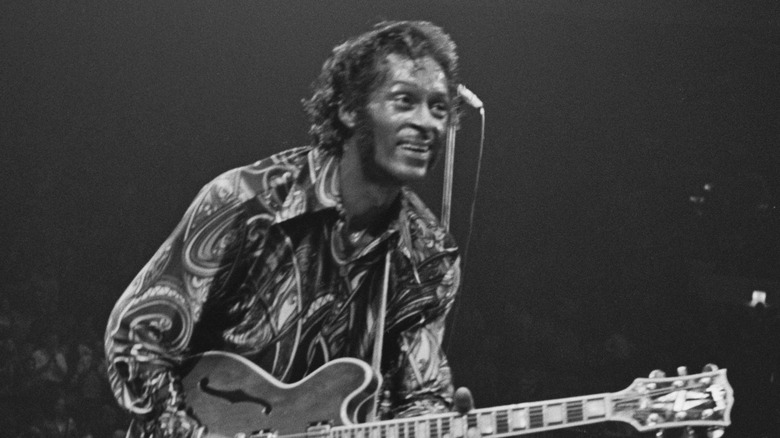 Michael Ochs Archives/Getty Images
If you're a Chuck Berry fan, you probably already know that the late "Johnny B. Goode" singer also had a song called "The Promised Land" (1965). Mr. Berry's sound was jam-packed with all things twangy, groovy, and upbeat, so the delivery of this particular track juxtaposes itself with Springsteen's "Promise Land" in more than a few ways. You can check it out here. At the base level, they're very different songs: Berry's hops and bops while Springsteen's sways and bursts with a deep, momentous force. 
However, as Song Facts reports, both tracks put a finger on the same thematic pulse. They speak of grandiose excursions across the U.S. and lavish dreams of prosperity, but their narratives are accompanied by upset and various pitfalls. It's kind of a sardonic portrait of what we're calling the "promised land" — it's more full of broken promises than anything. 
Why Chuck Berry?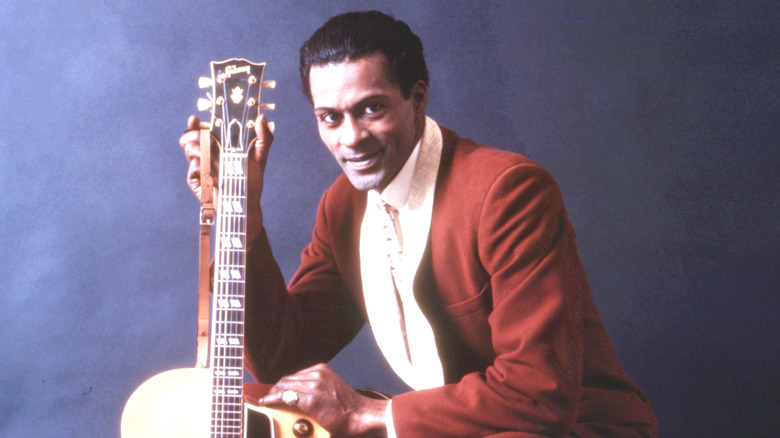 Michael Ochs Archives/Getty Images
Chuck Berry was one man whose music Bruce Springsteen admittedly had a deep and abiding appreciation for while growing up. Multiple times throughout the years, he gestured at his appreciation for Berry's songwriting craft and noted his supreme lyrical attention to detail. The two even performed live together the very first time they met (you can listen to Springsteen recall the experience here).
As far as what it was that compelled Springsteen to sit down and write "The Promised Land," it was simple: He liked the title of Berry's song and wanted to write one with the same name. It was a creative catalyst that may have seemed minute from an outsider's perspective, but that's really all it took for Springsteen to churn out one of his most popular and celebrated tracks. A passage from "Racing in the Street: The Bruce Springsteen Reader," described it as "his song about an American workingman who has grown weary of living in a country that urges you to dream and then leaves 'you nothing but lost and brokenhearted.'"