Gabby Petito's Chilling Appearance In A Sandy Hook Tribute Video Holds New Meaning Now
The following article includes allegations of domestic abuse.
A gun violence awareness video in response to the Sandy Hook Elementary shooting has resurfaced. The video has a chilling appearance by none other than Gabby Petito, the 22-year-old woman killed by her fiancé in 2021, says People. The case made national headlines for several months and caught the imagination of internet sleuths. The media fervor surrounding Petito's story also ignited conversations about the disparity between how missing and murdered people of color and white women are covered, writes The Washington Post.
Gabby Petito was reported missing on September 11, 2021. Earlier that year, Petito had embarked on a months-long road trip across the U.S. with her fiancé Brian Laundrie. Petito's family became concerned when she didn't return home as planned, reports The New York Times. The couple documented their trip through photos and videos posted to social media for several weeks. Though their accounts seemed to tell the story of a romantic romp through National Parks, warning signs, including a police report of domestic abuse, suggested that Petito was not okay.
Laundrie returned home to Florida alone. In mid-September, law enforcement discovered remains thought to be Petito's in Wyoming's Bridger-Teton National Forest, NBC News reports. Soon after returning to Florida, Laundrie died by suicide. In January 2022, the FBI revealed that Laundrie's notebook included claims of responsibility for Petito's death. The new gun violence awareness video now threads Petito's story with another national tragedy.
Gabby Petito appears in a Sandy Hook tribute music video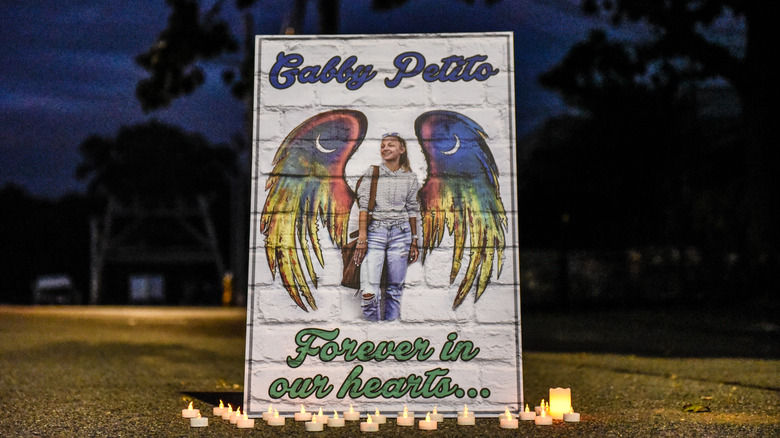 Stephanie Keith/Getty Images
In a sad, strange turn of events, Gabby Petito appears in a tribute video to another national tragedy. In 2014, the singer-songwriter Deb Henson from Long Island, New York, released a song and accompanying video called "Irreplaceable," says People. The song is a response to the 2012 Sandy Hook Elementary School shooting, in which a 20-year-old man killed 20 students and six adults. The horrific events at Sandy Hook are one of the nation's most deadly school shootings, writes Britannica.
Henson's song is a plea to stop gun violence. The song's music video features then-14-year-old Petito holding a sign that reads "I'm Irreplaceable." Now, the video has a chilling new message about domestic abuse. Petito's step brothers and other children also appear in the video. The kids hold up signs with messages such as "Protect us," "I deserve a future," and "No more violence against kids." Deb Henson now looks back at the video with added layers of meaning and tragedy. She told People, "Watching the video now truly breaks my heart, and has had a profound effect on me. It's hard to comprehend how and why [she died]." She added, "I haven't stopped thinking about Gabby since I found out [she had been killed]."
If you or someone you know is dealing with domestic abuse, you can call the National Domestic Violence Hotline at 1−800−799−7233. You can also find more information, resources, and support at their website.
Henson rededicates song, and Petito's family seeks justice
When Deb Henson made the video, Gabby Petito and other neighborhood kids volunteered to help. She remembers the day they put the video together. "Working with Gabby was awesome," she told People. "She was just a sweet girl who wanted to help and be involved." Henson remembers Petito as "full of love for everyone. I think that's why this story has resonated. You can feel her love for life."
Upon hearing the news of Petito's murder, Henson rededicated the song to her. Also, Henson is donating all proceeds from downloads of "Irreplaceable" on iTunes or Spotify to the Gabby Petito Foundation. "It's just ironic that she's in this video," Henson told News 12. "I haven't listened to the song in a while and listening to the lyrics — it's wow because the lyrics are so fitting now. It's almost eerie to us."
On August 8, 2022, Petito's family announced they had filed a wrongful death lawsuit against Utah police. The suit focuses on the police department's inaction during and after the domestic violence report in August 2021, days before her death, reports NBC News. The lawsuit emerged after an independent review of the Utah police's actions found several mistakes. Petito's family is seeking $50 million in damages.
If you or someone you know is dealing with domestic abuse, you can call the National Domestic Violence Hotline at 1−800−799−7233. You can also find more information, resources, and support at their website.