The Unsurprising Way Cypress Hill Got Banned From SNL
Al Pereira/Getty Images
In the early 1990s, rap continued moving away from its comparatively wholesome origins, with edgier acts continuing to emerge from the woodwork. One such act was South Gate, California's Cypress Hill, a group whose classic lineup included rappers Senen "Sen Dog" Reyes and Louis "B-Real" Freese and DJ Lawrence "Muggs" Muggerud. Unlike most contemporaries in that era's rap scene, Cypress Hill was a mainstay at rock festivals such as Lollapalooza, and it can be argued that their wide appeal helped fuel the success of their breakout album, 1993's "Black Sunday." That record, aside from topping the Billboard 200 for two weeks and staying on the album charts for more than a year, also produced would-be classics of the genre such as "Insane in the Brain" and "I Ain't Goin' Out Like That."
With the success of "Black Sunday" turning Cypress Hill into rap superstars (pun sort-of intended), it was inevitable that they would get an invite to appear on "Saturday Night Live" as the show's musical guest. That did happen in the fall of 1993, but that "SNL" appearance turned out to be their first ... and last. And the reason why they were kicked off the late-night show is pretty obvious if you come to think of it.
Cypress Hill was banned because DJ Muggs lit one up on live TV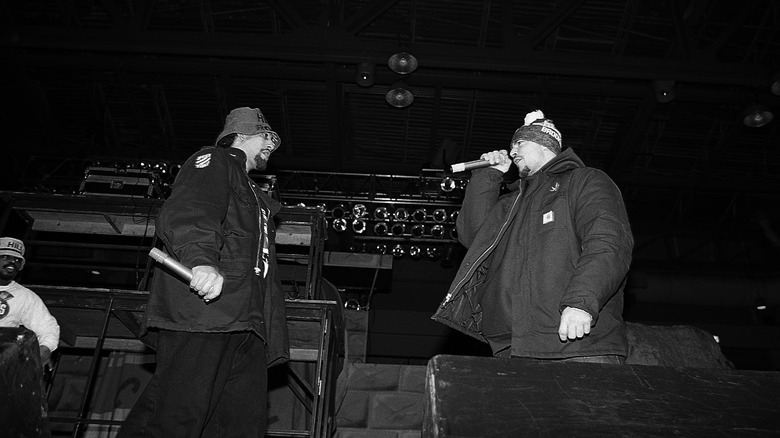 Raymond Boyd/Getty Images
Indeed, this shouldn't be shocking to anybody remotely familiar with Cypress Hill. The group was banned from "Saturday Night Live" after one member was, how shall we say it, caught "eating a sandwich," as Ted Mosby used to put it on "How I Met Your Mother." In plain and simple terms, DJ Muggs lit up a joint as Cypress Hill was performing their second song of the night,"I Ain't Goin' Out Like That," on the late-night program's October 2, 1993, episode, and "SNL" head honcho Lorne Michaels decided that the band would be going out like that ... and never returning to the show.
Speaking to Village Voice about the incident, Cypress Hill's Sen Dog recalled that DJ Muggs smoked a joint onstage as a way of sticking it to everyone who didn't want them engaging in their favorite pastime on air. "I remember 'Saturday Night Live' gave us a green room and said, 'Do whatever you want in here, just don't light up out of here,'" he said, as quoted by Far Out Magazine. "Muggs felt like he needed to make a statement with his performance. It wasn't just the 'Saturday Night Live' people saying he couldn't smoke up on air. It was everyone: our record label, our management, our friends."
Sen Dog went on to explain that the group had seemingly agreed to toe the line; smoking up was fine in the green room, but not onstage. As such, Muggs' decision to light up a joint while they were performing "I Ain't Goin' Out Like That" came as a surprise to his bandmates.
Almost 30 years later, the ban still stands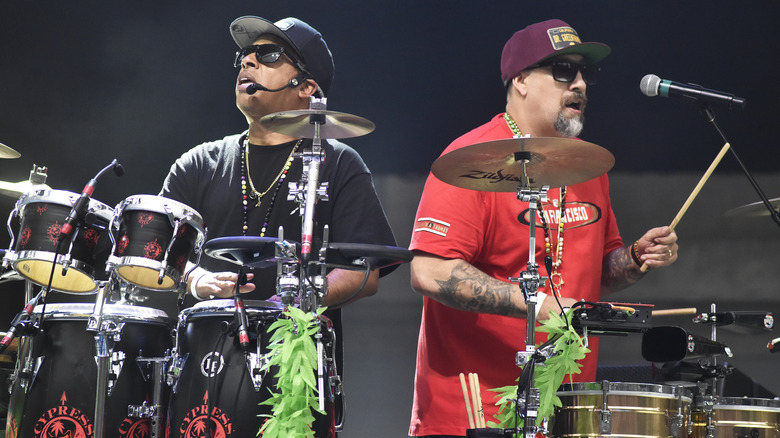 Tim Mosenfelder/Getty Images
In his interview with Village Voice, Sen Dog recalled that DJ Muggs' onstage stunt got Cypress Hill a lot of love at the after-party, though it was only after they were officially banned from "Saturday Night Live" when it finally began to hit home for them. "The world wasn't ready for anything near that at that time," he said (via Far Out Magazine). "If he did it now, I don't know what kind of backlash he'd have, but in the early '90s, it earned us a kick in the a** from 'Saturday Night Live,' and I haven't seen that episode in reruns." This, Sen Dog added, was "justified" on the part of the powers that be at "SNL."
Fast forward to the present, and even with recreational marijuana legal in more than a dozen states as of this writing (via USA Today), Cypress Hill remains banned from "Saturday Night Live" ... or so they claim. During a February 2022 panel for the band's documentary "Cypress Hill: Insane in the Brain," Sen Dog said that he "kind of [likes] the fact that we're banned," calling it a "punk rock" thing, per TheWrap. B-Real had similar sentiments, stressing that the group is in good company with a variety of other acts who've since been prohibited from appearing on from the late-night show. 
Interestingly, a spokesperson for "SNL" told TheWrap that they don't believe there is an active ban on anyone who had previously appeared on the show. But that might not matter in the end, according to B-Real, who told reporters at the panel that "if we were to get unbanned and do it again, probably the plan we had set in the first place will initially take off and we'll get banned again."