The Real Reason Chris Sale Is Out For The Season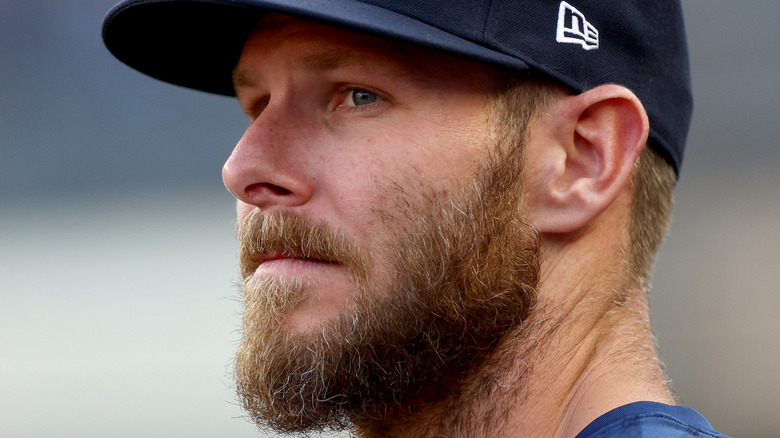 Elsa/Getty Images
In mid-August 2022, it was announced Boston Red Sox left-handed starting pitcher Chris Sale would be out for the remainder of the MLB season. As ESPN notes, Sale had already recovered from a broken rib cage earlier in 2022, which caused him to miss most of the 2022 MLB season. Though he some promise after his return, Sales was injured once more in only his second start of the year against the New York Yankees when a line drive broke the pinky on his throwing hand after just two-thirds of an inning.
The season-ending injury Sales has now experienced is not on his throwing hand, but it will require surgery, and the incident happened when Sales wasn't even on the baseball diamond. Though a finalist on several occasions, Sale is yet to win the coveted Cy Young Award for baseball pitchers (via MLB). The star pitcher's 2022 season string of injuries led the New York Post to speculate that Sale might somehow be cursed.
He signed a 5-year extension with the Boston Red Sox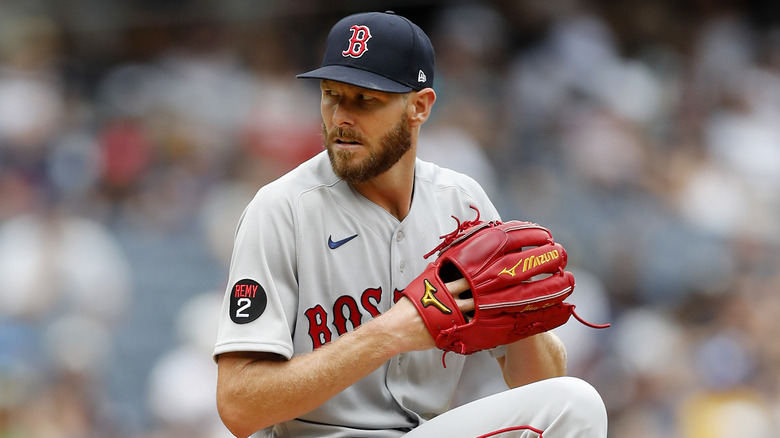 Jim Mcisaac/Getty Images
Injury issues aside, Chris Sale signed a five-year $145 million extension with Boston, which began in the year 2000, as the New York Post also notes. In his 11th season in the major leagues, the Florida native played his college ball at Florida Gulf Coast. After he was drafted in 2010, Sale went to the Chicago White Sox, where he played seven years, according to the pitcher's MLB website biography. In 2018, Sale won a World Series ring with the Red Sox, as the MLB site elsewhere reports.
On the news that Sale was out for the remainder of the 2022 baseball season, chief baseball officers for the Red Sox, Chaim Bloom, told New England sports radio station WEEI, "It stinks. It's really unfortunate. We're relieved this wasn't worse. ... It's been such a run of bad luck for him and obviously for us." On top of those injuries mentioned, Sale also had a bout with COVID-19 and had Tommy John surgery on his elbow in 2020, according to The Boston Globe.
Chris Sale broke his wrist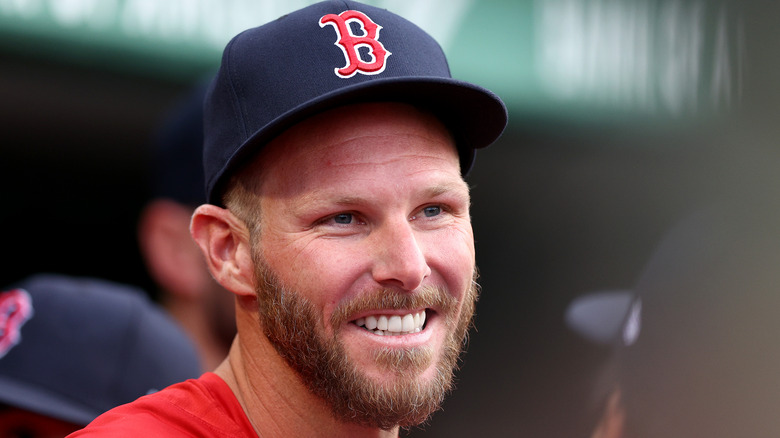 Elsa/Getty Images
MLB pitcher Chris Sale's season-ending injury was caused by a bike accident after he reportedly played catch at Boston College. According to ESPN, Sale fell from his bike and broke his right wrist. The type of procedure Sale will undergo is known as reduction internal fixation surgery, often performed on joints like wrists and ankles (per John Hopkins Medicine). Those who have the surgery typically take two months to recover.
According to Red Sox executive Chaim Bloom, Sale should be fine. "I know we keep saying that, and then things keep happening. This is just an incredibly bizarre run of events. He should be full-go next spring," he said (via ESPN). The Red Sox were in last place in their division when it was announced Sale would be out for the remainder of the 2022 season. According to ESPN, Sales could opt out of the final two years of his contract with Boston in the 2022/23 baseball off-season.