Inside The Relationship Between Howard Cosell And Muhammad Ali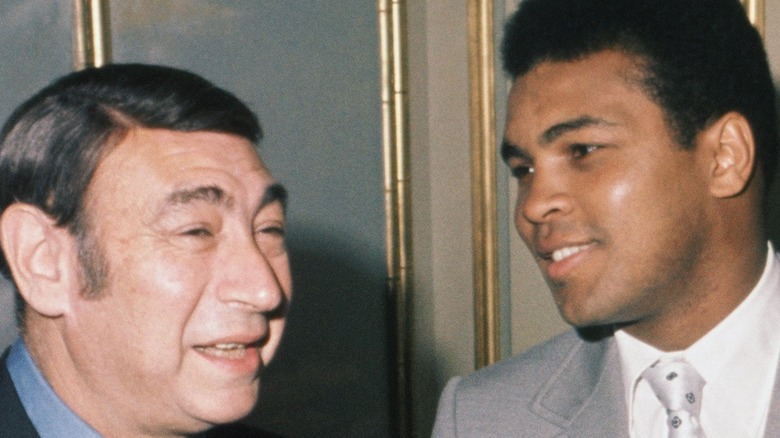 Michael Ochs Archives/Getty Images
Relationships between sports reporters and the athletes they cover are often prickly affairs. We've all witnessed testy exchanges and the occasional shouting match when post-game interviews turn heated, like when Floyd "Money" Mayweather grabbed the interviewer's microphone, as shown on Sky Sports Boxing's YouTube channel. Perhaps that's why the relationship between boxing legend Muhammad Ali and sportscaster Howard Cosell seems all the more remarkable.
The obvious affection and respect between the two men was televised for all to see at numerous boxing matches and public events. Those who had a closer view of their special relationship describe it as truly remarkable.
"It was magical, it was chemical, it wasn't anything they prepared to do," is how ABC Wide World of Sports producer Doug Wilson described the men's unique on-camera chemistry to Sports Illustrated, in June of 2016. Wilson added that off-camera Ali and Cosell went about living their own separate lives, "but they knew, when they got together, that the magic would happen.".
Big Personalities Bring Big Ratings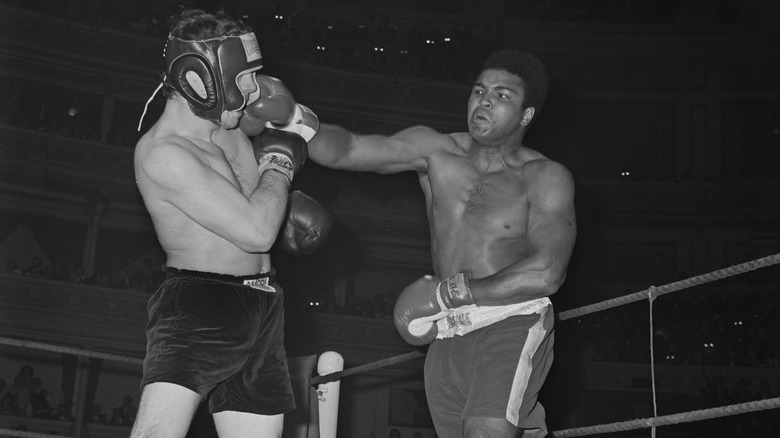 Norman Quicke/Getty Images
When Howard Cosell and Muhammad Ali were in a room together the two mega personalities produced countless magical television moments. The men constantly teased one another and often pretended to spar while wearing suits and ties, as The New York Times notes.
In one memorable moment, Ali threatened to pull off Cosell's toupee. Another time, Ali was quoted as saying "Every time you open your mouth, you should be arrested for air pollution" to which Cosell responded "You would still be in impoverished anonymity in this country if I hadn't made you."
Still another time, Ali pretended to threaten Cosell. The sportscaster responded teasingly "Don't touch me. I'll beat your brains out," via USA Today. The verbal sparring delighted audiences and boosted TV ratings. And, HBO boxing analyst Larry Merchant described their back and forth as symbiotic. He said the boxer wasn't threatened by Cosell and that Cosell realized how Ali was a one-of-a-kind athlete.
A Bond that Lasted Until Death
Howard Cosell's daughter Jill told USA Today that her father never imagined the back and forth between the two men would become a sort of comic routine. She described Ali as funny, charming, handsome, and with a "big mouth." She said Ali trusted her dad and that over the years their relationship developed into friendship.
While good-natured back and forth was so much of the men's public persona, below the surface grew a deeper bond. After Ali changed his name from Cassius Clay to Muhammad Ali, Cosell acknowledged the change while many others resisted. Cosell also defended Ali from critics when Ali refused to be inducted into the military over religious beliefs, via USA Today.
Cosell died in 1995 at the age of 77. His daughter Jill says Ali sat next to her at her father's service with tears streaming down his face during the eulogy. And then, in June of 2016, Muhammad Ali died. The three-time heavyweight champion is considered by many to be one of the greatest boxers to ever enter the ring.