Inside The 1963 Murder Of Medgar Evers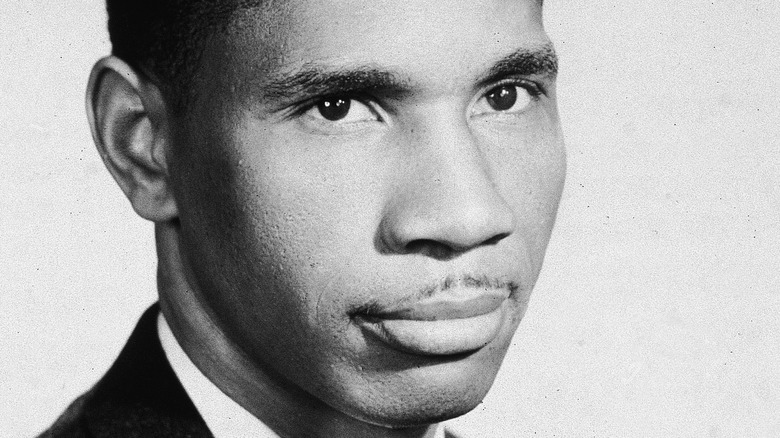 Hulton Archive/Getty Images
After returning home from fighting in World War II, Mississippi native Medgar Evers went to vote at a local election, writes the NAACP. Instead, however, he and his friends were threatened at gunpoint. Per Buzzfeed, he stated, "We fought during the war for America and Mississippi was included. Now after the Germans and the Japanese hadn't killed us, it looked as though the white Mississippians would." This was a turning point for Evers and he subsequently became heavily involved in the burgeoning civil rights movement. He would later become the first state field secretary of the NAACP in Mississippi (via Biography).
According to The National WWII Museum, Evers' work with the NAACP included organizing boycotts, voter registration drives, and more. Moreover, the NAACP adds that he was heavily involved in desegregating schools, parks, and beaches in Mississippi. When Emmett Till was murdered, Evers called for an investigation into his lynching. Buzzfeed states that he helped the case by ensuring Black witnesses that came forward were protected. Born in 1925, Evers was exposed to racism and violence early on in his life. He attended a segregated school and knew a family friend that was lynched. By high school, he had joined the NAACP (per The Martin Luther King, Jr. Research and Education Institute).
The organization explains that Evers' fight against institutional racism resulted in numerous death threats. His wife, Myrlie Evers-Williams, told NPR, "Medgar became No. 1 on the Mississippi 'to kill' list." She added that their home was firebombed and that threats were called into their home.
He was shot in his driveway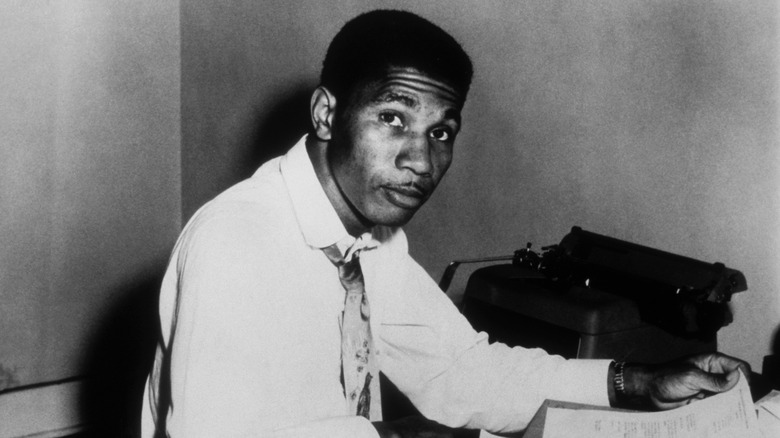 Michael Ochs Archives/Getty Images
On June 12, 1963, NPR writes that someone made good on their threats against Evers' life. Sometime after midnight, he returned to his Jackson, Mississippi home from an NAACP meeting (via the FBI). Medgar Evers College reports that he exited his car carrying t-shirts that read "Jim Crow Must Go" when he was shot in the back. His three children and wife heard the gunshot and found Evers bleeding to death outside. Although he was transported to the hospital, Medgar Evers died less than an hour later. He was only 37-years-old. History states that he was buried with full military honors at Arlington National Cemetery.
Per Medgar Evers College, the police discovered a rifle only 150 feet away from where Evers was shot and the FBI subsequently began to investigate his assassination. The National WWII Museum explains that the rifle had a fingerprint on it. The FBI was able to discern that it belonged to Byron De La Beckwith, a former U.S. Marine and known white supremacist. The FBI notes that it was clear that Beckwith was the murderer; he had a motive and had reportedly inquired about Evers' home address before the shooting.
Additionally, Beckwith had an eye injury that investigators surimised had resulted from the rifle recoiling in his face. They believed that this is why he had abandoned the gun. Beckwith was charged and arrested with Evers' murder soon after (per the NAACP). Despite the evidence, two separate trials with all white male jurors failed to convict Beckwith and he walked free.
Medgar Evers received justice years after his assassination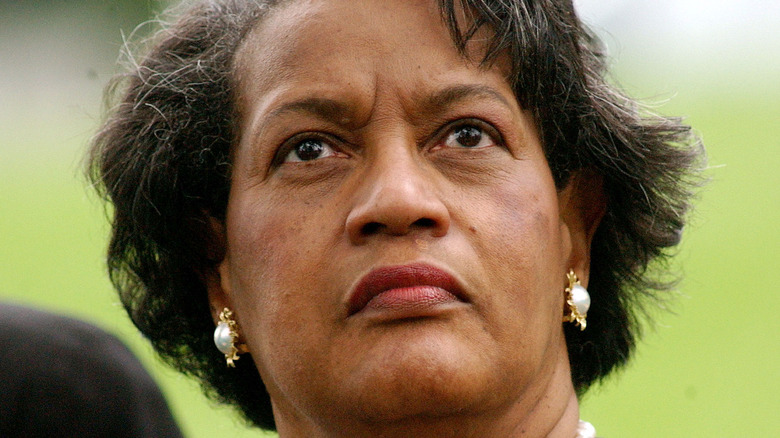 Stefan Zaklin/Getty Images
According to Medgar Evers College, Beckwith vehemently denied murdering Evers and said that his gun had been stolen. In fact, The National WWII Museum writes that two police officers backed him up and stated that they had seen him 100 miles away from Evers' home on the night that he was assassinated. Although the FBI had a strong case against Beckwith, their efforts were fruitless. For the next 30 years, he remained free while boasting that he had murdered Evers. Biography notes that Evers' widow, Myrlie Evers-Williams (seen above), refused to give up hope that her husband's killer would one day be behind bars.
Then in 1989, NPR explains that Journalist Jerry Mitchell uncovered evidence that the state of Mississippi had conspired to ensure Beckwith went free. The jurors, per History, had illegally been screened. Using this discovery, Evers-Williams asked the FBI to reopen the case. Because Beckwith's previous trials had failed to convict him of any crime, however, he was exempt from double jeopardy (per Biography). That year, Beckwith was arrested and retried for Evers' murder (via The National WWII Museum). All That's Interesting states that Beckwith tried and failed to get the case against him dismissed.
30 years after the killing, AP News reported that Beckwith was finally convicted and sentenced to life in 1994 for Evers' murder. He died in prison in 2001 at the age of 80. The National WWII Museum states that Evers' family continued his fight for civil rights. His older brother, Charles Evers, took on his role at the NAACP while Evers-Williams went on to become the first chairwoman of the NAACP.