Why One Island In The Bahamas Seems More Like A Farm Than A Beach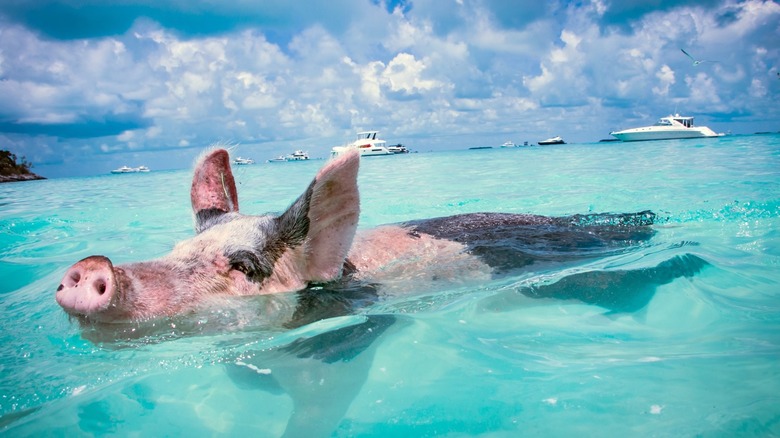 Jon Ruiz Ortiz/Shutterstock
Make your way to Big Major Cay in the Bahamas, and you'll find it uninhabited by humans. It is, however, home to a colony of 30 to 40 pigs, ready to swim out and greet you.
The Bahamas' swimming pigs have become a tourist attraction since appearing on the "Today" show and "The Bachelor." They've even inspired a book, "Pigs of Paradise" by T. R. Todd, according to CNN.
They've learned that boats arriving on the island mean people bringing food, which is why — particularly in earlier, cooler parts of the day — they'll swim out to meet the boats (via Atlas Obscura). Per CNN, the Official Swimming Pigs Association, a nonprofit, takes care of them, making sure they have medical care, water, and appropriate food. Visitors are asked to only bring them pitted fruits and vegetables, and to feed them in the water, not on the beach, so they don't ingest sand (via Travel + Leisure Magazine).
How did they get to the island?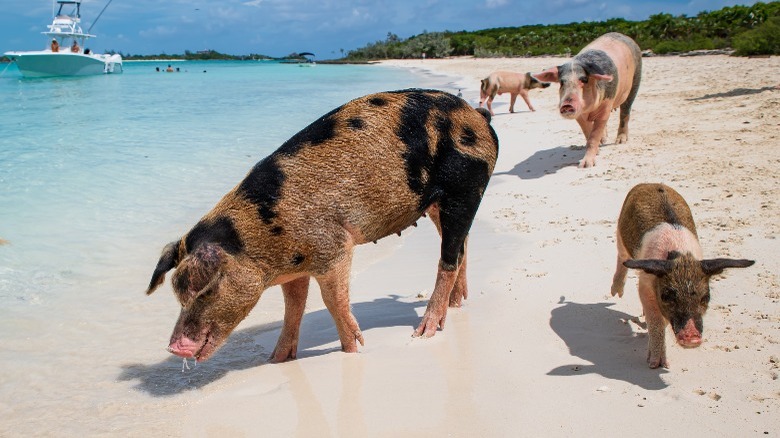 Giongi63/Shutterstock
There are a few different theories about how the pigs ended up on Big Major Cay. One is that they came from a wrecked ship; another is that pirates left them there.
The truth is that people from neighboring islands brought them there, intending to use Big Major Cay as an auxiliary farm. CNN says this happened because of famous people like Johnny Depp and Faith Hill buying land in the Exumas. Locals decided to move their smelly, messy pigs away from their wealthy neighbors. They chose Big Major Cay because it wasn't too far away, and it had fresh water. CNN says the island was used as a farm "as recently as the 1990s."
"Today" aired a more specific version of this story in 2016: that a man named Wayde Nixon and his business partner Don Rolle brought the pigs to the island in the late 1990s. The pigs were part of a sustainable food supply; the men were planning for the possible Y2K meltdown. In any case, the pigs are no longer a food source.
How to visit the pigs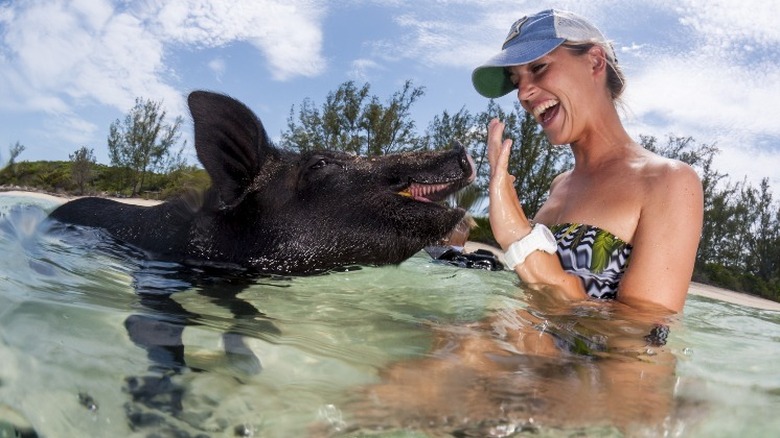 Shane Gross/Shutterstock
According to Travel + Leisure Magazine, Big Major Cay is part of the Exumas, a district of the Bahamas including around 365 islands. Pig Beach, on Big Major Cay, is about 82 miles southeast of Nassau, the capital of the Bahamas, and about 50 miles northwest of George Town. You can fly into either city to get to Big Major Cay. The island itself, however, can only be reached by boat. Some people go on excursions from Nassau or Great Exuma; these take a full day. 
Another possibility is to fly into Staniel Cay, Black Point, or Farmer's Cay, either from Nassau or even from Fort Lauderdale. From there, you'd either take a charter boat or a guided tour to Big Major Cay (via Travel + Leisure Magazine). Most boats to Pig Beach leave from Staniel Cay and take 20-30 people at a time (via CNN).
If you're interested in staying nearby, one popular option is Fowl Cay Resort, located on a private island near Pig Beach. There are accommodation options on Staniel Cay as well. Whether you're there for a day, a week, or longer, the pigs will be waiting.