Why Hollywood Star Carole Landis Was An Unsung Hero Among WWII Troops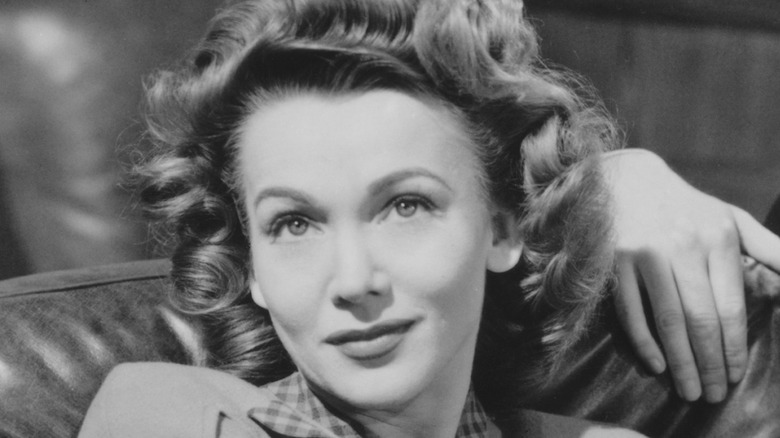 Hulton Archive/Getty Images
Times of adversity summon an ironclad sense of camaraderie out of all of us. During the World War II, as the United States and other Allied powers combated one of the most harrowing threats that the humans had ever faced, over 16 million American men and women enlisted into the armed forces, with 73% of them serving overseas. Tragically, an estimated 407,000 perished in the war (via Department of Veteran Affairs). Those were trying and uncertain times and in order to keep spirits up, a few big name stars embarked upon a pilgrimage abroad to visit troops stationed across the world. 
According to Fox News, one of the silver screen's most admired and desired personalities traversed the multitude of miles separating service men and women from their homes so she could visit them and keep them entertained as uncertainty glared back at them from across the battlefield's horizon. Carole Landis, a beloved actress and singer, carried out her own tour of duty in 1944, stopping at various bases around the world to sing and perform for troops as they awaited their next orders. She even brought some of them on stage to dance with her. Also, those who were confined to hospital beds were afforded a visit from the beloved star. "The boys like any entertainment so long as it's happy and carefree, but they do not want war pictures because they see the war for themselves, day and night without ceasing," Landis once said (per Carole Landis).
Carole Landis' USO tour with Jack Benny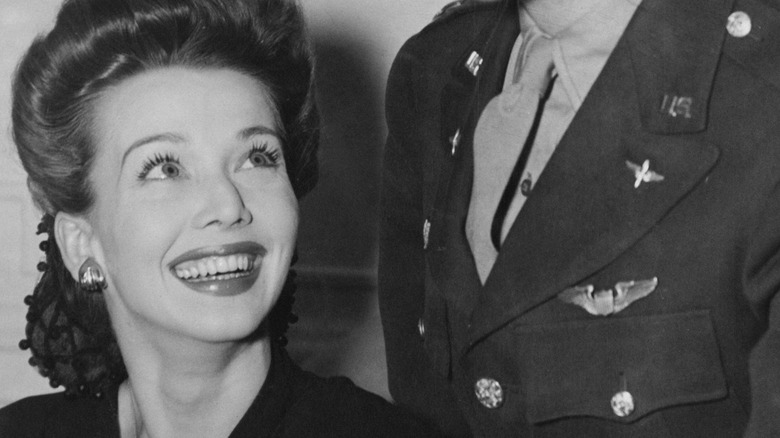 Eric Harlow/Getty Images
Alongside entertainer Jack Benny, harmonica player Larry Adler, singer Martha Tilton, and pianist June Bruner, Carole Landis constructed an entire traveling show for troops stationed across the world during World War II. Among the regions that they visited were New Guinea, Fiji, the Solomon Islands, Australia, and Hawaii. According to Carole Landis – Hollywood Legend, the "I Wake Up Screaming" (1941) actress even kept a journal of every serviceman's mailing address so that she could write and provide support from the other end of the world. "This is a star who traveled tens of thousands of miles to visit our troops, give them a good time and just make them feel good about themselves during such a time of uncertainty and great misery ahead. She embodied a real sense of unity," author Christian Blauvelt told Fox News while discussing the late star's philanthropic odyssey.
Today, Landis remains more in the periphery of Hollywood hindsight, but those who were around to bear witness to her sincere gesture of patriotic humanism made sure that generations to come would know of the star's willingness to instill hope in those who were disinclined to believe in it at times. She cared and she made sure that those who needed encouragement were not robbed of it. 
The tour ended with sickness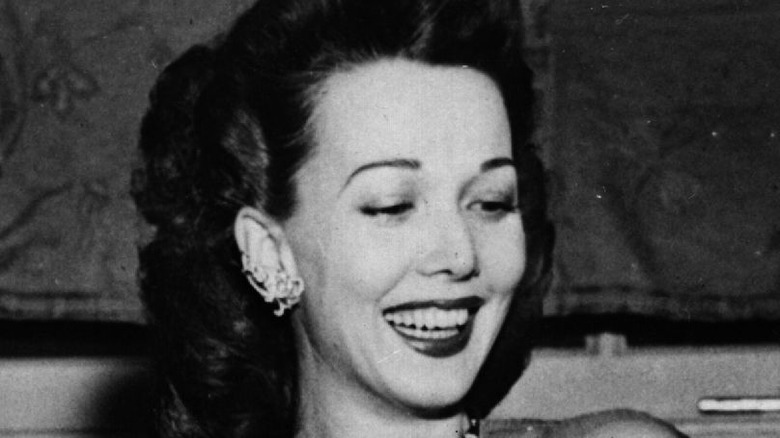 Keystone/Getty Images
Sadly, it would seem that no good deed goes unpunished. While on tour with her troupe of performers, Carole Landis reportedly contracted amoebic dysentery in September 1944. She lost fifteen pounds in a matter of weeks, and the ailment nearly took her life, as Carole Landis – Hollywood Legend reports. The tour came to an end on September 15, and Landis — who was married to Captain Thomas Cherry Wallace at the time (per American Air Museum) — returned home. Landis and Wallace divorced in 1945.
Further complications from the disease would unfortunately arise throughout the remainder of her life, which tragically ended on July 6, 1948. According to IMDB, Landis died from unrelated reasons at the age of 29. "It was such a unique path in terms of a woman taking such a stand, leveraging her glamour for a good cause. It sounds like something that would naturally happen today, but back then it wasn't as common," Christian Blauvelt went on about the star's ventures overseas (via Fox News).