Legendary Songs That Took Only Minutes To Write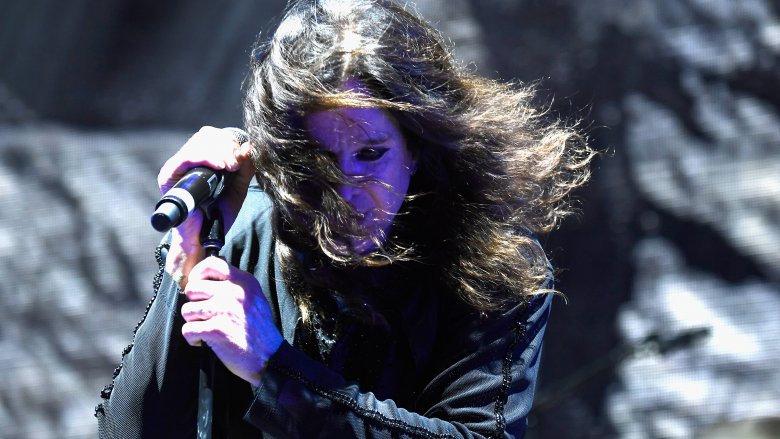 Getty Images
Ask any creative just how long it takes for them to produce a piece of work, start to finish, and the answer you'll get could range anywhere from "a few weeks" to "many years" to "still working, ask me next decade." Usually, an artist pours all their time and effort into that work, and this is just as true for music as anything else. Conceiving a hook, a melody, the instrumentation, and the lyrics for a song is no easy thing, and it's not like you can just sit down and bash it out in a matter of minutes. Unless, of course, you're bizarrely talented. Each of the tracks here were written in less than an hour, and some were even written in exactly the amount of time it'll take to listen to them. Talent is talent.
The Jam - 'That's Entertainment'
"That's Entertainment" is often regarded as one of The Jam's finest ever songs. Released in 1980, it offers a listless, ultimately bored view of life and society, driven by alcohol on the weekends and ennui in the week. Paul Weller's lyrics are a minimalist, down-to-earth, and sarcastic telling of life in the U.K. at the end of the 1970s.
The song itself is pretty much solely acoustic, which might go some way to explaining just how it was written so quickly. According to Weller himself, "That's Entertainment" was written in his own flat after something of a lager-fueled bender down at his local pub. It took ten minutes in total. The song peaked at 21 in the charts and became something of a cult classic among fans of The Jam.
Blur - 'Song 2'
Blur's "Song 2" is probably their most recognizable track. An effortless and affectionate parody on the grunge hits of the early '90s, its combination of nonsensical lyrics, killer guitar riffs, and Damon Albarn's lairy "woo-hooing" have made it one of the most beloved songs of the decade in which it was released.
In reality, not much effort was put into "Song 2." Martin Power's The Life of Blur says Graham Coxon's guitar was improperly tuned during the recording, the song was never given a proper title, and the whole thing was cut to tape in 30 minutes. The result, however, was magnificent — and did more than a bit well for the band. By the year 2000, "Song 2" had netted Blur around £2 million. Not bad for half an hour's work. What did you do in the last 30 minutes?
Angelo Badalamenti - 'Laura Palmer's Theme'
Angelo Badalamenti's heartbreaking, terrifying score for David Lynch and Mark Frost's masterpiece TV series Twin Peaks is as much a part of the show as the legendary cast, the jaw-dropping locations or the inimitable surreality of the plot. In particular, "Laura Palmer's Theme," which serves as a motif for the murdered schoolgirl at the heart of the series, is as unsettling as it is utterly gorgeous.
According to Badalamenti himself, the theme was written completely off the cuff in about four minutes. Lynch sat with him at his keyboard and described a scene in his head — a dark, foreboding forest, through which the beautiful Laura Palmer appears before disappearing back into the darkness — and Badalamenti simply played along to it. The final version of the track is completely unaltered from that first writing session.
Ray Charles - 'What'd I Say'
Ray Charles was, without a doubt, one of the finest jazz, blues, and R&B musicians of all time. Nothing is as much a testament to his talent as a songwriter, however, as the tale of the conception of "What'd I Say."
The story, as told by Robert Siegel, goes that Charles was on stage during a gig in 1959 and had run out of material to play. In an attempt to fill time before he could leave the stage, he improvised a song on the spot. The lyrics may have been pretty nonsensical, but the audience's response to the song was tremendous. A few weeks later, he recorded it, and "What'd I Say" became one of the musician's most renowned and best-selling songs ever.
Adele - 'Hometown Glory'
One of the best things to have ever come out of London, Adele became an iconic musician of the 21st century in pretty short order. She trained as a singer at the BRIT School for Performing Arts and Technology with the intention of going on to work for a record label. But when the time came to go to university, she decided she wanted to stay in London. Her mother, however, thought it best for her to leave the city and see some more of the U.K.
Naturally, the two fought. Afterward, Adele stormed off to her room and wrote a song, "Hometown Glory," about her love of her neighborhood and of London, in ten minutes flat — so she could, in her words, explain why she was staying. "Hometown Glory" went on to receive a Grammy nomination for best female vocal pop performance.
Beyonce - 'All The Single Ladies'
We can't strictly give this one to Beyonce, since — like many pop stars with their greatest hits — she didn't actually write this song alone. The-Dream, one of the co-writers on the track, is an American producer and musician who's known for penning such hits as "Umbrella" by Rihanna, "Baby" by Justin Bieber, and "Me Against The Music" by Britney Spears.
According to The-Dream himself, he wrote Beyonce's chart-topping hit "Single Ladies (Put a Ring on It)" in only 20 minutes. The track was released in 2008, won several awards and, with over 6.1 million copies of the digital single sold, has gone on to become one of the best-selling singles of all time. The finished track was something of a team effort, but 20 minutes to knock out something that successful is a turnout for the history books.
Kanye West - 'All Falls Down'
"All Falls Down" is a song released by Kanye West from his debut album, The College Dropout. With a nomination for best rap/sung collaboration (with Syleena Johnson) at the Grammy Awards and a No. 7 ranking on the Billboard Hot 100, it was undoubtedly one of the songs that put Yeezus on the map. Kanye himself told the New York Times that meeting and befriending the hip hop duo Dead Prez taught him to give raps a message while making them sound great, so much so that he was able to write "All Falls Down" in only 15 minutes. Certainly, "All Falls Down" — and the rapidity with which it was written and produced — was an early sign of things to come over the rest of West's career.
Oasis - 'Supersonic'
"Supersonic" was the debut single by Oasis. Released in 1994 (and then later again the same year on Definitely Maybe), it struggled in the charts at first but, after they achieved a little bit more recognition, went on to become one of their biggest-selling singles. On top of this, it was the first Oasis song to chart in the United States.
According to Anthony Griffiths, who provided additional vocals on the track, "Supersonic" was written in the back room of their music studio in only 10 minutes. According to Noel Gallagher, "Supersonic," like every Oasis song written before 1997, was produced while everyone was high on cocaine. Might go some way to explaining the lyrics, then.
The Knack - 'My Sharona'
Released in 1979, "My Sharona" was the debut single by California rock band The Knack — and probably their most famous song. It reached No. 1 on the Billboard Hot 100, quickly became a gold record, and helped set the tone for the entire new wave genre. It's featured in a number of films, television shows and even video games over the years, and has, over its long life, become something of a cultural landmark for the American music scene.
According to Doug Fieger, lead vocalist and guitarist for The Knack (and songwriter for "My Sharona), the whole song was written in 15 minutes. The Knack never really managed to match the heights of the song again, but putting yourself on the map and helping to pioneer a whole genre at the same time isn't bad for a quarter of an hour, is it?
Black Sabbath - 'Paranoid'
Taken from their second album of the same name, "Paranoid" was a smash hit for Black Sabbath, a band not exactly short on smash hits. It reached No. 4 in the U.K. Singles Chart and placed around 61 on the Billboard Hot 100. It was ranked first on VH1's list of the greatest metal songs of all time and has made frequent appearances in film and television.
The story goes that the band had learned they were one song short of being able to release a full-length LP, so they wrote "Paranoid" as an afterthought. They jammed it out as a bit of filler for the album, with Ozzy reading the lyrics for the first time as he sang them. The finished result was so good that the album was renamed after the song.