Why Damien Hirst Is Burning Thousands Of His Own Paintings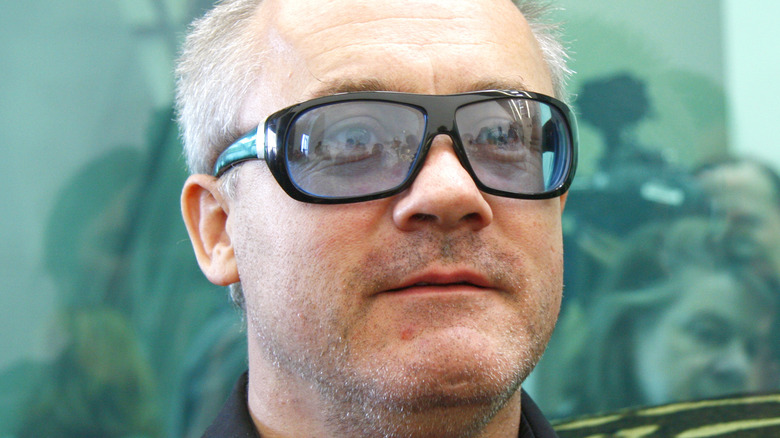 360b/Shutterstock
The conceptual artist Damien Hirst first came to prominence in the early 1990s, when, as part of the new generation of "Young British Artists" promoted by the art dealer Charles Saatchi, he — alongside such famous names as Tracey Emin and Sam Taylor-Johnson — triggered an explosion of interest in modern art.
His work, "The Physical Impossibility of Death in the Mind of Someone Living," first exhibited in 1991, which featured a huge tiger shark preserved in formaldehyde, became his signature piece and one of the biggest artistic events of the decade. Since then, Hirst has been among the art world's elite, commanding huge sums for new works despite occasional dips in popularity, per The New Yorker.
Hirst has courted controversy throughout his career, from critics who have in recent years questioned his technical ability, such as The Guardian's Jonathan Jones, and from other veteran critics such as Robert Hughes, who in 2008 characterized even Hirst's most famous work as nothing more than a "tacky commodity" (via The Guardian). But even in the 2020s, Hirst has the ability to provoke. In 2021, he announced that for his new project, "The Currency," he planned to burn thousands of his own paintings. Why?
Damien Hirst's 'The Currency'
In a 2021 interview on the HENI arts tech company YouTube channel, Damien Hirst tells interviewer Stephen Fry: "When I think back ... I've never really understood money. You look at money in its basic form — all these things, money, commerce — they're all ethereal ... it relies on belief, on trust."
It is perhaps not surprising that the United Kingdom's richest artist in 2020 (according to Artnet) is interested in the cross-section of art and money, and that "The Currency," his latest work, is an investigation into the value of physical art in an increasingly digitized world.
Damien Hirst has been producing spot paintings — simply surfaces of different shapes and sizes, covered in spots of one type or another — since 1988. For his latest work, The Guardian reports that Hirst produced 10,000 of these spot paintings, each of which was unique and handmade by him and his assistants, and each with a distinct title of its own, along with Hirst's signature. Each was also authenticated with a watermark bearing Hirst's face and a micro number. Each of these paintings was then linked to 10,000 individual digital tokens in the form of NFTs, which were then sold for $2,000 each. But in a final twist, rather than the NFTs simply being used to verify the owner of each artwork, Hirst gave the buyers a difficult decision to make.
Physical artwork or NFT?
As reported in The Guardian, buyers of works in "The Currency" were given a choice: give up the NFT they had been assigned in exchange for the physical spot-painting it was linked to, after which the NFT would be destroyed, or keep the NFT itself, after which Hirst and his team would burn the corresponding painting in an event beginning September 9, 2022.
Hirst also set himself a similar thought experiment, but on a smaller scale, with an additional 1,000 of his own dot paintings. He tweeted: "​​In the beginning, I had thought I would definitely choose all physical. Or most physical haha. Then I thought half-half and then I felt I had to keep all my 1,000 as NFTs ... then all paper again and round and round I've gone, head in a spin." He eventually decided to keep all 1,000 of his artworks as NFTs as a dedication to the potential of the new technology and to destroy the 1,000 paintings they represented.
But what did the buyers do? Well, in what may have been a shock result in the NFT community, 5,149 buyers chose to go with the physical artwork, while 4,851 decided to keep their digital tokens.
Artnet described "The Currency" as a "referendum" on NFTs and physical art. But it seems that for many, the thought of owning an actual Damien Hirst painting for $2,000 — his most expensive work, "Lullaby Spring" (2002), sold for $19.2 million in 2007 — was simply too good to miss.