How Duran Duran Got Their Name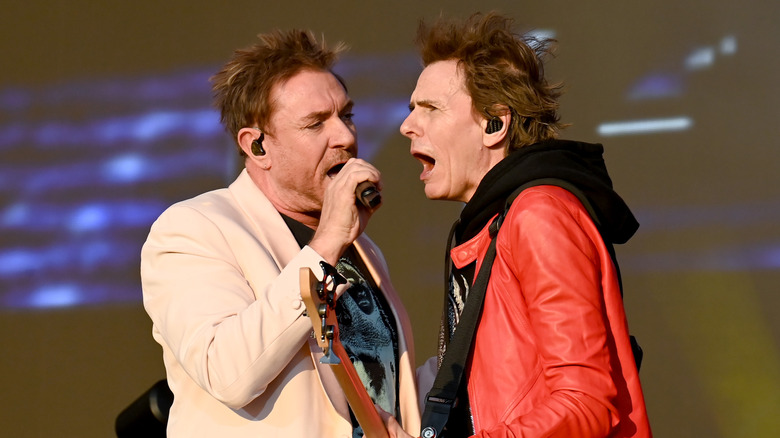 Dave J Hogan/Getty Images
One of the most explosive periods in music history was New Wave. A loose genre that encapsulated multiple different pop sounds and attitudes, New Wave originated sometime in the mid-1970s and developed further in the 1980s. As Britannica says, this new movement in music was in direct opposition to the corporate side of rock, along with the harsh, aggressive style of punk. Popular New Wave bands include the B-52s, Blondie, Devo, Talking Heads, The Cure, and more. New Wave took over pop music landscapes and dominated the airwaves for years, establishing some of the most influential sounds and styles of modern time.
And, of course, one would be remiss without talking about one of the biggest and most impactful New Wave bands of all time: Duran Duran. As AllMusic explains, this English band became an unstoppable powerhouse of pop hits in the 80s. But with a name like that, a question comes to mind: why are they called Duran Duran?
Who is Duran Duran?
So how did the legendary band begin? It all started back in 1978. Musicians Nick Rhodes and John Taylor both worked at the same nightclub, the Rum Runner. As Duran Compilations says, Taylor met future co-member Stephen Duffy at the Polytechnic's College of Art and Design in Birmingham. The two hit it off immediately and came up with the idea for a new band. As Planet Radio explains, John Taylor on bass, Nick Rhodes on keyboard, Simon Le Bon on vocals, Andy Taylor on guitar, and Roger Taylor on drums all formed the band Duran Duran in 1980.
Duran Duran's look and appearance was also vital to their early success. They had the stylish new wave look, which went a long way in establishing their brand, as Planet Radio reports. They had found a fair amount of fame with earlier tracks like "Planet Earth" and "Girls On Film." However, "Rio," their 1982 album, is what catapulted them to international fame. Songs like "Hungry Like The Wolf" and "Rio" topped charts and got radio play in various countries.
Duran Duran's name comes from a sci-fi cult classic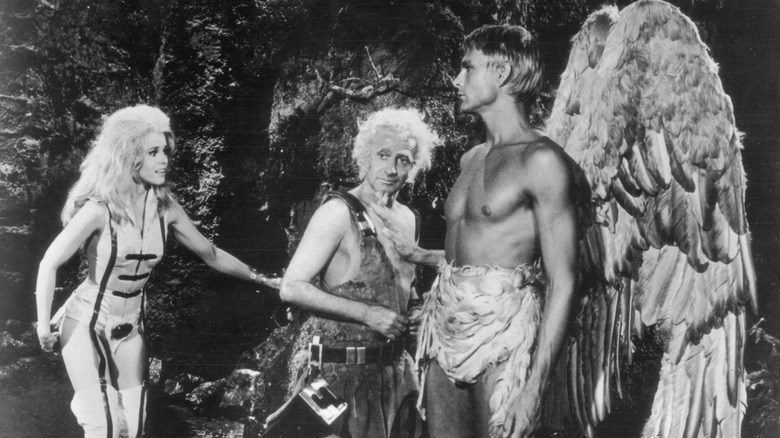 Hulton Archive/Getty Images
Given Duran Duran's status as one of the most beloved New Wave bands of all time, their name should have an equally impressive story, right? Well, it turns out that the answer might be a lot more straightforward and sillier than most might think. As Planet Radio says, the band name comes from the 1968 sci-fi film "Barbarella." The cult classic film starred Jane Fonda, John Phillip Law, and Anita Pallenberg. 
The story is about an astronaut named Barbarella who goes off on a space adventure to fight Dr. Durand Durand, the mad scientist villain of the film, as IMDb explains. It is this character that the band Duran Duran derived their name from. It seems that the band eventually paid a second tribute to the movie with their 1997 single "Electric Barbarella." All in all, Duran Duran's legacy will probably remain prestigious for years to come.