The Truth About Stevie Wonder's Real Name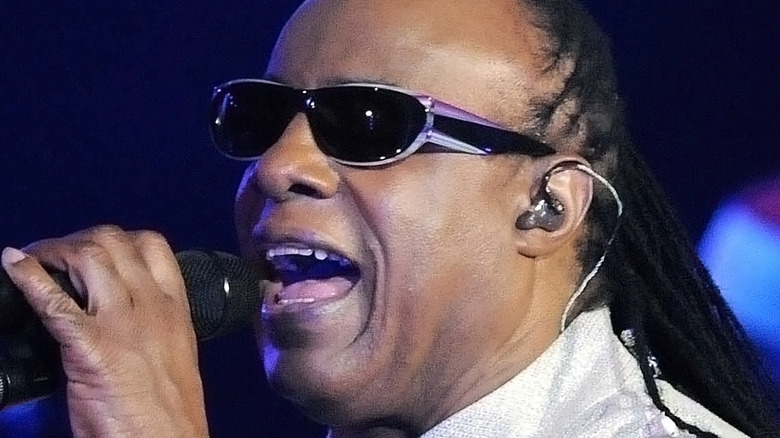 A.PAES/Shutterstock
The history of soul and R&B music is long and rich. As Britannica explains, soul music can best be described as an African American developed style of pop music with crossbreeding between blues, gospel, and rhythm and blues (R&B). Soul first had its roots in the early 1950s, with such musicians like Ray Charles, Sam Cooke, Chuck Berry, and Bo Diddley. The interchangeability of soul and R&B is up for debate, as some say that soul is basically R&B with a fresh coat of paint. There's a strong relation between the two either way, as many soul musicians were very influenced by R&B soundscapes, and vice versa. 
Regardless, one immensely influential musician of both genres is Stevie Wonder. It's hard to overstate Wonder's impact, as his musical DNA finds itself in much of modern music. As Westword says, Wonder is incredibly important for African American music. With popular tracks like "Superstition" and "Isn't She Lovely," he made his way to the heights of music stardom, picking up 22 Grammy awards along the way. But one question might burn in the minds of readers: What is Stevie Wonder's real name? 
Who is Stevie Wonder?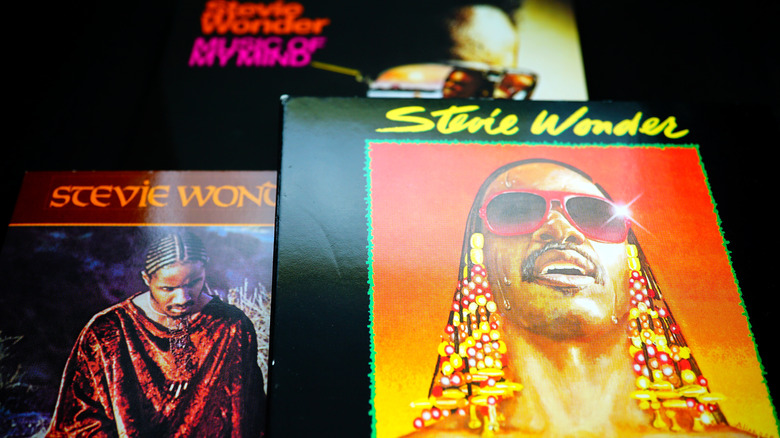 Kraft74/Shutterstock
Like some other famous musicians, Wonder was born blind. However, this did not seem to stop his musical development at all, as he was considered a music prodigy, having extraordinary skill at a very young age. Wonder was so talented, in fact, that Motown Records actually signed him at age 12, resulting in his first big musical debut (per Britannica). Wonder's frightening talent expressed itself in his enormously gifted multi-instrumentalist skills. He could sing, as well as play harmonica, piano, drums, the organ, and more.
Wonder's musicianship got more complex over time, as he became a virtuoso in pop music in just his 20s. As Biography reports, Wonder produced a multitude of hit chart-toppers like "I Was Made to Love Her," "My Cherie Amour," "You Are the Sunshine of My Life," and more. But Wonder wouldn't stop there, as he would eventually release some of the most beloved tracks of all time, like his 1970 cover of "We Can Work It Out" by the Beatles. The song was so successful, some even argue that it is better than the original itself. 
What is Stevie Wonder's real name?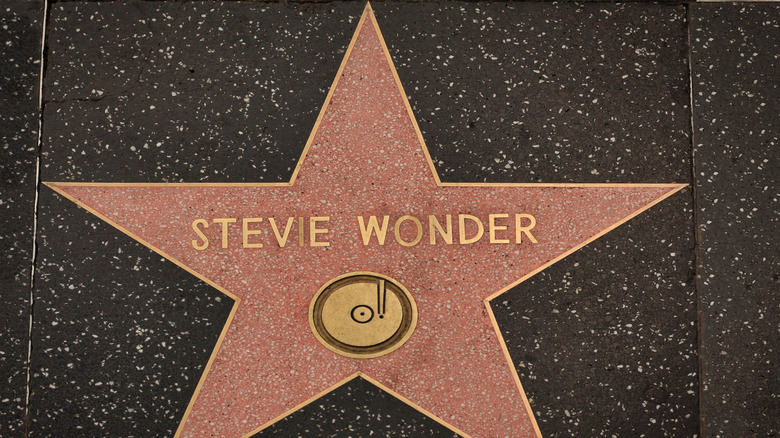 Elliott Cowand Jr/Shutterstock
Stevie Wonder's influence has spanned many genres and entire generations of musicians. As BET says, many musicians have found themselves influenced by Wonder's eccentric and energetic style. Rapper Drake said that Wonder was a huge influence on his 2011 album "Take Care." Busta Rhymes also cites his influence and has sampled some of Wonder's tracks into his own music. Beyonce even did a tribute to Wonder at the 2015 Grammys. 
But where did Stevie Wonder's name come from? According to Express, the history of Stevie Wonder's name is a bit complicated, as his parents got a divorce when he was younger, which resulted in Wonder getting the new surname of Morris. This last name is what Wonder legally goes by today. Stevie Wonder as a stage name came from his signing with Motown Records as a young child. The producers called him Little Stevie Wonder, due to his monstrous talent at a young age. This was supposed to be a stand-in for "8th Wonder of The World" but was eventually shortened to just Stevie Wonder.