This Could Be The Motive Behind Jody Herring's Brutal Killing Spree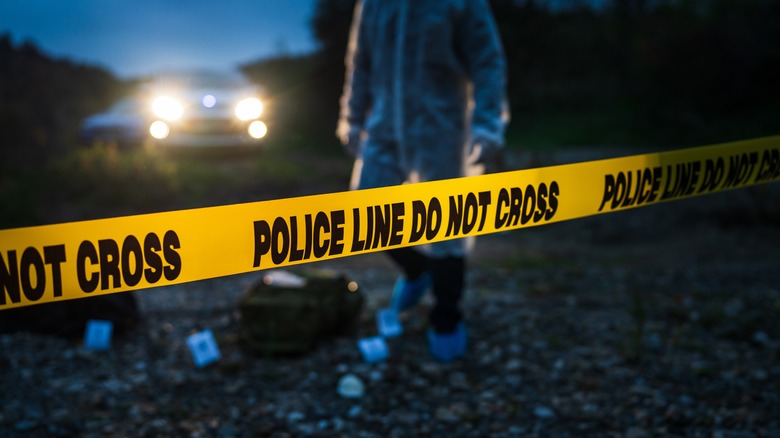 Miljan Zivkovic/Shutterstock
On August 7, 2015, Vermont woman Jody Herring brutally shot and killed four people, including a social worker, her aunt, and two cousins. The slaughter of social worker Lara Sobel took place outside the Department for Children and Families (DCF). The three other bodies were discovered later by authorities at their home in Berlin, Vermont, as per The Cinemaholic. Police said that Sobel was shot twice with a .270 caliber rifle — which Herring stole from her boyfriend — and the day after the discovery of her remains, they received a call to investigate the Berlin home (via People).
Herring was taken into custody after shooting Sobel, and in 2017, the 42-year-old pleaded guilty to three counts of second-degree murder and the first-degree murder of Sobel. As part of the plea agreement, Herring confessed that on the morning of August 7, she phoned her cousins and aunt and warned them to stop calling the DCF. That afternoon, she went to the home of Rhonda and Regina Herring and her aunt, Julie Falzarano, and carried out the crime. She then went to the DCF to gun down Sobel (via Justia). Herring did not resist arrest, and police reported that she was calm and jovial following the disturbing crime (via CBS).
Trauma and Mental Health Issues
According to court documents, Jody Herring experienced trauma throughout her life, including the death of her father, which she and other family members believed was murder — despite it being ruled a suicide. In addition, she was physically abused by her mother and stepfather, which Herring's older brother, Dwayne, confirmed. Following being kicked out of the house as adolescents, Herring and Dwayne lived in abandoned shacks, and by age 17, she became pregnant with her first child as a result of rape (via Justia).
Leading up to the murders of her family members and Lara Sobel, Herring experienced homelessness and substance abuse — which led to a break-up with her boyfriend and a suicide attempt by overdose (via The Cinemaholic). Henry Premont — her boyfriend at the time — told police that Herring was keeping a hit list before the crimes and claimed that there would be an "armageddon." According to her estranged boyfriend's testimony, revenge was at the forefront of her mind. She allegedly said (via CBS), "People are going to pay." Although she was diagnosed with severe anxiety by a forensic psychologist, Herring's attorney was unable to prove that she was not of sound mind (via Justia).
If you or anyone you know has been a victim of sexual assault, help is available. Visit the Rape, Abuse & Incest National Network website or contact RAINN's National Helpline at 1-800-656-HOPE (4673).
If you or anyone you know is struggling with addiction issues, help is available. Visit the Substance Abuse and Mental Health Services Administration website or contact SAMHSA's National Helpline at 1-800-662-HELP (4357).

If you or someone you know may be the victim of child abuse, please contact the Childhelp National Child Abuse Hotline at 1-800-4-A-Child (1-800-422-4453) or contact their live chat services.

She Wanted Revenge for the Loss of Her Daughter
Jody Herring's substance abuse led her family members to contact the Department of Children and Families (DCF) to protect her three children from neglect. The DCF investigation resulted in Herring losing custody of her children, with the loss of her 9-year-old daughter pushing her to a breaking point. Dwayne testified that "she was losing it" after this incident (via Justia). Following her dealings with the DCF, Herring leveled blame against the family members who intervened and the social worker she considered primarily responsible, as per People.
Today, Herring is serving three 20-year sentences for the second-degree murders and a life sentence without the possibility of parole for the first-degree murder of Lara Sobel. She attempted to overturn the sentence by claiming her anxiety and history of trauma were not properly taken into account, and she felt the court "blamed" her for these mental health issues. The court maintained that they assessed her history and mental health, but believed anxiety was not the driving force behind the murders (via Justia). Her appeal was ultimately denied, and to this day, Herring remains behind bars (via The Cinemaholic).
If you or someone you know needs help with mental health, please contact the Crisis Text Line by texting HOME to 741741, call the National Alliance on Mental Illness helpline at 1-800-950-NAMI (6264), or visit the National Institute of Mental Health website.