The Unique Way Serial Killer Israel Keyes Helped His Daughter Stay Out Of The Spotlight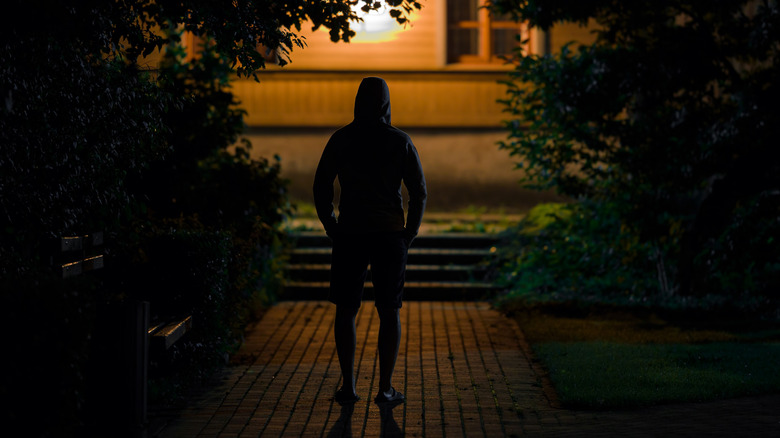 FotoDuets/Shutterstock
Israel Keyes was a serial killer from Utah said to have killed 11 people before being apprehended in 2012 (via Biography). While in prison, he confessed to traveling to many locations to seek out his victims based on opportunity rather than type of victim. Like the infamous Ted Bundy, Keyes was said to have a double life, one of which involved his wife and two children and the other involving brutal slayings, as per Anchorage Daily News.
In 2012, detectives investigated the abduction of Samantha Koenig, an 18-year-old barista who was kidnapped from a coffee stand in Anchorage, Alaska. CCTV footage helped police track down the 34-year-old Keyes, as he was caught two months later attempting to use Koenig's credit card at an ATM (via Anchorage Daily News). As they began to question him, a story emerged that would surprise the public — one involving a man who was both a ruthless killer and a family man with a daughter whose identity was kept secret from the media.
Israel Keyes' Early Life and Killings
Born in Cove, Utah, in 1978, Israel Keyes was one of 10 children who lived a life of extreme isolation. His parents, Heidi and John Jeffrey Keyes, resisted modern medicine and public schools in order to keep the government far away from their lives. They were at their most isolated when the family moved deep into the woods of Colville, Washington, a lifestyle that meant no electricity or heat. The highly religious family moved again to Oregon and then to an Amish community in Maine, as per Biography.
Symptoms associated with psychopathy started to manifest in Israel Keyes early on. He told police that he tortured animals and engaged in behaviors like burglary, which he thought were normal (via Anchorage Daily News). He served in the army in 1998 and, aside from a DUI, engaged in no known antisocial behavior. Although he claimed he began raping and murdering people at random early on — with his first rape happening in Oregon — the only confirmed killings linked to Keyes is Koenig and the Currier couple, putting his known victim count at three (via Biography).
If you or anyone you know has been a victim of sexual assault, help is available. Visit the Rape, Abuse & Incest National Network website or contact RAINN's National Helpline at 1-800-656-HOPE (4673).
He Had a Girlfriend and Daughter While he Killed
In 2000, Israel Keyes became romantically involved with a woman who lived on the Makah Reservation in Washington. Their daughter was born a year later, and the family lived together on the reservation for six years. They broke up, however, and Keyes began dating someone new. He changed locations again when he moved with his daughter and girlfriend to Anchorage in 2007 (via The Cinemaholic). He claimed his killings began while he lived in Washington, after which he traveled and buried "kill caches" in various parts of the country, as per Anchorage Daily News.
One of his co-workers at his construction business said Keyes doted on his daughter (via The Cinemaholic). While in prison, Keyes claimed he wanted to protect his daughter from any knowledge of his crimes, and this was allegedly the reason behind his reluctance to name his victims. On December 1, 2012, it was discovered that Keyes was given a razor blade while imprisoned in Anchorage. He used it to slit his wrist and strangled himself with his bedsheet afterward, as per Biography. Before his death, he said about his daughter (via Biography), "I want her to have a chance to grow up and not have all this hanging over her head." Keyes successfully shielded her from media attention, and to this day, his daughter remains unnamed, and the details of her life are unknown.
If you or anyone you know is having suicidal thoughts, please call the National Suicide Prevention Lifeline by dialing 988 or by calling 1-800-273-TALK (8255)