Inside The Tragic Love Affair Between Rex Harrison And Carole Landis
On July 4, 1948, the film star Rex Harrison met Carole Landis for dinner. Her acting career was on a downward trajectory while Harrison's was on the rise. Landis had been reduced to acting in B-movies, according to Turner Classic Movies. Harrison was married to another actress, Lilli Palmer, and was having an affair with Landis, who had just left her husband and believed her lover would leave his wife. The dinner was the last time Harrison would see her alive, or so he would later tell the police, per the Express.
The life of Carole Landis, born Frances Lillian Mary Ridste in 1919, initially followed a similar path of many actresses who had come to Hollywood to make it big, and for a while, it seemed like hers would be one of the success stories that are few and far between, per IMDb. Harrison, born near Liverpool, England in 1908, had by the 1940s made the jump from the London stage to Hollywood leading man, per Britannica. Both Harrison and Landis had several marriages before they met. Their relationship would end in tragedy.
A torrid affair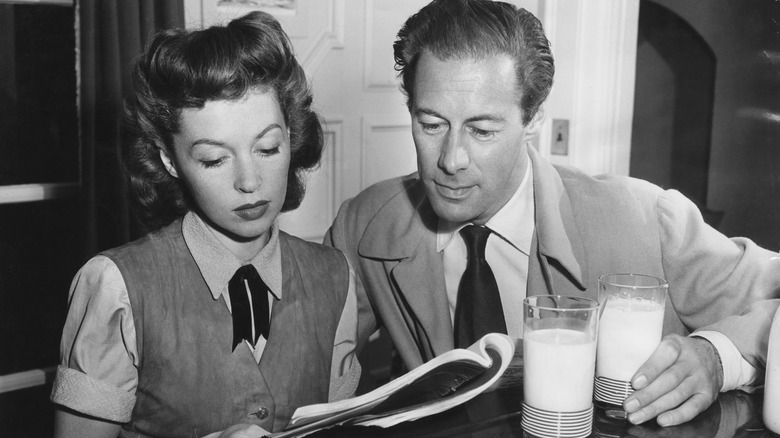 Keystone Features/Getty Images
In August 1947, Rex Harrison and his wife Lilli Palmer (above) were back in London. He was working on the film "Escape" when Carole Landis arrived from the U.S. to work on a noir film called "Noose," according to a Daily News article from 1948. She was staying at the same hotel as Harrison and soon Harrison and Landis were hitting London nightclubs together, per the Daily News. In the book "Carole Landis: A Most Beautiful Girl," author Eric Gans states the relationship began earlier that year back in Hollywood and was an open secret.
The affair continued when Harrison and Landis returned from England. But what Landis was hoping for wasn't coming to pass. She wanted Harrison to divorce Lilli Palmer. According to another book, "Carole Landis: A Tragic Life in Hollywood," Harrison had promised to divorce his wife for Landis. Instead, he strung Landis along and by July 4, 1948, it came to a head. Besides her tumultuous affair with Harrison, Landis had other problems. She had come to Hollywood from Wisconsin and started off with bit parts before landing a role in Hal Roach's "One Million B.C.," which was a hit in 1940, per Turner Classic Movies. But Tinseltown producers kept her on a steady stream of B-Movie roles even after she had success performing as part of the USO for troops during World War II, per TCM.
Tragedy and rumors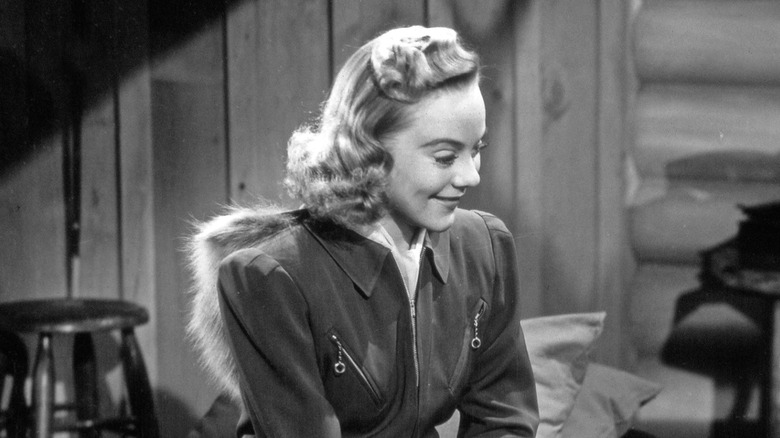 United Archives/Getty Images
Like her professional life, which was filled with more lows than highs, Carole Landis' love life followed a similar path. By the time she'd begun the affair with Rex Harrison, she'd been married and divorced three times and was amid her fourth divorce, per Turner Classic Movies (TCM). She also had ongoing health issues related to a chronic case of amoebic dysentery she'd picked up during her time with the USO, according to the Carole Landis — Hollywood Legend website.
After Landis' dinner with Harrison, she returned to her apartment and at the age of 29 died after overdosing on Seconal, a barbiturate, per TCM. She left a note for her mother reading, "I'm really, really sorry to put you through this but there is no way to avoid it," per the Los Angeles Times. According to his account, about 10 hours later, Harrison found Landis crumpled on the floor of her bathroom, per TCM. He denied he'd been having an affair with Landis to both the police and the press, blaming her death on "general financial problems," according to The San Francisco Examiner. "We were just good friends," Harrison said.
However, there were questions about the timeline given by Harrison, with some believing he may have arrived at her house before she died and did nothing to save her, per the Express. Harrison would go on to have a highly successful film and stage career before his death at 82, in 1990, per Britannica. Harrison was married six times, according to The New York Times.
If you or anyone you know is having suicidal thoughts, please call the National Suicide Prevention Lifeline by dialing 988 or by calling 1-800-273-TALK (8255)​.