Mississippi's Stats On Homicides Are A Real Eye-Opener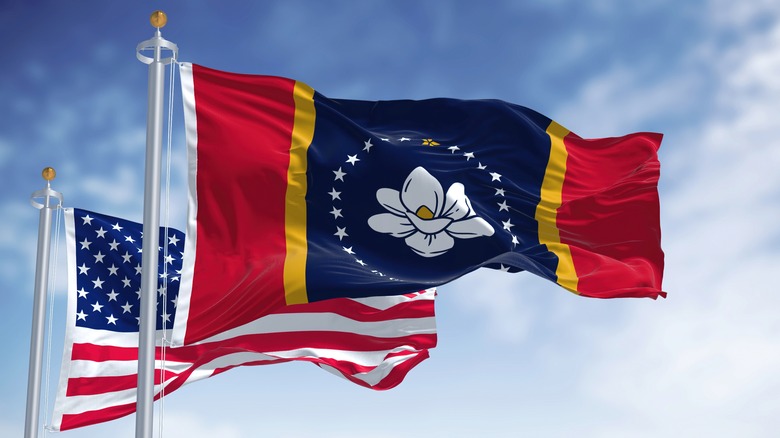 rarrarorro/Shutterstock
After declining for years, rates of homicide in the U.S. have increased since the onset of the COVID-19 pandemic, per Macrotrends data. According to VOA News, murder rates shot up 30% in 2020. As the outlet reports, contributing to that increase could be pandemic-related social and economic stressors, relatively easy access to firearms, and an overall distrust of authority in the general population.
Nowhere is America's recent homicide problem more prevalent than in the state of Mississippi, where the murder rate was already ranked worst in the nation pre-pandemic, according to Jackson, Mississippi-based news outlet WLBT. 
Based on 2021 reporting from the New York Post, in the Mississippi capital of Jackson, a city of some 150,000 people, homicide rates have reached as high as (roughly) 98 murders per 100,000 residents (via World Population Review). What's worsened the issue, the Post notes, is that the town's population has declined in recent decades, and with most residents in Jackson living at or below the federal poverty line, there have been problems recruiting and maintaining law enforcement. According to further data from World Population Review, Mississippi is the poorest state in the union overall based on federal guidelines, with poverty rates as high as 18.8%.
As can be seen in the graph below, homicide is an issue across Mississippi, not just in Jackson, and it's getting worse. Here's a closer look at some possible reasons why that's the case, and what Mississippi-elected officials have done to help address the issue.
Both murder and firearm-related mortality have shot up in Mississippi
As of July 2022, homicide rates in the state of Mississippi reached more than 23 murders per every 100,000 residents, in a state of some 2.9 million people (via the U.S. Census Bureau). Because of that murder rate, along with assault, general road safety, and overall emergency preparedness, among other risks, Mississippi ranks among the least safe states to live in, according to World Population Review. As news website The Center Square notes, the increase in homicide rates in this southern state also coincides with more gun violence, as Mississippi ranks worst in the U.S. for overall gun-related fatalities.
Elected officials in Mississippi have taken note of these problems, CNN reports. Speaking with CNN, Timothy Finch, a so-called "violence interrupter" in the city of Jackson, says the lack of economic growth in Mississippi's capital and the state overall must first be addressed to help reverse the state's murder issue. "[There's] no economic growth," he told the outlet, "[N]owhere to work. Nowhere."
Per the Jackson Free Press, some of the initiatives proposed to help lower Mississippi's homicide rate include challenges to local gun laws and a greater awareness of mental health issues in local policing, with reinvestment in social services.
The alarming recent increase in homicide rates in the U.S. aside, there are positive signs the American murder rate is improving, according to CNBC. Though murders jumped 30% in 2020 and another 6% in 2021, preliminary numbers from 2022 reflect a slight decline, with homicide as of August 2022 coming in at 3.85% lower year to date, according to Data Studio.