The Disturbing Reason Vivien Leigh Hated Kissing Clark Gable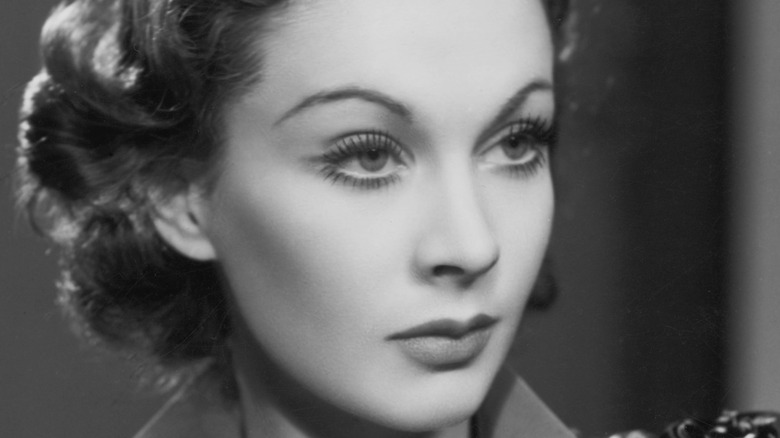 Sasha/Getty Images
Hollywood stars are so great at immersing themselves in their roles that it's difficult to imagine that there is anything other than great chemistry between on-screen lovers. Whether it is mutual dislike between actors like Ryan Gosling and Rachel McAdams in the film "The Notebook" (per The Wrap), or from the frustration one actor feels about another's on-set behavior, like the storied Tony Curtis/Marilyn Monroe drama from "Some Like it Hot," those who are good at their craft perform so well that there isn't a trace of spitefulness that's translated to viewers.
This phenomenon isn't anything new to Hollywood. There are countless examples of how people paired on-screen never could get along when the cameras weren't rolling. These range from screen marriages, to trysts, to platonic relationships. Who could ever imagine that William Frawley and Vivian Vance ("I Love Lucy" characters Fred and Ethel Mertz) hated each other in real life (via MSN), or that there was a long-standing feud between Bud Abbott and Lou Costello (per Showbiz Cheat Sheet)?
Film classics had couples that weren't thrilled about each other in real life, too. What might be shocking to some is that the iconic film "Gone with the Wind" serves as perhaps the most famous example of stars who were cast as each other's love interests who were repulsed by each other in real life. It goes to show you that no matter how attractive a star is, there can be good reasons why another star might not be thrilled about onscreen embraces or stage kisses. From her account, Vivien Leigh built a strong case for why she hated kissing co-star Clark Gable.
Leigh was having a secret affair with Laurence Olivier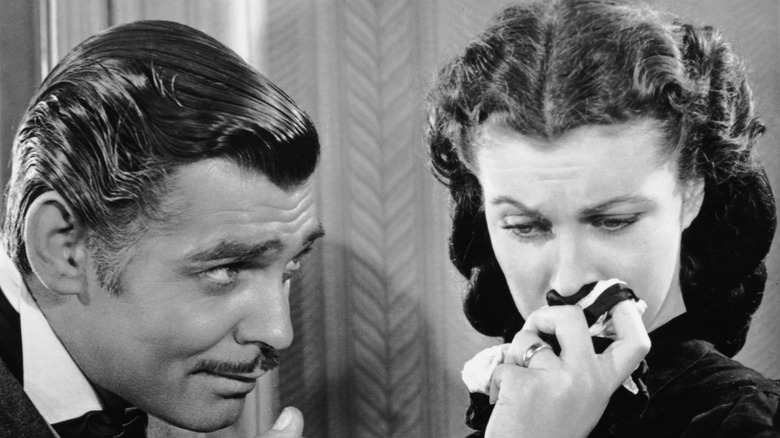 United Archives/Getty Images
The casting of Vivien Leigh as Scarlett O'Hara shocked the film industry. Virtually unknown in the United States, the British stage actress who would later be cemented into Hollywood history as the leading lady in one of its most iconic films got the coveted role over the biggest A-List names of the era. Joan Crawford, Lana Turner, Lucille Ball, and Katharine Hepburn all eyed the part, as did Tallulah Bankhead and Paulette Goddard. According to Country Living, even Carole Lombard — Gable's future wife and former co-star in "No Man of Her Own" — were turned down for the part in favor of Leigh.
Some might speculate that Leigh disliked her onscreen romance with Gable due to something scandalous in her private life. While acting in Britain, she met and fell in love with screen legend Laurence Olivier, whom she met while the two filmed the movie "Fire Over England" two years before "Gone with the Wind" began its long production (via the New York Post). The affair between Olivier and Leigh was problematic, given that each was married to another person. Olivier had tied the knot with actress Jill Esmond in 1930 (per the Los Angeles Times), and Leigh was married to actor Herbert Leigh (via the New York Post).
But it was not the off-screen drama and her love for Olivier that made kissing Gable one of the more dreaded parts of her role in "Gone with the Wind." What made Leigh recoil with disgust was Gable's awful breath.
Gable had lost his teeth from a severe gum infection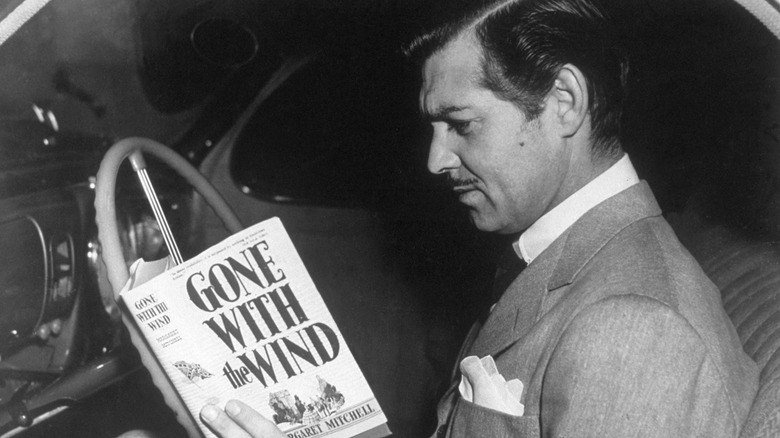 Hulton Archive/Getty Images
Several years before filming "Gone with the Wind," Gable developed a serious gum infection that led to the removal of his teeth. While he was working on the set of the 1933 film "Dancing Lady," the star was forced to undergo oral surgery that delayed the production (per AmoMama). Once healed and fitted with dentures, Gable was now plagued with a pretty severe case of what the medical community calls halitosis. The rest of us would probably just say his breath stank to high heaven and just leave it at that. 
Exacerbating his smelly mouth was the number of cigarettes the actor inhaled throughout the day. Though numerous actresses who shared romantic screen time with him commented on his terrible mouth odor, you'd never have guessed that Leigh took issue with Gable's horrid breath on the set of the movie that vaulted her to stardom. She was just that good of an actress. Of her time with Gable on the "Gone with the Wind" set, Leigh once remarked, "Kissing Clark Gable in 'Gone with the Wind' was not that exciting. His dentures smelled something awful" (per The Guardian).
Despite her disgust with kissing Gable, there is no debating the quality of their chemistry on the screen. Express weighed in on the film in 2017, rating the passionate kiss between the actors as the ninth best on-screen kiss of all time. Considering what we now know about her feelings toward Gable's mouth, maybe there was more that went into her winning the 1940 Academy Award for Best Actress for her "Gone with the Wind" performance (via IMDb).