How John Wayne's Feud With Columbia Pictures Changed The Casting Of A Famous Western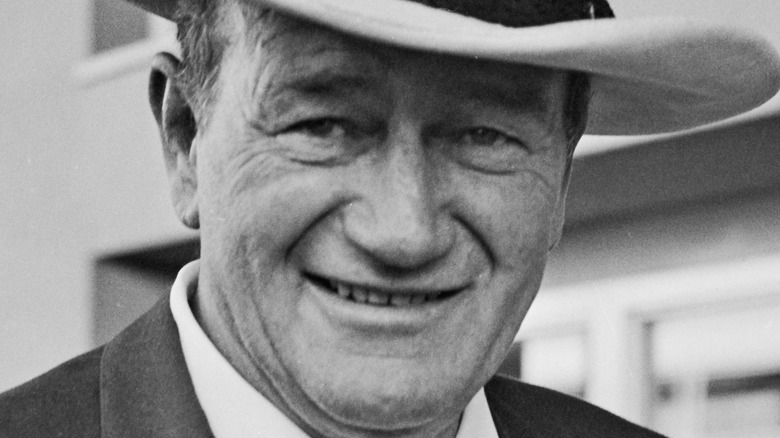 Evening Standard/Getty Images
John Wayne very nearly starred in a western movie called "The Gunfighter," according to Criterion. After all, the scriptwriter had penned the script just for Wayne, planning for him to play the main character. At first, Wayne was interested in playing the role. But when Columbia Pictures bought the rights to the film, he soured on the idea — and it was all because of a decades-old feud with the head of the studio.
Per "John Wayne: American," in the 1920s and 1930s, the head of Columbia Pictures, Harry Cohn, hired a young actor named John Wayne to work on numerous movies. Actors were contracted with studios in those days, so Wayne starred in numerous Columbia Pictures movies, such as "Men Are Like That."
Over time, Wayne became friendly with an actress and started having an affair with her. Cohn, however, felt protective about the actresses at the studio, because he was also having extramarital relationships with many of them.
'He talked to me like a sewer rat'
Leila Grossman/Getty Images
When Harry Cohn found out about John Wayne's newest relationship with a Columbia Pictures actress, the studio head was livid, according to "John Wayne: American." Cohn told him, "When you're at this studio, you keep your pants buttoned."
The incident left Wayne stunned (per "John Wayne: American"). He lied to Cohn, politely denying that he'd been dating the actress, but that just made Cohn madder. Cohn apparently thought politeness was a sign of weakness — he was pretty well known to be a jerk to almost everyone around him. John Wayne later said, "I'd been brought up to respect older people and he talked to me like a sewer rat."
The fight didn't even end there, and Cohn was not exactly subtle about his feelings toward Wayne. In Wayne's next movie, Cohn arranged for him to play a corpse who had been stabbed in the back. Then, he reassigned him to the portion of the studio which made low-budget B movies, but it was clear Wayne's relationship with Cohn and Columbia Pictures was too fractured to continue. In Wayne's final movie with the studio, he was cast as a football player who sold out his teammates for money, a character that Wayne would have hated playing. After that 1931 movie, "Maker of Men," Cohn ended Wayne's studio contract, effective immediately. Wayne never forgave Cohn for the way he was treated at Columbia Pictures, and as he grew more popular as an actor, he repeatedly turned down movie offers from the studio.
Decades later, Wayne still couldn't stand Cohn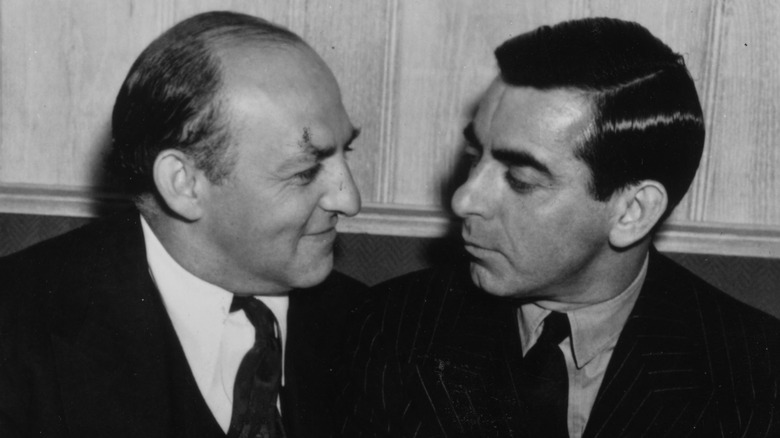 General Photographic Agency/Getty Images
Harry Cohn (above, left, with Eddie Cantor) seemed to sweep the old disagreements under the rug, but it was a point of pride for Wayne (via "John Wayne: American"). He was known to say he'd "rather leave the industry than make a picture" for Cohn (whom he referred to almost exclusively with curse words). In a 1969 interview with Roger Ebert, decades after their original fight, Wayne still didn't hold back when talking about Harry Cohn. He said he "personally couldn't stand him."
Per Britannica, Cohn's temper came back to bite him later on, as he tried to hire Wayne for the movie "The Gunfighter," released in 1950. The movie was written just for Wayne, who was a bona fide movie star by this point in his career. But the actor hadn't forgotten or forgiven how Harry Cohn treated him, so he turned it down. Instead, actor Gregory Peck ended up cast as the main character Jimmy Ringo (per IMDb). Britannica reports that the movie didn't do very well at the box office, though it stands as an influential example of the "psychological western."
John Wayne may have had the last laugh in his feud with Harry Cohn and Columbia Pictures. In 1976, as he starred in his final movie, "The Shootist," Wayne played a very similar character to the character he was supposed to play in "The Gunfighter."