The Real Reason John Wayne's Grave Was Unmarked For 20 Years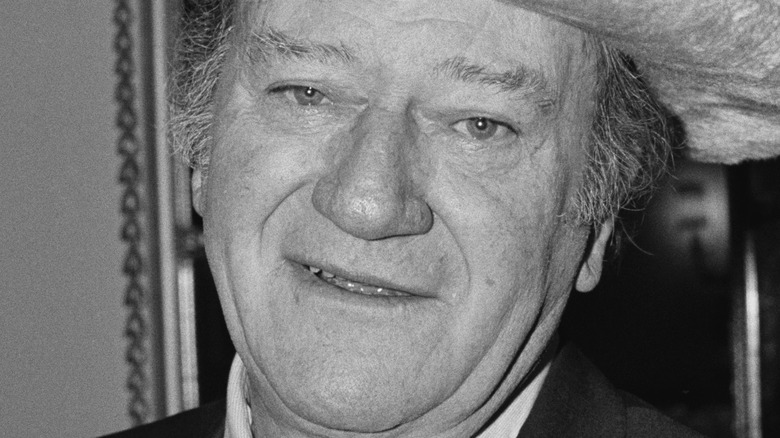 Victor Blackman/Getty Images
John Wayne, born Marion Morrison (per Britannica), has gone down in history as one of the all-time greatest icons of the silver screen. For decades, he sold out movie theaters, frequently appearing in Westerns and war movies. Off-screen, he was a steadfast advocate for continued U.S. involvement in the Vietnam War and other conservative causes, as he told Roger Ebert in a 1967 interview, at a time when few in the movie industry would publicly do the same.
He picked up a best actor Oscar for 1969's "True Grit," and 10 years later, three years after the 72-year-old had finished his final film, he was dead. He'd beaten lung cancer a decade earlier, but stomach cancer would ultimately claim his life, on June 11. However, despite having spent decades as one of the most recognizable names in all of American popular culture, for 20 years his final resting place was a humble, unmarked grave. And when he finally did get a tombstone, it was (and remains) comparatively small and nondescript, especially when juxtaposed with Wayne's larger-than-life persona.
Wayne's grave was unmarked for two decades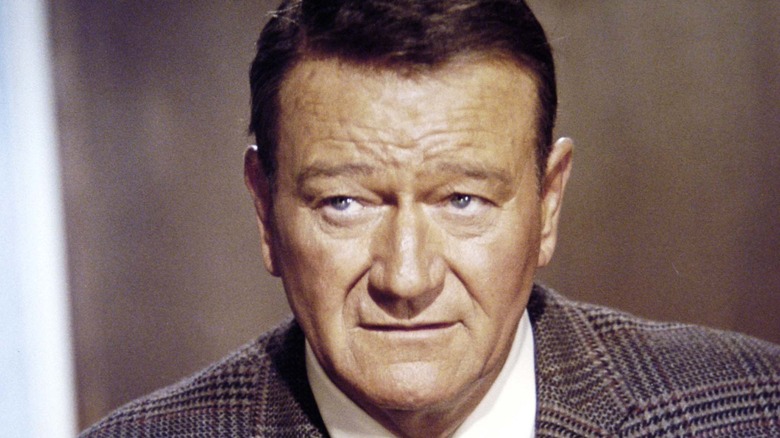 Avalon/Getty Images
Following his death, the Duke's family held a private, family-and-friends-only funeral for the actor, with security personnel keeping the eyes of the public away, as Outsider reports. The family initially did not mark his grave. Wayne's son, Ethan, would tell the Los Angeles Times that disclosing the location publicly would be disrespectful to the families of others buried there. "You want him to rest in peace. We didn't want to make a shrine. It's more out of respect for the people that are out there. They don't want their loved ones' graves trampled on."
There may have been more to it than just a desire to protect the integrity of other graves in the cemetery, however. According to Purple Clover, his family feared that a marked grave could attract vandalism from left-wing protesters. Wayne's grave would remain unmarked for the next 20 years, but in 1998, according to The Vintage News, his family identified his grave with a simple bronze marker.
Wayne's final message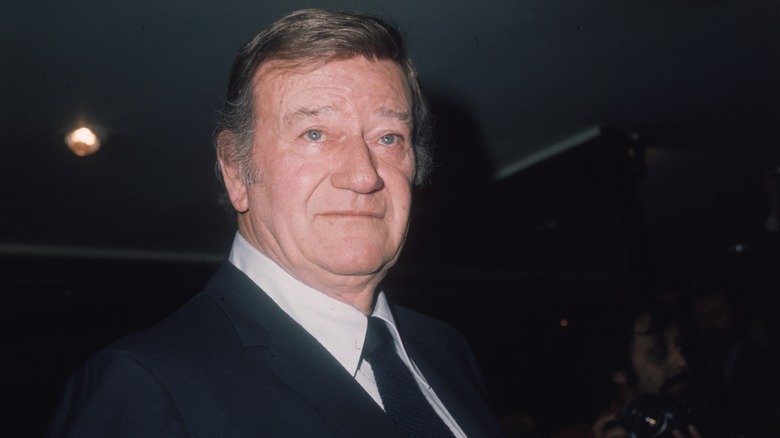 Hulton Archive/Getty Images
Wayne's grave can be found at Pacific View Memorial Park in Corona del Mar, California, according to Find a Grave. His final resting place is indicated by a simple bronze marker depicting the Duke on horseback, a scene from the Old West in the background. Wayne's grave marker also includes a quote: "Tomorrow is the most important thing in life. Comes into us at midnight very clean. It's perfect when it arrives and it puts itself in our hands. It hopes we've learned something from yesterday" (via Outsider).
The quote came from Wayne himself, in a 1971 interview with Playboy Magazine (transcribed at Heavy). On the one hand, it's a bit of a truism that isn't attached to any religion or belief system, and so it can serve as inspiration for a person of any religion or none. However, Outsider notes that the Duke was wrestling with his faith in his final days, having converted to Catholicism later in his life (via Catholic News Agency).
Decades after he died, Wayne's grandson Matthew Muñoz, a Catholic priest, would note that his grandfather often expressed himself simply but profoundly. "Sometimes that simplicity was looked at as naivety but I think there was a profound wisdom in his simplicity," he said.