Why Do Brits Think They Will Get 12 Days Off Work If The Queen Dies?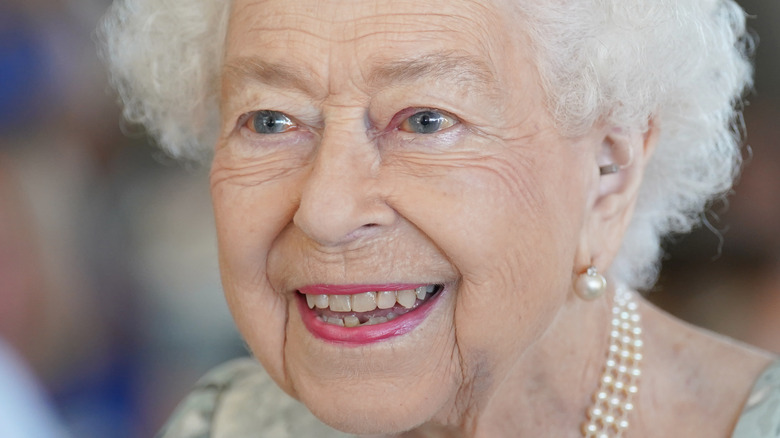 Wpa Pool/Getty Images
In 1952, Queen Elizabeth II ascended to the throne, making her the longest reigning monarch in British history (via NPR). According to Reuters, the queen never intended to rule for this long. She was only 25 when she was given the crown after her father, King George VI, died. Despite this, many — including former Prime Minister David Cameron — have praised her. In 2015, he stated (per Reuters), "She has served this country with unfailing grace, dignity, and decency, and long may she continue to do so." Given that the queen is 96 (per Newsweek), questions are arising over what will transpire after she dies.
Politico explains that the U.K. government has a plan at hand aptly called London Bridge. This details what the nation will undergo in the days between the queen's death and her funeral. First and foremost, the news of her majesty's death will be made public. It's also likely that the Royal family will make an announcement of their own. Furthermore, Insider writes that the BBC and other news outlets will interrupt their scheduled programming to deliver the news. That being said, The Independent reports that for about 12 days, the nation's daily life will be interrupted as they prepare to say goodbye to their beloved queen.
The nation will mourn her death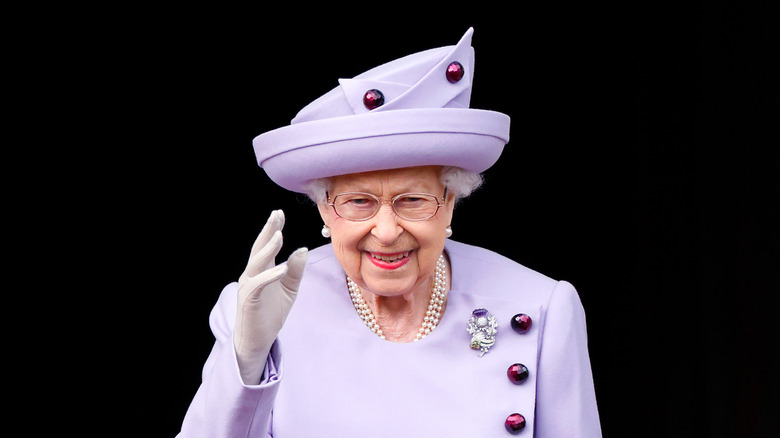 Max Mumby/indigo/Getty Images
Insider explains that Queen Elizabeth II's death will be an epoch-making event. So much so that The Independent states that the economy will take a hit as stock markets and banks will likely close for 12 days. Still, the publication notes that it's unknown how the government will truly respond. After all, a monarch has not died in decades. In light of the news, businesses will choose if they want to close their doors or not. Additionally, the BBC will refrain from broadcasting comedies while the nation mourns. It's believed that there will be a wave of mass hysteria as most of British society has not seen another monarch on the throne. A day after her death, Prince Charles will formally be declared king.
Meanwhile, the queen's body will lie in state for four days in Westminster Hall (via Insider). Politico reports that the public will be able to visit the queen's body for 23 hours a day to say their condolences, and it's estimated that 1 million people will pay their respects. Ten days after her death, British Heritage writes that the queen will be moved to Westminster Abbey for her funeral. The Independent notes that the she has actually been involved in planning the event. The funeral will undoubtedly cause London to erupt in chaos as millions will pour into the city for a chance to view this monumental moment in history.
The Queen's funeral will be a holiday
Wpa Pool/Getty Images
According to Politico, Queen Elizabeth II's funeral will be declared a ​​"Day of National Mourning." The Independent likens this to a public holiday. However, Politico notes that if the funeral is on a weekend or on another holiday, an extra holiday will not be given. The government has also reportedly decided not to give employees the day off and has instead left that decision up to employers. Nevertheless, this will likely cost the British economy billions as certain financial institutions will be closed for days before the queen's funeral. Grazia Daily explains that it is also unlikely that Brits will get the full 12 days of mourning off of work.
At most, they will get the day of the funeral off if their employer allows it. Per Grazia Daily, the same can be expected of children in school — they will only get the day of the funeral off, not the full 12 days. British Heritage writes that on the day of the funeral, Big Ben will chime at 9 a.m., and the nation will have a moment of silence at 11 a.m. Politico states that this will last two minutes before a funeral procession begins. There will then be a service at Westminster Abbey that will be attended by notable world figures and watched by billions at home.