The Mysterious 1991 Disappearance Of Ben Needham
Ben Needham was born on October 29, 1989, in Sheffield, South Yorkshire, England. When he was 18 months old, his mother, 17-year-old Kerry, decided to move with Ben to Kos in Greece where her parents had a home. On July 24, 1991, Kerry left 21-month-old Ben in the care of her parents, Eddie and Christine, while she headed to a local hotel where she was employed (via The Guardian). Although Kerry lived in her own place just a mile away from her parents, she often dropped by their place to leave Ben with them while she worked.
On that fateful day, Ben was playing with his toy cars outside the farmhouse. At about 2:30 p.m., Eddie and Christine noticed that their grandchild was missing. They searched the surrounding areas of their property, but he was nowhere to be found. During that time, they were having renovations done on their property, and in an interview with The Daily Mail, Eddie realized after Ben's disappearance that they were too lax, as they never thought that anything like that would happen. Authorities searched for the missing boy, and there were claims of a boy matching his description being spotted at the airport, but the investigation didn't yield results.
They never stopped looking for Ben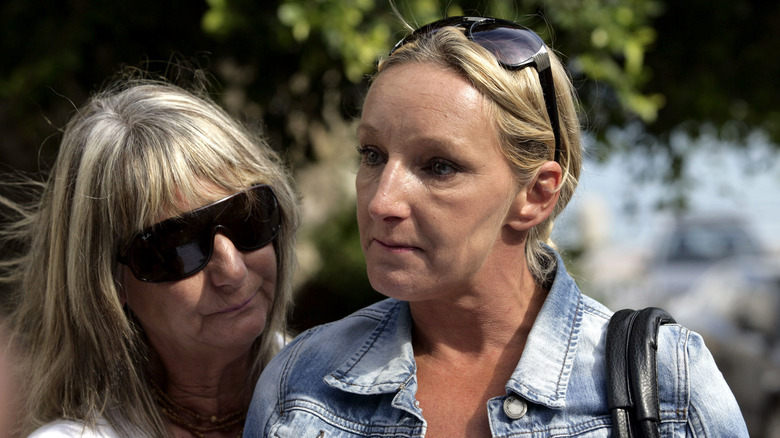 Milos Bicanski/Getty Images
The local police conducted a search of the area where Ben Needham was last seen, but they never found him. Three months after his disappearance, the family decided to fly back to Sheffield due to illness. In addition, it was difficult for them to be in a foreign country, and they felt they were not given the help they needed, as reported by The Daily Mail. Despite the move, Kerry (pictured on the right), Eddie, and Christine (pictured on the left) never stopped looking for Ben. Tips were sent to the family, and they had to go through different channels to alert the authorities in Greece, which was time consuming. It came to a point when they bypassed authorities and checked the possible sightings themselves, but still, they never found Ben.
For many years, the Needham family believed that Ben was abducted from his grandparents' home. In 2016, however, the family received information that Ben may have died on the day he went missing.
Was he killed in an accident?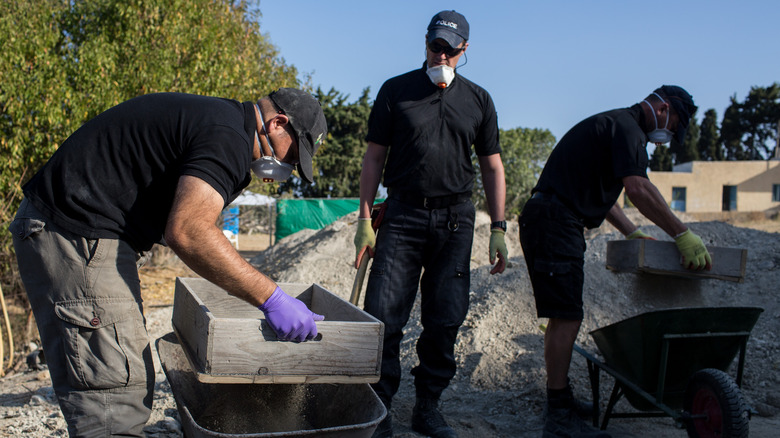 Chris Mcgrath/Getty Images
In 2016, The South Yorkshire Police told Kerry Needham that they have reason to believe that Ben had been killed in an accident. According to The Daily Mail, an unnamed witness claimed that his friend, Konstantinos "Dino" Barkas, was responsible for the little boy's death. Barkas had been operating a digger at the time of Ben's disappearance, and the witness claimed that Barkas told him he may have accidentally run a boy over with the heavy machinery.
Despite the new information, authorities were not able to follow up with Barkas, as he died of cirrhosis in 2015. Per The Mirror, Barkas was questioned by the police after the boy's disappearance, and at that time, he denied having anything to do with the incident. Barkas was a well-known individual in the community, and when the news of his alleged involvement in Ben's death was reported, Kerry Needham suspected a cover-up. "I thought he was just a poor digger driver, I had no idea he was so connected. I'm now starting to worry there has been a conspiracy of silence around him all these years," she stated.
Authorities excavated the site where Ben disappeared, but they didn't find conclusive evidence to prove that he was run over and killed. However, they strongly believe that was what happened. With no evidence, Kerry Needham still hopes that Ben is alive somewhere and made a public plea for information in 2022 on the 31st year of his disappearance (per The Yorkshire Post).