The Tragic Reason Aqib Talib Isn't Joining Thursday Night Football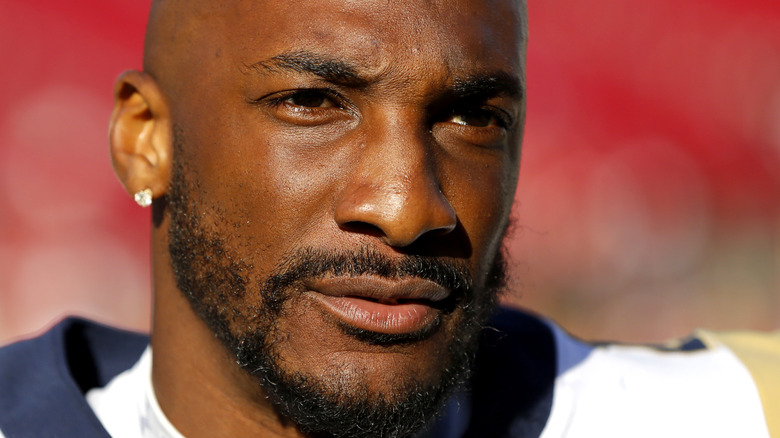 Katharine Lotze/Getty Images
Many people nowadays enjoy streaming packages, especially sports streaming packages, and one of those programs has been making waves lately: Amazon's "Thursday Night Football." As CNBC says, Amazon had recently paid a whopping sum of $1 billion for exclusive rights to the program. "Thursday Night Football" is essentially a collection of National Football League games, which all tend to have broadcasting on Thursdays, hence the name. Amazon's new deal may either come with frustration or satisfaction, depending on the person. 
That's where Aqib Talib comes in. The successful cornerback was slated to join "Thursday Night Football" earlier this year (via USA Today). Given that he's a notable athlete, the pairing seemed perfect. However, tragedy soon struck, which caused Talib to step down from the program completely, instead wanting to focus on his own personal life and family. The reason for this is startling and tragic: Talib's brother, Yaqub Talib, allegedly shot and killed a man.
Who is Aqib Talib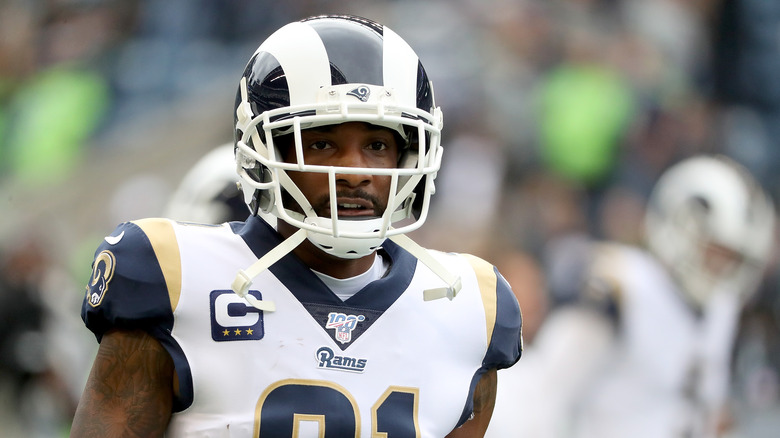 Abbie Parr/Getty Images
Aqib Talib is arguably one of the most successful and important college football and NFL players around. As ESPN says, he's played for the University of Kansas, the Tampa Bay Buccaneers, Los Angeles Rams, New England Patriots, and Denver Broncos. Talib even won the Super Bowl 50 while with the Broncos. As explained by the Topeka Capital-Journal, Talib had grown up with a somewhat rough life. He went to school in Richardson, Texas in a neighborhood known for gang violence and below poverty line living standards.
Talib became a varsity cornerback in his junior year. He was known for his exceptional skills in athletics — and not just in football. As Jim Ledford, Talib's high school coach, told the Topeka Capital-Journal,"If you ever saw him in the gym, he's unbelievable in the gym. He can take off just inside the free-throw line and jam. He had that kind of ability, 360 dunks. We've all seen him do that, he just had massive hip explosion. He had the record for our vertical. Athletically, he was unbelievable." And while Talib eventually achieved his football dreams, he wouldn't expect the tragedy that would hit him. 
Aqib Talib's brother is accused of killing a youth coach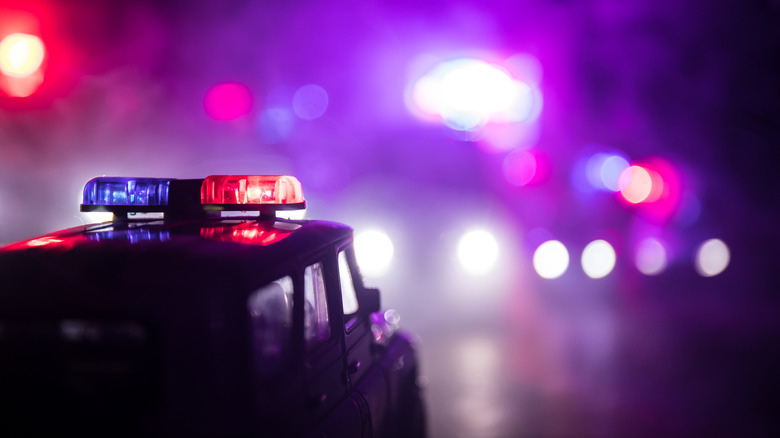 zef art/Shutterstock
Earlier this year, it was announced that Talib would join Amazon's "Thursday Night Football" programming. Talib himself has analyst experience, as he debuted as an analyst for Fox back in 2020, as Sports Illustrated says. Given his experience, joining Amazon's program as an analyst seemed like a great opportunity. However, this would all be put on hold indefinitely, as Talib stepped down after his brother was arrested for murder.
His brother Yaqub Talib was accused of shooting and killing a youth football coach in August 2022. Yaqub later turned himself into the police (via AOL). The crime happened in Dallas County at a youth football game after opposing sides had a conflict, per NBCDFW. As currently reported, Aqib Talib might be part of the incident, as some have alleged that he initially started the fight by confronting referees during a game. Understandably, Talib stepped down from "Thursday Night Football." Where things go next is yet to be seen.