This Epic 7-Minute Led Zeppelin Song Was Probably A Response To George Harrison's Blunt Criticism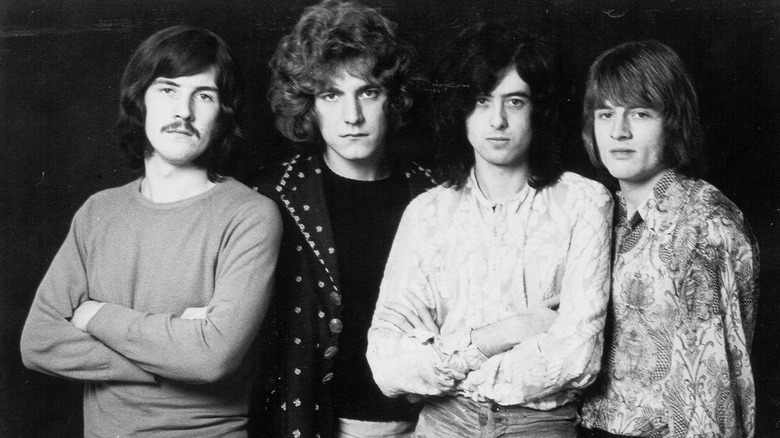 Michael Ochs Archives/Getty Images
Led Zeppelin was around for only a little more than a decade, but just like the Beatles before them, they made the most of their limited time in the spotlight and then some. Singer Robert Plant, guitarist Jimmy Page, bassist John Paul Jones, and drummer John Bonham were among England's most skilled musicians at their respective instruments, and that combination of talent came up with some of the most iconic tracks of all time, including some that were way too long to be played on FM radio in full, unedited form. How long? Try seven-plus minutes in some cases — a marathon length for the mainstream rock standards of their heyday.
Additionally, Led Zeppelin benefited from a number of friends and contemporaries within the rock scene throughout their brief existence. For starters, there's the story of how Led Zeppelin got their name — some say it came from Keith Moon, others claim John Entwistle made the quip, but either way, it appears that one of those two members of The Who commented that their planned supergroup with Page and Jeff Beck was going to go down like a "lead balloon." And going back to what we noted above, there was the one time former Beatles singer-guitarist George Harrison apparently had some constructive, yet frank criticism that ended up inspiring Zeppelin to write one of their longest, most epic songs.
The Rain Song came after George Harrison reportedly observed Zeppelin doesn't do ballads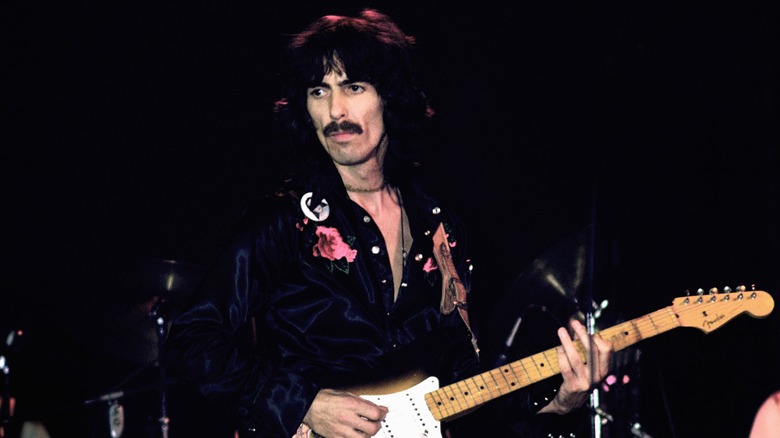 Robert Altman/Getty Images
Don't let the title deceive you — Led Zeppelin's 1973 album "Houses of the Holy" does not contain the hard-rocking banger of the same name. (That song appeared on the next album, 1975's "Physical Graffiti.") Instead of focusing on anthemic rockers, "Houses of the Holy" saw the band expanding their musical palette in a variety of ways and recording slower, gentler tracks like "The Rain Song." This was not, by any means, their first ballad, but at 7 minutes and 39 seconds, it was only second to "Stairway to Heaven" as Zep's longest song at that point in their career. And of course, Led Zeppelin was simply not known for their love ballads. 
As quoted by Far Out Magazine, Brad Tolinski wrote in his book, "Light & Shade: Conversations with Jimmy Page," that the inspiration for "The Rain Song" supposedly came from a conversation Zeppelin drummer John Bonham had with George Harrison, who was then at the height of his solo career. "George was talking to Bonzo one evening and said, 'The problem with you guys is that you never do ballads,'" Page recalled to Tolinski. "I said, 'I'll give him a ballad,' and I wrote 'Rain Song,' which appears on Houses of the Holy. In fact, you'll notice I even quote 'Something' in the song's first two chords."
Indeed, there are some subtle similarities between the intros of "The Rain Song" and the Beatles' "Something," and as Far Out speculated, it's possible that Page co-wrote "The Rain Song" as a "pastiche" of Harrison's brand of guitar-driven love songs.
The Rain Song has its share of fans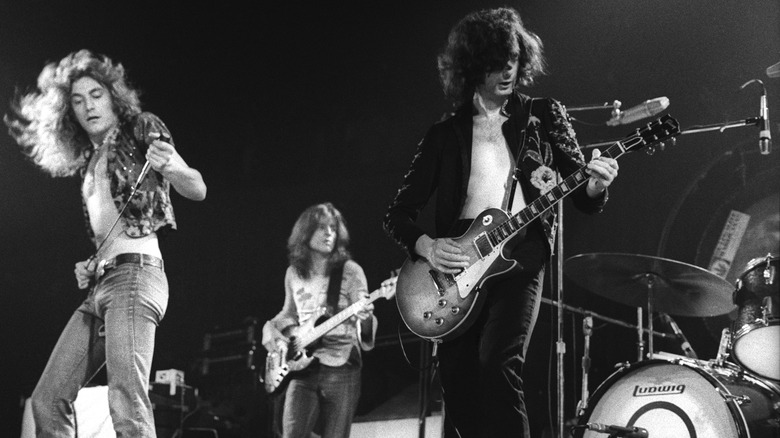 Michael Ochs Archives/Getty Images
Yes, it may arguably sound as if "The Rain Song" was Led Zeppelin's playful retort to a fellow rock heavyweight calling attention to their lack of ballads. However, the song has also gone down as one of the legendary band's most heartfelt recordings, with critics such as Rolling Stone's Gavin Edwards writing in 2003 — 30 years after its parent album was released — calling the track "seven minutes of exquisite heartache." He also mentioned the encounter between George Harrison and John Bonham and hinted that Zeppelin took the ex-Beatle's remarks constructively, "[rising] to the challenge" in the process.
Producer Rick Rubin also expressed his love for "The Rain Song," listing it among his top 15 Led Zeppelin songs and stressing that the tune cannot simply be classified. "There's such tasteful, beautiful detail in the guitar, and a triumphant feel when the drums come in — it's sad and moody and strong, all at the same time," he continued. "I could listen to this song all day. That would be a good day."
Sure, it may not have the bludgeoning power of "Heartbreaker" or the raw energy of "Whole Lotta Love," but Led Zeppelin proved with "The Rain Song" (as they did on many others) that they were more than just one of the era's preeminent hard rock bands. And who said hard rock bands can't have lighter-in-the-air ballads anyway?