The Marriage That Connects The Three Stooges To Comic Book History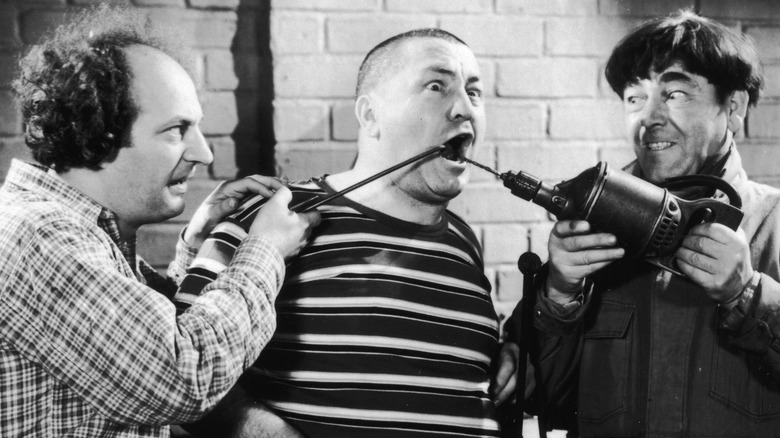 Hulton Archive/Getty Images
Despite making their motion picture debut over 90 years ago, The Three Stooges remain instantly recognizable via their distinctive looks, wild slapstick comedy routines, and continual presence in the pop culture pantheon. The Farrelly Brothers made a 2012 reboot film called, yes, "The Three Stooges," per the IMDb. Moe Howard was the first of the eventual six Stooges to make his way to the stage, according to Britannica, appearing in a wide variety of theater productions before finding success in 1922 with a comedy act featuring his older brother, Shemp, and his friend, Ted Healy. They were soon joined by comedian Larry Fine. A stint in vaudeville led to an appearance on Broadway and roles in the 1930 movie "Soup To Nuts." Eventually, Shemp quit and was replaced by another brother, Jerry "Curly" Howard. Four years later, the three split from Ted Healy and signed a long-term contract with Columbia Pictures as The Three Stooges. They starred in over 200 short films over the next 24 years, several of which eventually made their way to television, guaranteeing the group's long-term influence and popularity.
Moe Howard married his wife, Helen Schonberger, in 1925, as reported via his biography on The Three Stooges official website. The couple had two children, Joan and Paul. Joan went on to write several books on The Three Stooges, but it was her marriage to illustrator and writer Norman Maurer that led to comic book history.
3-D was everywhere in the 1950s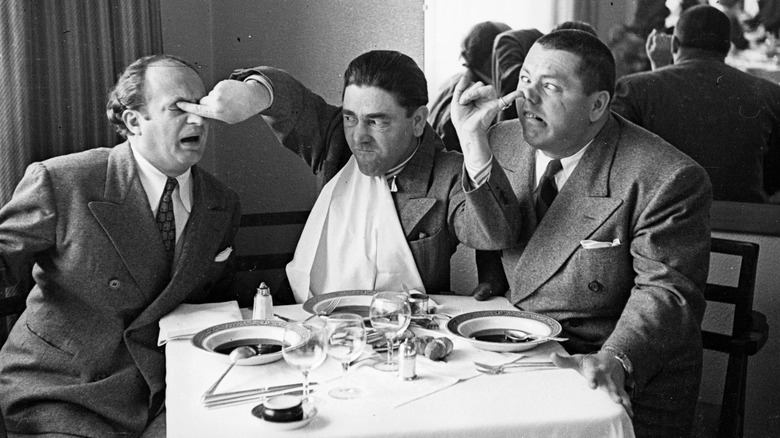 Fox Photos/Getty Images
According to the Lambiek Comiclopedia, Norman Maurer got his start in comics working with Daredevil Comics and Boys Comics. He eventually got a deal with Jubilee Comics via his childhood friend Joe Kubert, who was an editor at the company, and after obtaining copyright clearance from his father-in-law, as well as Curly and Larry, kicked off a series of Three Stooges comics in 1947. Based on Three Stooges comedy shorts, Maurer served as writer, illustrator, and editor of the series. In 1953, Maurer and Kubert developed the very first 3-D comics, which, naturally, featured The Three Stooges. Per the Australian Centre for the Moving Image (ACMI), the early 1950s were a boom time for 3-D entertainment, with the "Golden Age" falling between 1952 and 1954 when a whopping 57 3-D movies were released. Nearly 20 years after signing their contract with Columbia Pictures, The Three Stooges were making history within the trendiest entertainment fad of a new era. 
Norman Maurer went on to create a sort of sequel to his Three Stooges comics when he made "The Little Stooges," introduced to readers the "wild and wacky sons of The Three Stooges," which is especially funny considering he was the real life son-in-law of one of them. He also became The Three Stooges' manager and wrote, produced, and directed several Stooges productions, including the films "The Three Stooges Go Around The World In a Daze" (1963) and "The Outlaws Is Coming" (1965) as well as the 1965 television series "The New 3 Stooges," as reported by the IMDb.
The Maurers and the Stooges' legacy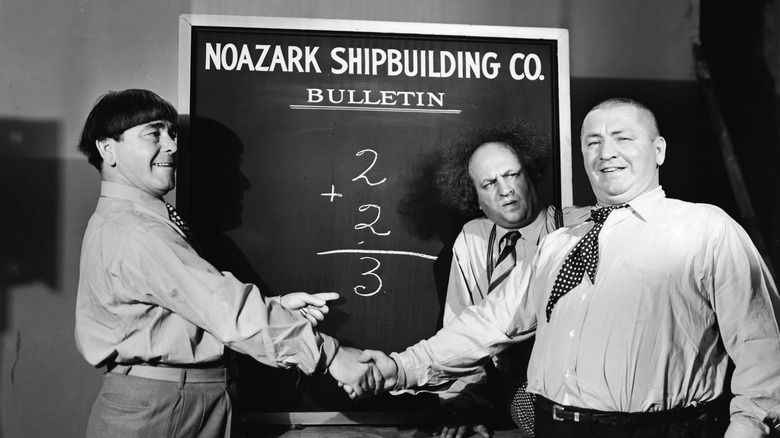 Hulton Archive/Getty Images
Norman Maurer and Joan Howard Maurer continued keeping The Three Stooges legacy alive long after the trio's last performance in 1970. Moe Howard died of lung cancer in 1975. In 1983, Joan Mauer made headlines after finding over 4,000 canceled checks signed by her father, which had turned up in the course of her research for her 1982 book "The Three Stooges Scrapbook," according to the Los Angeles Times (via Newspapers.com). Maurer decided to use the checks as part of a fundraiser for the City of Hope Medical Center of Duarte, California, which was opening a cancer treatment unit. She sent a canceled check to each person who contributed $10 or more to the drive, noting, "People want something belonging to Moe, a man whom they enjoyed watching," and joking, "I think he would have liked the irony of taking something that you would normally throw into the trash and getting something valuable back for it." 
The Maurers also offered donors signed Three Stooges comic books and vintage Three Stooges fan club stamps. Joan noted that Stooges fans were still in abundance in the 1980s, as many people had grown up watching their short films on television, which were syndicated to the small screen in 1959. Even Joan herself had become a fan, despite finding her father's work hard to watch as a child, explaining to the Times, "The slapstick was a little violent for me. But today, as I go back to watch them, I really get a kick out of them."