Not Every Region Of Alaska Gets As Cold As You Think It Does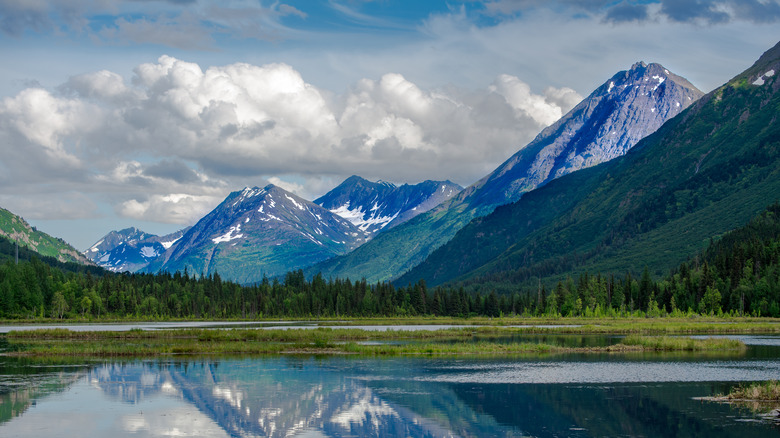 Dominic Gentilcore PhD/Shutterstock
According to World Population Review, Alaska is the coldest state in the United States. Needless to say, this notion has been continuously perpetuated in the media for decades. Take, for example, films like "Balto," "30 Days of Night", and "Into the Wild" (via Entertainment Weekly). Each of these serves to demonstrate how unforgiving temperatures and conditions can be all year-round in The Last Frontier. As the Resource Development Council for Alaska points out, this has not deterred tourists from flocking to Alaska and contributing billions to the state's economy. In fact, it's believed that one in three visitors are repeat travelers.
However, contrary to popular belief, Alaska is not always a frigid tundra. In June 2022, UPI reported that summer temperatures were at an all-time high. So much so that KTOO noted that this was causing health issues for locals who were simply unaccustomed to such heat. That being said, the Kenai Peninsula Borough, which is located south of Anchorage, is known for its breathtaking views and its endless outdoor activities. As it is daylight for 19 hours, Kenai is a popular tourist destination. Furthermore, the region is also notable for its pleasant weather in both the summer and winter seasons (per the Kenai Peninsula Tourism Marketing Council).
Temperatures in the Kenai Peninsula Borough are mild
Per the Kenai Peninsula Tourism Marketing Council, temperatures in the region are not as extreme as compared to the rest of Alaska. This can be seen in the graph above (via the National Centers for Environmental Information), which represents the average temperatures for each month starting in January 2018 until July 2022. The data shows that between April and August, the temperature begins to rise slowly as spring and summer emerge. At the highest, temperatures are in the 40s each year. However, in September between 2018 and 2021, temperatures once again dropped into the 20s and 30s, marking the beginning of fall. Winter, however, is a different story. 
The graph states that December through March are the coldest months for the Kenai region. The lowest temperature recorded in all four years was in January 2020, when the weather dipped to 3.2 below zero. This was unusual for the Kenai region as winter temperatures are, on average, in the teens and 20s. Even so, both The Washington Post and Alaska's News Source note that it's not unusual for January to be the state's coldest month. 
According to the graph, the second coldest temperature was recorded in November 2021 at 6.3 degrees. The BBC reports that extreme highs and lows in Alaska are now becoming the norm. As the Environmental Defense Fund explains, this is likely due to climate change, which is causing snow to melt sooner and winter temperatures to rise up to 6 degrees.