Audrey Hepburn Once Had A Tulip Named After Her. Here's Why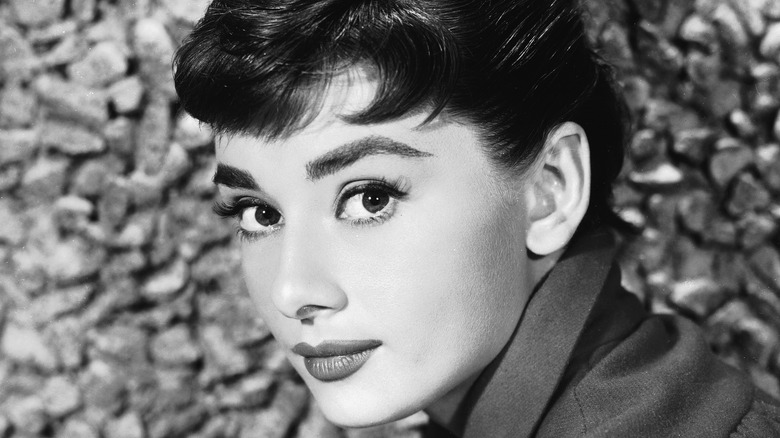 Hulton Archive/Getty Images
Near Brussels, Belgium on May 4, 1929, a soon-to-be international starlet was born by the name Edda van Heemstra Hepburn-Ruston (via History). An icon known for her femininity, talent, and class, you may better recognize her as Audrey Hepburn. She was born to a Dutch baroness and English banker, and while such a noble and intelligent lineage is no surprise, her childhood was anything but easy. 
World War II would soon burn its way through Europe with Nazi invasions across the continent, including in Holland where Hepburn's family was staying. Despite their struggles, Hepburn did not give up on her dreams, and continued to take ballet classes. Following the war, she went to London where she was offered a role in the Broadway adaptation of Colette's "Gigi," by none other than the revered writer herself. But her fame did not cease to grow there. With roles in films like "Roman Holiday" (1953) and "Breakfast at Tiffany's" (1961) — both of which won her Academy Awards for Best Actress — some would say her fame bloomed.
A Life of Giving Back ... and Gardening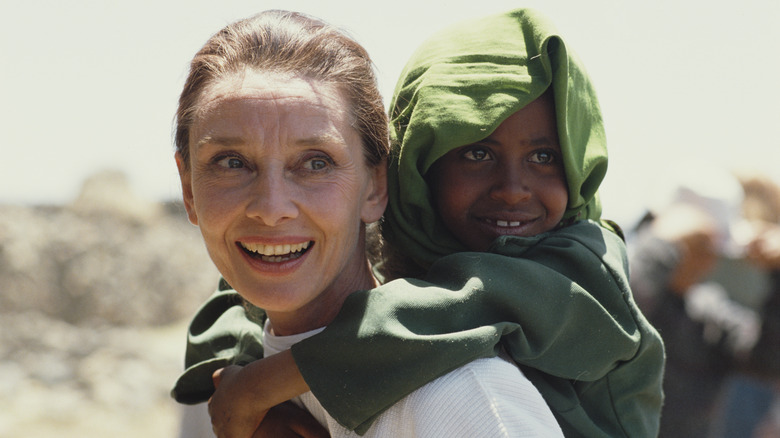 Derek Hudson/Getty Images
Audrey Hepburn's films have a cult-following for her grace and iconic acting skill. But that's not all she was known for. Along with her countless accolades and inspirational back-story, Hepburn loved children. In fact, she dedicated a large portion of her life to advocating for children's rights. She worked closely with UNICEF, and her granddaughter Emma Ferrer continues that work to this day (via UNICEF). Before her death in 1993, Hepburn traveled across the globe to visit at-risk youth, bringing awareness to UNICEF's humanitarian programs.
Along with advocating for children in her spare time, Hepburn loved to garden. Although her family experienced significant struggles during the second World War, Hepburn had an otherwise simple childhood in the countryside. This wholesome upbringing influenced her love of gardening (via CR). She also found a symbolic meaning in flowers, because they brought hope to people after the war, instilling in her an appreciation for natural beauty at a young age.
A Bouquet of Honors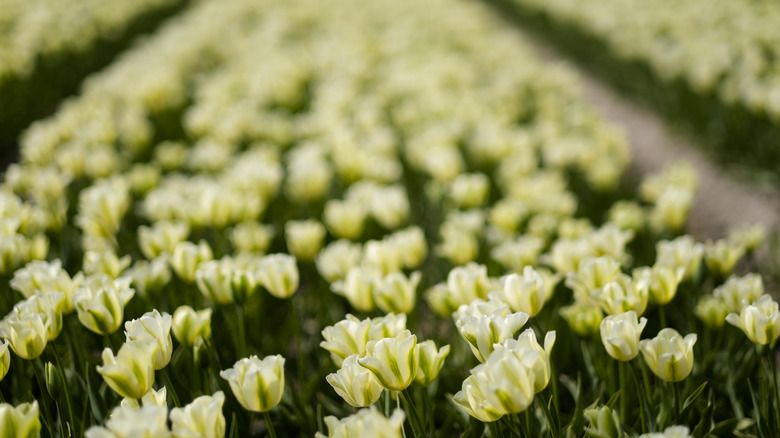 Thierry Monasse/Getty Images
Audrey Hepburn won countless acting awards throughout her lifelong career, but some honors were more unique than others. In 1990, just three years before the starlet's death, a white tulip hybrid was invented in the Netherlands and named after her (via CR). She was given the tribute not only in honor of her career, but her lifetime of work with UNICEF. The Netherlands also bestowed Hepburn with the namesake because her mother, Baroness Ella van Heemstra, spent years of her childhood at Huis Doorn Manor, one of the nation's many historical sites.
The naming ceremony, where Hepburn dedicated the tulip to her Aunt Jacqueline, was held in the manor. But this wasn't the only floral honor given to Hepburn, who also has a delicate light pink tea rose named after her (via Ciner NY). Fitting for such a poised and graceful beauty, these namesakes are grown in gardens internationally, immortalizing this late icon –- and others like John F. Kennedy, Bing Crosby and Madame Curie, who also have tulips named after them –- for years to come.