Marilyn Monroe's Eye-Opening Reason For Turning Down Breakfast At Tiffany's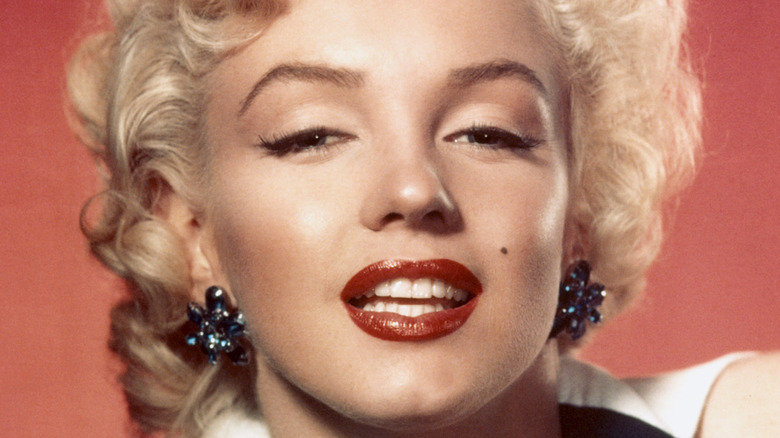 Michael Ochs Archives/Getty Images
Released in 1961, "Breakfast at Tiffany's" is a beloved rom-com that continues to dazzle audiences (per Britannica). Many agree that this is due to Audrey Hepburn's magnetic portrayal of Holly Golightly. IMDb writes that she was later nominated for an Academy Award for best actress in a leading role. Although Hepburn did not win an Oscar, the legacy she created has transcended the decades and her death. Her little black dress (designed by Givenchy), paired with oversized glasses and pearls, created a look that is still imitated today. Per TCM, "Breakfast at Tiffany's" was directed by Blake Edwards and co-stars George Peppard as Paul Varjak.
The film centers on Varjack, a writer who falls in love with Golightly, a secretive but carefree party girl. According to the BBC, Golightly hails from Texas but moves to New York City to reinvent herself into a glamorous figure. Although she has a high-end lifestyle, The New Yorker points out that her profession is never mentioned in the film. How, then, does Golightly afford it?
Instead of sleeping with wealthy men for money, it's implied that she charges them to spend time with her. This was the explanation given by Truman Capote, the writer of the 1958 novella of the same name that the film was based on. Interestingly, Vogue reports that Capote was irate that Hepburn was cast at Golightly.
Truman Capote wanted Marilyn Monroe to play Holly Golightly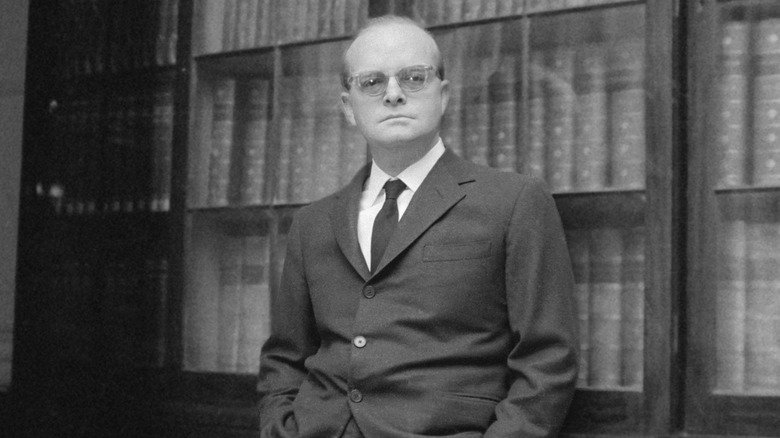 John Downing/Getty Images
According to Vogue, Truman Capote (seen above) was set on Marilyn Monroe playing Golightly. As The History Reader explains, he felt that the blond bombshell was a kindred spirit. Capote and Monroe reportedly met in New York through friends and found that they had similar life stories and interests (both had absent mothers and strained childhoods). Ultimately, this bonded the pair, and Capote and Monroe spent their time frolicking through the city and drinking. In fact, many believe that Golightly's character was inspired by Capote's time with Monroe. When Audrey Hepburn was given the role, he stated (per Vogue) that "Paramount double-crossed me in every way and cast Audrey."
The Guardian writes that Capote's choice of Monroe makes sense and that Hepburn's casting does not. Like Golightly, Monroe had an impoverished youth and spent a majority of her life being taken advantage of by older prominent men. Additionally, Golightly's given name was Lulamae Barnes, which some believe sounds similar to Norma Jeane, Monroe's birth name. Hepburn, on the other hand, oozed class and nobility, and Golightly was intended to be a little less polished. Furthermore, The Observer reports that Capote always envisioned a blond when he pictured Golightly, not a dark-haired beauty like Hepburn.
Her acting coach advised her against taking the role of Holly Golightly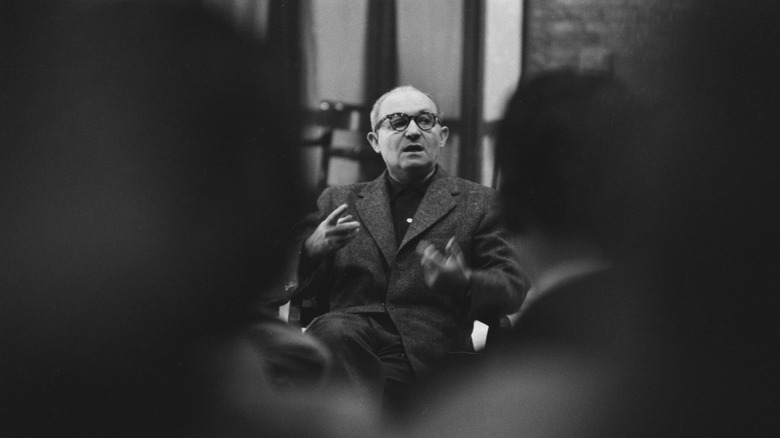 Michael Ochs Archives/Getty Images
Although The Guardian states that Marilyn Monroe lost the role to Audrey Hepburn and was downcast about it, it's widely believed that she actually turned down the role. Vogue reports that this was due to her mentor and acting coach, Paula Strasberg. However, the HuffPost writes that it was Strasberg's husband, Lee (seen above), who convinced her to decline the offer. Whatever the case, it's agreed that one of the Strasbergs told Monroe that playing Golightly was a bad career move because the character was a sex worker (via The Vintage News). Despite Capote's insistence that she was not, Monroe reportedly chose to star in "The Misfits" instead.
According to Vanity Fair, the Strasbergs were the closest thing to parental figures that Monroe had. Upon her death in 1962, she left her possessions to Lee (per Reuters), and he gave a eulogy at her funeral (as seen on YouTube). Simply put, the Strasbergs' advice and perhaps even their approval was of great importance to the late actress. This could have led her to dismiss the role. In the end, Hepburn became a beloved figure as Golightly. Matthew Miele, director of the "Crazy About Tiffany's" — a documentary about the famed jewelry brand — explained this phenomenon. As he put it (via Marie Claire Australia), "I think a lot of women aspire to be like that refined, cultivated, sophisticated image that Audrey represented."