A Pope Once Had A Strong Reaction To A Classic Madonna Video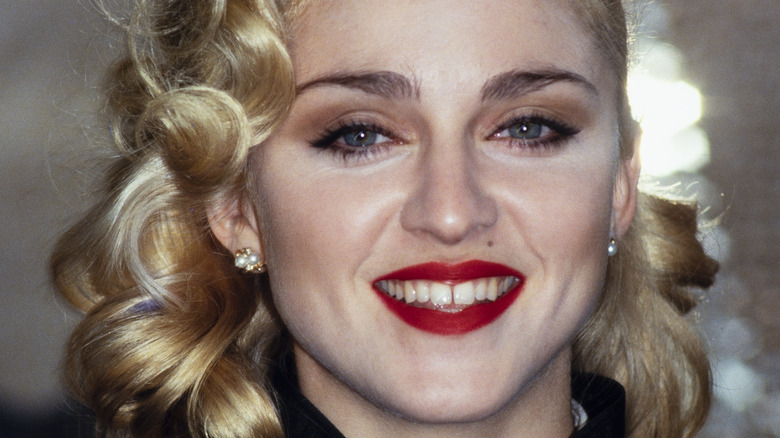 David Levenson/Getty Images
Pop singer Madonna spent a good portion of the 1980s shocking audiences and courting controversy, and in 1989, her infamy reached new heights when her video for the title track of her album "Like A Prayer" drew negative attention and a call for a boycott from none other than Pope John Paul II. Madonna teamed up with director Mary Lambert for the "Like A Prayer" video. Per the IMDb, the two women had collaborated on several other music videos, starting with 1984's "Borderline" and including "Like A Virgin," "Material Girl," and "Las Isla Bonita." 
In a 2021 interview with The Hollywood Reporter, Lambert told reporter Seth Abramovitch that she'd "wanted to explore the correlation between sexual ecstasy and religious ecstasy" in the video. Madonna's co-star was another mononymous performer, actor Leon, who played both a man falsely accused of assaulting and murdering a woman as well as a statue of Jesus (reportedly referred to as "The Saint" in the project's script) who comes to life and kisses Madonna. In the course of the video, Madonna also experienced stigmata, danced on a lawn surrounded by burning crosses, and joyfully sang with a Black choir in a church. Per Lambert, Leon's "Saint" character "came from Madonna telling me she wanted to 'f*** a Black guy on the altar.' I said, 'Well, why not have it be a Black Jesus? Let's just go all the way.' She liked that." 
Some considered Like A Prayer to be blasphemous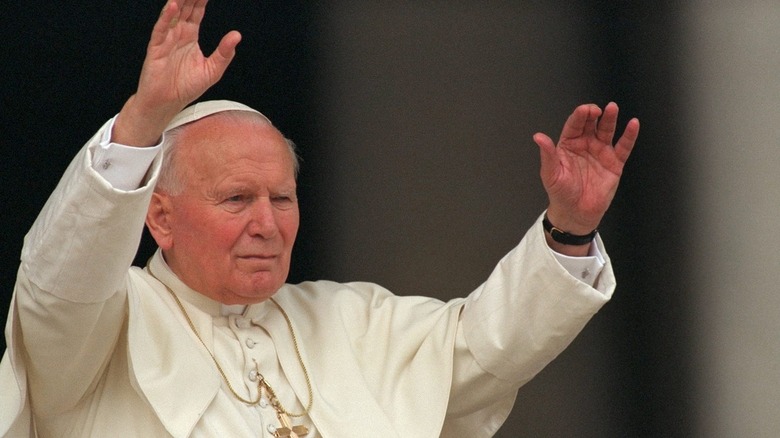 Franco Origlia/Getty Images
The public's reaction to the video was intense, particularly from various religious communities. Pope John Paul II (shown above in 1996) called for Italians to boycott it, per Independent, which quotes Catholic historian Roberto de Mattai saying at the time, "The video is a blasphemy and insult because it shows immorals inside a church." According to The Guardian, the pope went on to call Madonna's Blonde Ambition tour "one of the most satanic shows in the history of humanity." He wasn't alone; Madonna was threatened with arrest in Canada if she performed a portion of the show in which she simulated masturbation. (The arrest never came to pass.)
The video's controversy was further highlighted by its relationship with the Pepsi-Cola Company. In a deal that was unprecedented at the time, the song "Like A Prayer" premiered on television as part of a Pepsi commercial on March 2, 1989 in over 40 countries, as reported by the Associated Press. The commercial, which had nothing to do with the video, was called "Make A Wish" and featured Madonna switching places with an 8-year-old version of herself while watching home videos of her childhood birthday party. It ran only twice in the United States, once during the multinational premiere and again during late-night programming on March 3. After the "Like A Prayer" video premiered, the American Family Association called for a yearlong boycott of Pepsi products. Catholic Bishop Rene Gracida of Corpus Christie called the video "sacrilegious" in an article in South Texas Catholic magazine and also called for a Pepsi boycott.
The controversy didn't hurt the video's popularity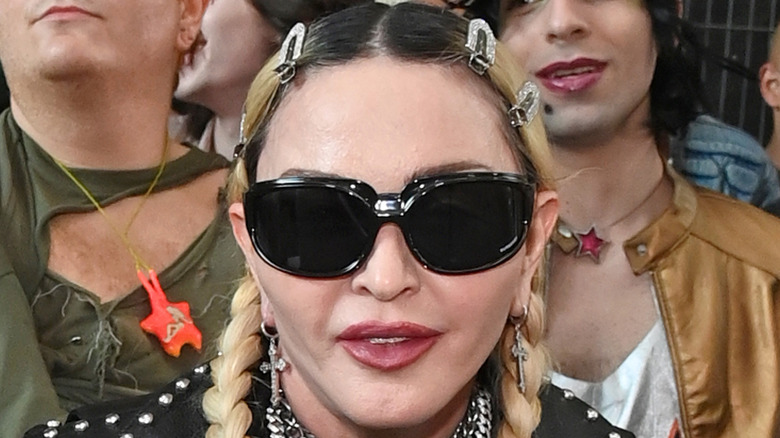 David M. Benett/Getty Images
As reported by the Associated Press, Pepsi gave in to public pressure and announced that they were no longer going to run advertisements that featured Madonna. The boycotts were called off and according to The New York Times, one leader of the boycotts, Rev. Donald Wildmon of the American Family Association, was told by Pepsi that they would no longer be sponsoring Madonna's Blonde Ambition tour, although Pepsi did not confirm this to the Times. Company spokesperson Tod MacKenzie explained the decision: "'When you've got an ad that confuses people or concerns people, it just makes sense that that ad goes away." Pepsi had paid Madonna $5 million for appearing in the commercial and the use of "Like A Prayer"; per People, she kept the $5 million. 
The "Like A Prayer" video remains one of the most well-known and well-loved moments within Madonna's long career. In 2006, 10,000 MTV viewers voted it first place in a list of music videos that "broke the rules," according to the BBC. Her videos for "Ray of Light" and "Vogue" also made the list's top five. On March 4, 2019, Madonna took to Instagram to celebrate the 30th anniversary of the video's release, writing that she "made a video that caused so much controversy because I kissed a Black saint and danced in front of burning crosses!" She also mentioned the Pepsi commercial "that was banned because my video was seen as inappropriate" and after three flame emojis wrote "Happy Birthday to Me and Controversy!"