America's Oldest Continuously Operated Chinese Restaurant Isn't Where You Think It Is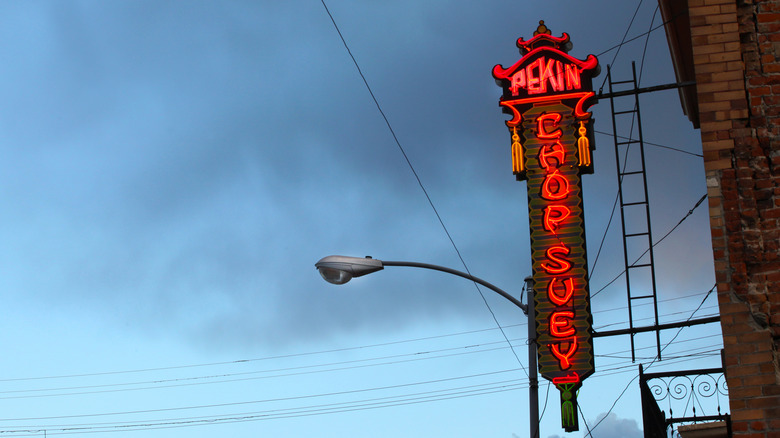 McWhinney Media/Shutterstock
There are many U.S. cities known for Chinatown districts often full of restaurants that date back several generations, including New York, San Francisco, and Chicago, to name just a few. However, the country's oldest operating Chinese restaurant isn't found in any of those places. Per Smithsonian Magazine, a man named Tam Kwong Yee, born in Guangzhou, China, immigrated to San Francisco in the late 1800s. He made his way to Montana with a business partner, Hum Yow, and Yow's wife Bessie in 1909. Yee and the Yows were not alone — according to the Great Falls Tribune, the first Chinese immigrants arrived in Montana in 1862 after gold was discovered in the state's Grasshopper Creek.
The so-called gold rush attracted many people to the area. Ellen Baumler of the Montana Historical Society said (via Great Falls Tribune) most Chinese immigrants who arrived in the area were men who "never intended to stay. They came to make their fortunes and return to their families — and some never made it home." Butte, Montana, had a Chinatown that extended for six blocks and included the Wah Chong Tai Mercantile, which opened in 1894. Between 1890 and 1900 it's estimated that about 2,000 people of Chinese descent lived in Butte. By the time Yee and the Yows arrived, racism against Chinese immigrants was widespread. Chinese workers were banned from working in nearby copper mines and although a union-driven boycott of Chinese businesses was stopped by court injunction, the Chinese Exclusion Act was enacted in 1882.
The Pekin is a family affair
Kravtzov/Shutterstock
According to the Smithsonian Magazine interview with Jerry Tam, great-great-grandson of Tam Kwong Yee, Yee and the Yows built a two-story brick building in 1909 and opened a general store and tobacco shop. Two years later, they opened the Pekin Noodle Shop and began serving Americanized versions of traditional Chinese noodle dishes to a predominately white clientele who worked in the nearby mines. The restaurant served beer, liquor, and its basement housed an illegal gambling establishment, which Tam referred to as "the epicenter of the Pekin." The Pekin's gambling parlor led to a series of tunnels that connected local bars, brothels, and restaurants and allowed patrons to flee when police performed raids. Per Tam, "Millions and millions of dollars passed through here, from around 1911 until the 1950s."
In a 2021 interview with The New York Times, Tam, who returned home to Butte in 2009 to help his parents, Danny Wong and Sharon Tam, run the restaurant, explained that one of the few changes made to the restaurant since its opening is repairing the stairs that lead down to the ground floor from the second-floor restaurant.
Sharon died in 2014; Danny had a stroke in 2019 and retired from the restaurant. He died in 2020 and is remembered as a fun-loving, hospitable man who showed kindness to fellow members of the Butte community. The alley behind the restaurant was renamed Danny Wong Way in July 2021 and over 100 locals attended the naming ceremony.
Chow mein and chop suey remain favorites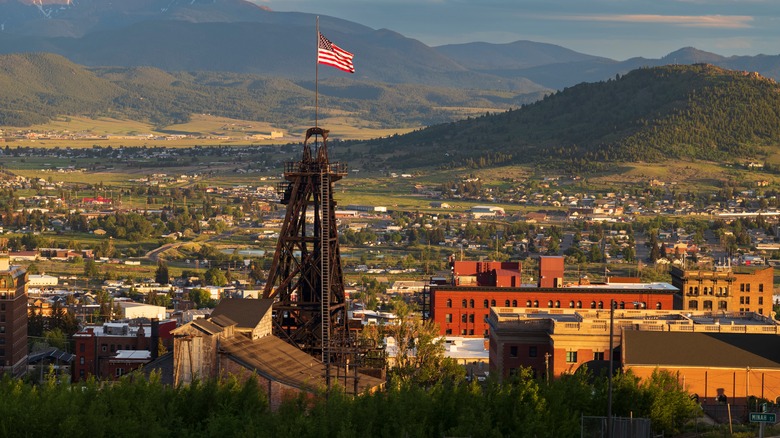 JWCohen/Shutterstock
Butte's Chinese history is remembered via the Pekin as well as the Mai Wah Museum, which is made up of the buildings used to house the Wah Chong Tai Mercantile and the Mai Wah Noodle Parlor. As reported by Asia Matters For America, the museum is home to over 2,5000 Chinese artifacts that date back to 1905 and has received city and historical grants as well as raised private funds to continue repairing, restoring, and preserving the buildings and surrounding sidewalks. The Mercantile is reportedly the only traditional Chinese store left standing in the United States and per the Mai Wah Museum website, the museum's artifacts are arranged within the mercantile building to make the exhibit look as much like it looked in the early 20th century as possible.
Jerry Tam is also honoring Butte's Chinese history at the Pekin, noting to Smithsonian Magazine that while Chinese-American favorites like chow mein noodles and chop suey remain popular, guests may also order Szechuan and Cantonese dishes. The signature menu item, however, remains the tomato beef chow mein, per Tam, which is "stir-fried beef with green peppers and tomatoes in a sweet sauce over chow mein noodles. Chinese American comfort food." Lines are long on weekends and patrons are still able to gamble via slot machines in the lounge off the main dining room. In 2019, Pekin Noodle Parlor was honored by the Chinese Restaurant Foundation with a Legacy Award, as announced via PRNewswire.