David Bowie Had Strong Feelings About George Harrison's Spirituality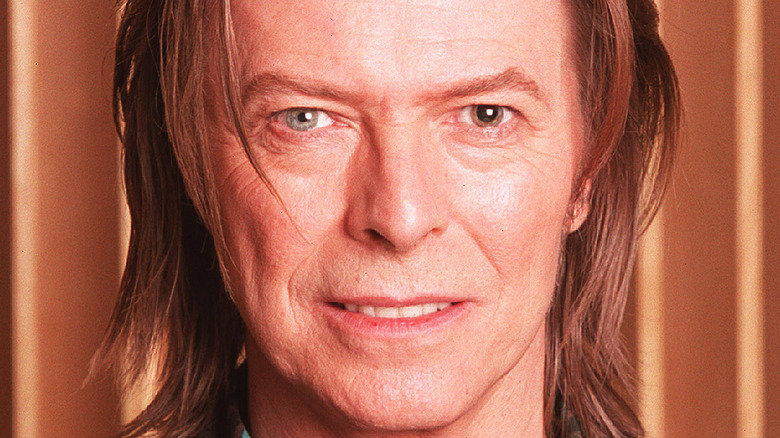 Dave Hogan/Getty Images
Eric Idle is just like the rest of us. He naturally believed that his esoteric Piscean friend with a sense of humor, George Harrison, would get along great with the otherworldly stardust-sprinkled Capricorn David Bowie (via Far Out Magazine). Known for being shy, Harrison quietly approached Idle at the premiere of "Monty Python and the Holy Grail," and the comedian and the Beatle hit it off immediately. However, such was not the case for Harrison and Idle's other Brit friend, David Bowie.
To the comedian, the pairing of his two megawatt rockstar friends seemed like a no-brainer. However, he was surprised when Harrison scoffed at the idea of an introduction. The two seemingly had much in common on the surface. Both were altruistic: Harrison performed the Concert for Bangladesh, one of the first rock charity concert benefits, and Bowie performed for Live Aid (via Entertainment Weekly). They also both hung in creative circles — Harrison was close friends with Eric Clapton, Bob Dylan, and Tom Petty (via IMDb); Bowie paled around with Beatles John Lennon and Paul McCartney and also befriended Gary Oldman, Stevie Wonder, Trent Reznor, and many others (via Vanity Fair). 
Two roads less traveled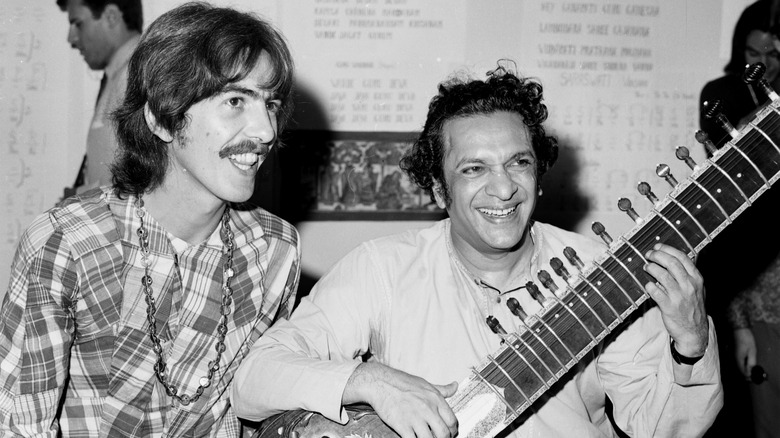 Michael Ochs Archives/Getty Images
George Harrison had a fraught relationship with religion from the time he was a child (via Salon). As a boy, he was skeptical when ambassadors of the church requested money from his hardworking father — who could barely afford the bills — to contribute to the construction of cathedrals. He was also skeptical of Christian churches being built in such close proximity to working-class pubs. At just 11 years old, Harrison was consumed by his thoughts on spirituality.
It was through connecting his passion for music, particularly a love of stringed instruments, that Harrison began his quest toward his Hindu life journey. On the set of "Help!," he stumbled upon a sitar and utilized it on "Norwegian Wood." As he honed his new instrument, he kept hearing the name of sitar guru Ravi Shankar and was not shy about seeking him out. Harrison began devouring religious texts like the "Bhagavad Ghita," and much of his music — such as "Within, Without You" — became entrenched in Eastern philosophy. Some of his songs even tackled his anger towards McCartney and Lennon. 
On the contrary, David Bowie was outspoken regarding sexuality and race relations. In 1983, Bowie pointedly asked MTV News why they didn't have more Black artists on the regular rotation of music videos (via MTV News). Although he joked about being the prime minster of England, Bowie explicitly told Melody Maker in 1975 that he was "apolitical," stating (via Melody Maker), "The more I travel and the less sure I am about exactly which political philosophies are commendable. The more government systems I see, the less enticed I am to give my allegiance to any set of people, so it would be disastrous for me to adopt a definitive point of view, or to adopt a party of people and say 'these are my people.'"
Finding peace of mind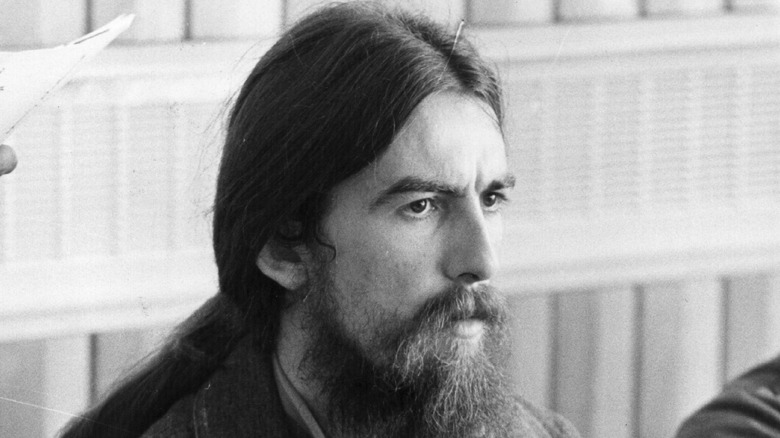 Ian Showell/Getty Images
According to Far Out Magazine, another reason George Harrison didn't immediately take to David Bowie was that Bowie was more attached to his bandmate, John Lennon (Lennon even helped Bowie on some recordings). And although Bowie covered a Harrison song called "Try Some, Buy Some," he felt that Harrison's hierarchical and systemic spiritual beliefs were a bit depressing and too philosophical for his liking (via Vice). Bowie felt spiritual matters only crept upon him in the middle of the night, and Harrison's mystical focus was a bit full on for the "Labyrinth" star.
Bowie didn't rule out spirituality completely, though. According to Beliefnet, he said in 2003 that he was "almost an atheist." But with a wry sense of humor, Bowie always exclaimed of the afterlife (via Far Out Magazine), "I don't know where I'm going from here, but I promise it won't be boring." Bowie even seems to have written "Lazarus," one of his last singles, as a reflection upon mortality. In summation, perhaps Bowie just thought Harrison's systemic approach to spirituality — which included reading sacred Eastern texts and practicing meditation — was a bit too formulaic.