One Song That Inspired Pete Townshend And Jimmy Page To Pursue A Music Career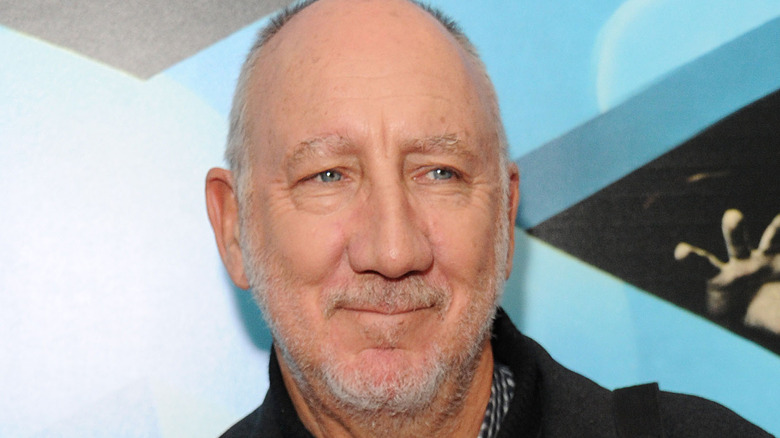 Stuart C. Wilson/Getty Images
Though the world sadly loses classic rock icons every year. In recent memory, the deaths of artists like Tom Petty, Gregg Allman, and David Bowie inspired an outpouring of love and adoration from fans, but we are lucky enough to still have others who continue to rock on well into the 21st century despite being old enough to qualify for senior discounts. 
Among these rock stars is Pete Townshend, a founding member of the British band The Who, formed in 1964, according to Official Charts. By 1969, they performed at Woodstock and continued to tour throughout the following decades. They even performed at the closing ceremony for the 2012 Olympic Games, per NPR. As of 2022, the band has had 16 top 10 albums in the United Kingdom (per Official Charts) and 10 top 10 albums in the United States, according to Showbiz Cheatsheet. 
Another iconic musician still making music is Jimmy Page. Page was a founding member of the British band, Led Zeppelin, which, unlike The Who, stopped performing together in 1980 after their drummer John Bonham died, save for a couple of lackluster shows in the 80s followed by their final reunion with Bonham's son, Jason, on drums in 2007 (via Ultimate Classic Rock). Even still, Led Zeppelin remains well-known, with songs like "Ramble On" and "Whole Lotta Love" forever ingrained in pop culture. As for Page, he continued to work in the music industry after Led Zeppelin's demise (per Classic Rock History). Both Page and Townsend are iconic rock stars, and both have in common the one song that greatly influenced their career paths.
Link Wray's song Rumble sparked controversy in the 1950s
Gie Knaeps/Getty Images
As lead guitarists in their respective bands, Pete Townshend and Jimmy Page have influenced musicians for decades. However, they both had musical influences of their own before hitting it big in the industry. In fact, a common influence inspired them both to pursue a career in music.
According to Pop History Dig, guitarist Link Wray gained popularity in the 1950s with a unique "fuzzy" sound that he himself invented. At the time, rock music was new and not everyone was enjoying the shift in popular culture. Such controversy surrounded even the biggest names in the emerging rock music scene, such as Elvis Presley who was thought to be spurring increases in "juvenile delinquency," per PBS. But Wray did not sing or dance in a way that perturbed more conservative viewers and listeners. His 1958 song "Rumble" featured no lyrics at all, but radio DJs found it unsettling and worried that it would "incite gang violence" (per Pop History Dig) and — again — juvenile delinquency. Wray still managed to play "Rumble" with his band on "American Bandstand" and the song stayed on the Top 40 for more than two months.
Jimmy Page liked the swagger of Link Wray's guitar playing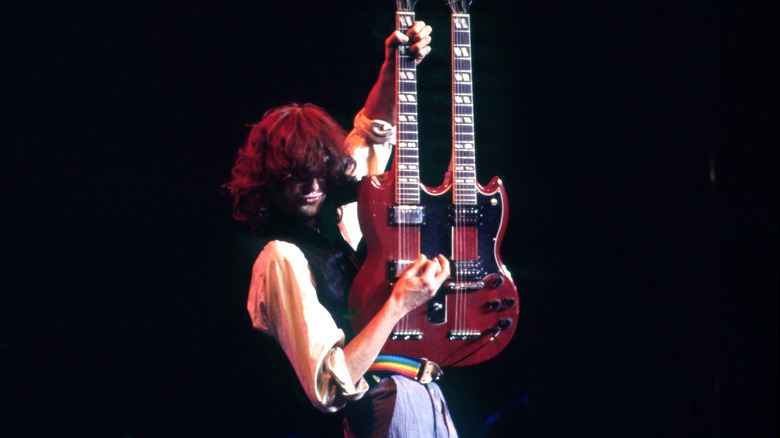 Icon And Image/Getty Images
When "Rumble" reached the ears of Pete Townshend, despite feeling "uneasy" as radio DJs did upon hearing "Rumble," Townshend was "excited by the guitar sound." In fact, if it weren't for Link Wray, Townshend said he "would have never picked up a guitar" (per Far Out). This proves that music, as with other forms of pop culture, can get consumers out of their comfort zones — which can be a positive thing. Music and films that provoke conversation are often what make lasting impacts on society, as did "Rumble."
For Jimmy Page, Wray's guitar playing had "swagger." In the documentary "It Might Get Loud," Page plays "Rumble" on a turntable and said that the song had a "profound attitude." It was different from the other guitar playing that he had been exploring during his youth (via Showbiz Cheatsheet).
Townshend and Page are both in the Rock & Roll Hall of Fame as members of The Who and Led Zeppelin, respectively. "Rumble" is in the Rock & Roll Hall of Fame as a single, but Wray himself is not. How many rock icons will it take for this to change? Hopefully not many more.