The Untold Truth Of Tom Petty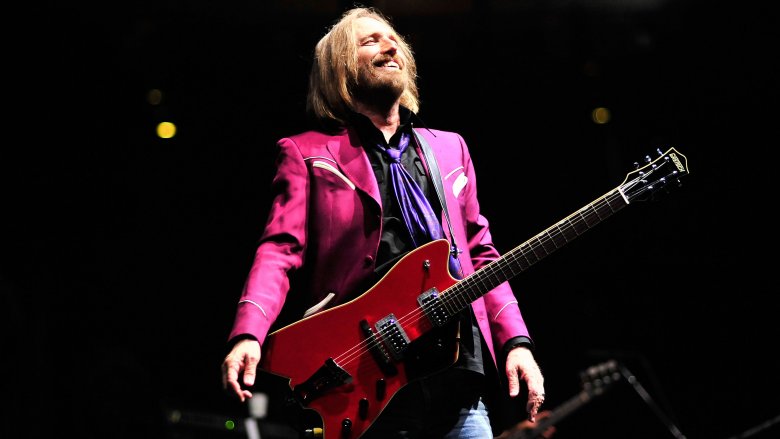 Getty Images
The word "legend" gets tossed around a lot, but no one can argue that when Tom Petty passed away at the age of 66, the world did lose an actual legend. For all his success, through all the fame, and for all his popularity, one thing everyone who knew him seemed to agree on was that he was precisely the persona he projected on stage. That's reflected in what he once told Esquire: "Do something you really like, and hopefully it pays the rent. As far as I'm concerned, that's success." Wise words. What else should you know about him? 
He didn't mind when people plagiarized his music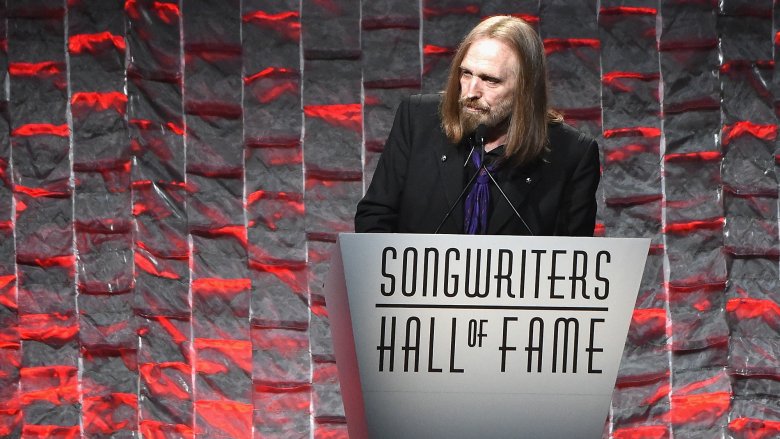 Getty Images
Even if imitation is the sincerest form of flattery, it's strictly "hands off" for most artists and writers. But while Petty had his share of experiences with parts of his music turning up in other hit songs, he never seemed bitter about any of it. In 2006, headlines in the New York Post (via Rolling Stone) suggested Petty could have a pretty good lawsuit against the Red Hot Chili Peppers. The similarities between "Mary Jane's Last Dance" and "Dani California" were obvious enough that everyone saw it, but according to Petty's statement, those things just ... happened.
"The truth is, I seriously doubt that there is any negative intent there," he said. When asked if he planned to sue, he said he might if it was maliciously lifted note-for-note, but not in this case. "I don't believe in lawsuits much," he added. "I think there are enough frivolous lawsuits in this country without people fighting over pop songs."
His laid-back attitude showed up again in 2015, when he ended up with a writing credit on Sam Smith's "Stay With Me" after similarities were pointed out. Again, he was brilliantly deferential, saying to Rolling Stone, "All my years of songwriting have shown me these things can happen. ... A musical accident, no more, no less."
He played for another band under two fake names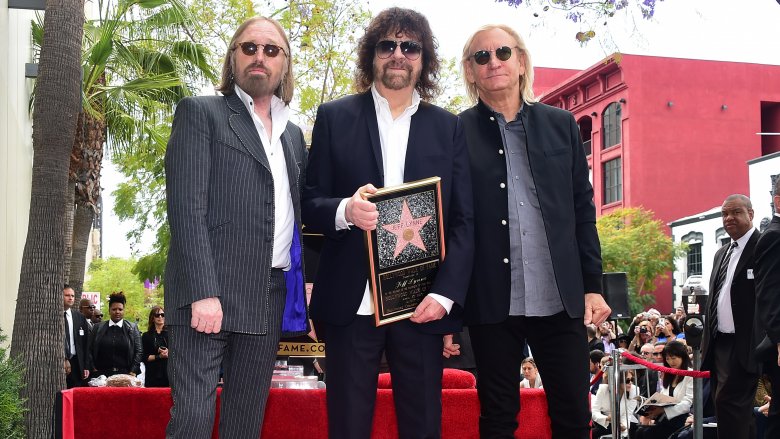 Getty Images
When it comes to supergroups, you can't get much bigger than the Traveling Wilburys. They got together in 1988, a set of organic accidents that brought Petty together with Bob Dylan, George Harrison, Roy Orbison, and Jeff Lynne (pictured, center). At first, they were the Trembling Wilburys, and according to Rock and Roll Detective, it was a misspelling on a guitar pick that gave them the name they finally stuck with.
Each band member came up with a "Wilbury" pseudonym, and Petty was initially credited as Charlie T. Jr. Wilbury. Later, when they released Vol. 3, he became Muddy Wilbury. The names of the band were inscribed on guitar picks, and it wasn't just the megastar members who had pseudonyms. Other band members did, too, with some of their real identities still a mystery.
He got addicted to heroin in the '90s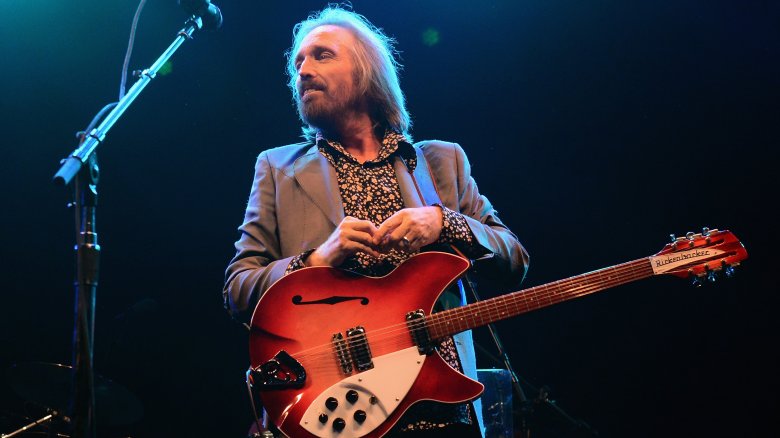 Getty Images
The first time Petty ever spoke about his heroin addiction was for his unauthorized biography by Warren Zanes. (It was only unauthorized because Petty insisted he wouldn't tell Zanes what he could include and what he couldn't.) When Zanes spoke with the Washington Post in 2015, the first thing that came up was the revelation Petty had turned to heroin at 50.
"That happens when the pain becomes too much," Zanes said. He added Petty had become overwhelmed and didn't know what else to do, and he'd stayed quiet about his addiction because he didn't want anyone to think of it as a viable option for them just because he'd done it. Zanes reassured him his was a cautionary tale, revealing that Petty's heroin addiction came at a time when he was dealing with divorce, with living alone, and with the realization that he couldn't do anything to make sure his kids had the life he wanted for them. "The classic situation of midlife pinning a person down to the mat," Zanes called it.
His friendship with George Harrison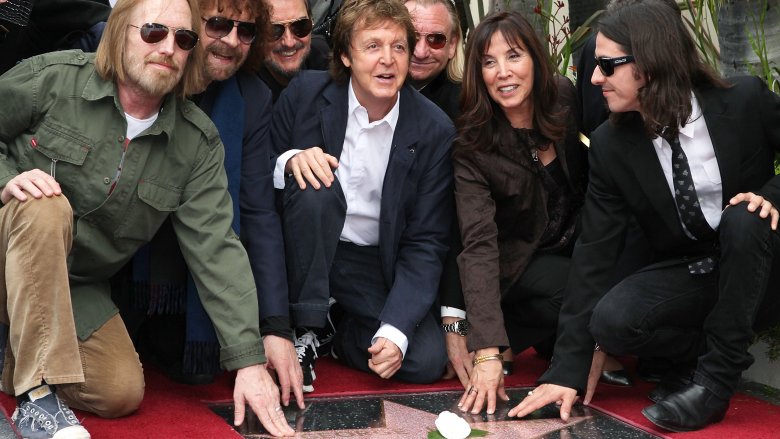 Getty Images
Harrison and Petty collaborated for the Traveling Wilburys, but they were way more than just colleagues, they were close friends. When Warren Zanes talked to the Washington Post about just how close, he said they were the kind of friends only they could understand.
"No matter how corny it might sound, they were kind of falling in love with each other," he said, going on to add that at their level of success, true friendship isn't just hard to find, it's almost nonexistent. When Petty and Harrison met and collaborated, Zanes said it was the happiest he'd ever seen him.
When Petty himself spoke with NPR, he called Harrison "an older brother ... who I could go to with my troubles and questions" and said he credited Harrison with giving him a sense of spirituality. He was 13 when he first saw The Beatles on The Ed Sullivan Show, but their friendship was instant. He did, however, decline to share specific memories because he had "thousands and thousands" of them.
He was abused by his father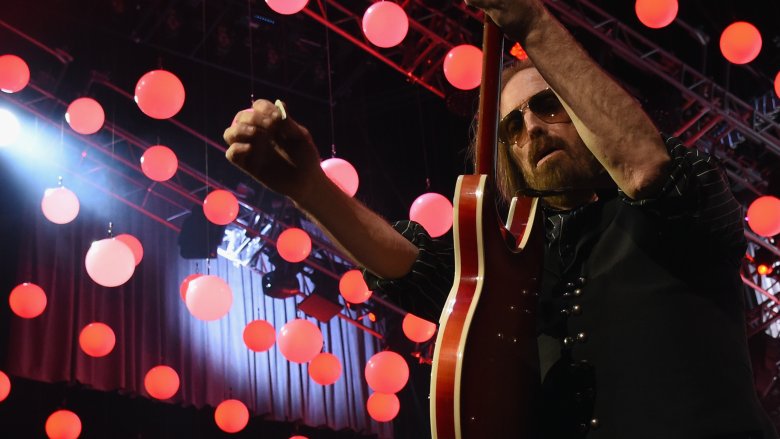 Getty Images
Everyone has moments from their childhood that define them, and for Petty, his adult outlook was shaped by an abusive childhood. He spoke with Men's Journal in 2013, talking a bit about the violence he saw in his father and his grandfather.
Petty's grandfather was born in Georgia, a logger who married a Cherokee woman and (possibly) hacked a man to death with an ax over comments about interracial marriage. His father, Earl, was raised in Florida after the family fled, and Petty said he was an angry drunk who regularly beat him, his siblings, and his devoted mother. His mother introduced him to music, which became his safe place — even though Petty suspected his father hated him so much because of his interest in music and the arts.
Earl Petty's shadow continued to follow him, and he rebelled against authority for a long time. After going to therapy, he learned to deal with his own anger issues, saying, "I thank everyone who put up with that for as long as they did."
He regretted using the Confederate flag in his performances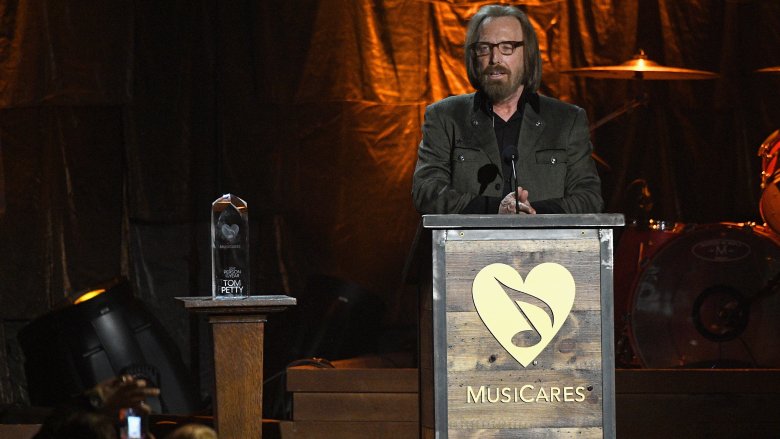 Getty Images
The Confederate flag and the dispute over its heritage or racism is a hot-button topic, and Petty once flew the flag at his 1985 Southern Accents tour. After South Carolina took down its Confederate flag in 2015, he spoke to Rolling Stone to apologize for his own use of it.
"I always knew it had to do with the Civil War, but the South had adopted it as its logo," he said. "I was pretty ignorant of what it actually meant. ... It's like how a swastika looks to a Jewish person."
He linked the presence of the flag to his song "Rebels" and said it was the best way he knew to illustrate the song's narrator. But it made him uncomfortable enough that he even requested people stop bringing flags to the shows. It wasn't who he was or what he stood for, he said, and the fact it got a mixed reaction from the crowd didn't really bother him. Instead, he went out of his way to try to set things right. "I went back and had it removed from the record. ... I still feel bad about it. I've always just regretted it. I would never do anything to hurt someone."
His influences included his time as a gravedigger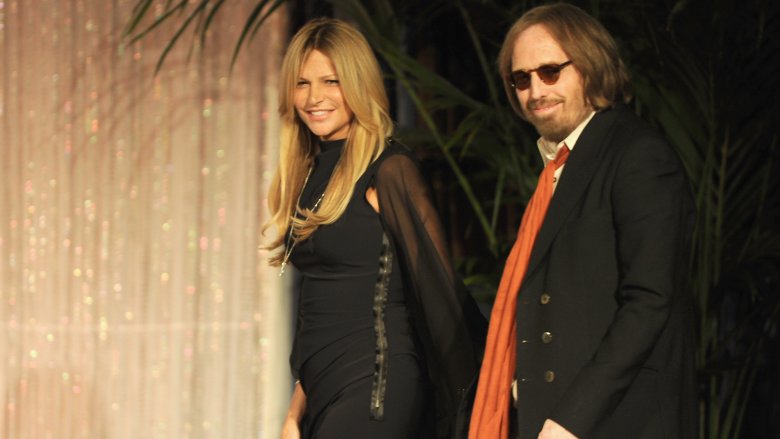 Getty Images
In 2011, Petty took part in a Q&A on his own SiriusXM show, "Tom Petty's Buried Treasure" (via The Hollywood Reporter). Host Meg Griffin asked him listener-submitted questions, and when she asked about his influences, he had some seriously eclectic answers.
There was AM radio, of course, and his first record purchase was the Marvelettes' 1962 album Playboy, purchased with cash scraped together from turning in Coke bottles. One of his early jobs was as a gravedigger, an occupation where he "didn't have to look too sharp." He addressed another rumor, that he planted the University of Florida's "Tom Petty Tree." Whatever else sparked the creativity of a young Petty, it wasn't the University of Florida — the tree wasn't his doing at all.
He voiced a character on King of the Hill
Love it or hate it, the staying power of King of the Hill is undeniable. When The Chicago Tribune talked to Mike Judge in 2009, he said one his favorite parts of the show's run was the fact they got Petty to voice a character originally described as "Tom Petty without the success." Judge said it was kind of on a whim they figured they'd try to get Petty to do the voice for Lucky, adding they were shocked he was actually up for doing it, and then he "just killed at the table read." He ended up a series regular for five years, an impressive commitment to make.
He got turned onto music after meeting Elvis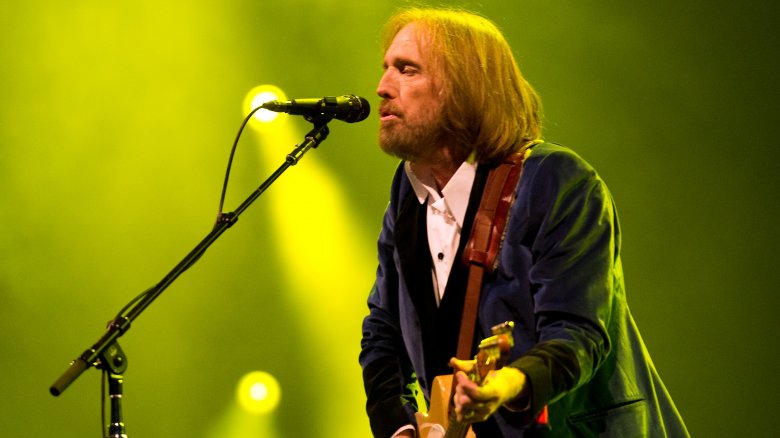 Getty Images
Petty told Men's Journal that his mother was his everything growing up, crediting her with "keep[ing] an element of civilization in the house." Because of her, his first musical influences were people like Nat King Cole and music from West Side Story, songs that never failed to remind him of her. Once they got a television, he started to realize there was a great big world out there beyond the hellish family life he was trapped in.
"Los Angeles — television city. That became my way out." When he was 11, he had a brief run-in with Elvis Presley at an Ocala movie shoot, and that was it. He later told Billboard, "It wasn't like meeting Jesus, but it was close." He went home, asked his mother to buy him a guitar from Sears, started spending his free time in a local music shop, and became determined to play the same rock 'n' roll Elvis did. By 14, he had formed his first band, the Sundowners, and never looked back.
His marijuana use was pretty constant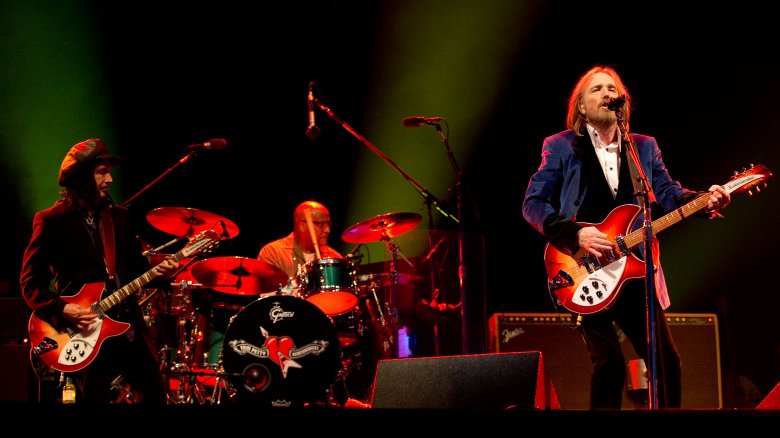 Getty Images
Petty told Men's Journal, "I've had a pipeline of marijuana since 1967." While he scoffed at the idea of needing a prescription, he did talk freely about some of his experiences with what he called "a musical drug." As a longtime history buff, he had a tradition every time he was in Washington, DC: head to the Jefferson Memorial late at night, get stoned, and simply sit.
Petty also kept the first really nice car he was ever able to buy, a 1979 Mercedes 450SL. Even then it simply sat, as Petty shared he was "too spaced out" to drive any more. His final time behind the wheel of a car he'd fully believed a pack of UFOs was descending on Malibu, only to spin off the road and into a pack of paparazzi. The silver balls were really there, but they were balloons Adam Sandler had launched to keep aerial nuisances away from his wedding. That same night, Petty backed into another car and decided he was done driving.
He was fiercely anti-corporate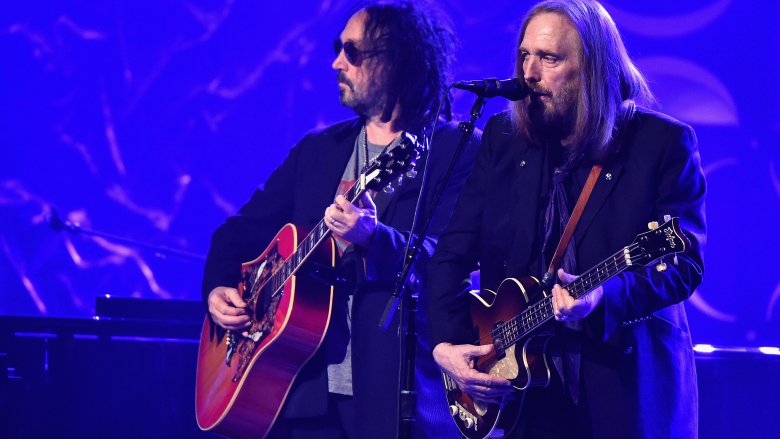 Getty Images
Corporate sponsorships are the norm, but Petty stubbornly refused to accept them in any of his tours. When Billboard asked him about it in 2005, he said he decided to go that route with his business model because he wanted to keep ticket prices down and allow everyone the chance to come to a concert. "It's not heroic," he told them, going on to say he refused to let his music be used in advertising. "I didn't write [my songs] to be orange juice commercials," he said.
That's gotten him his share of critics over the years, who told him he could be making more money than he was. He believed it didn't matter, saying the integrity of the music and the band was more important. It's selling out, he felt, making music "common and irrelevant."
In 2014, NPR asked him how he was able to reconcile his own financial wealth with his views on how money corrupts. According to Petty, the difference was that he not only came from a humble start, but that he doesn't go out of his way to step on people or hurt others to make a buck — that's where the real problems start.
He predicted his final tour would be his last show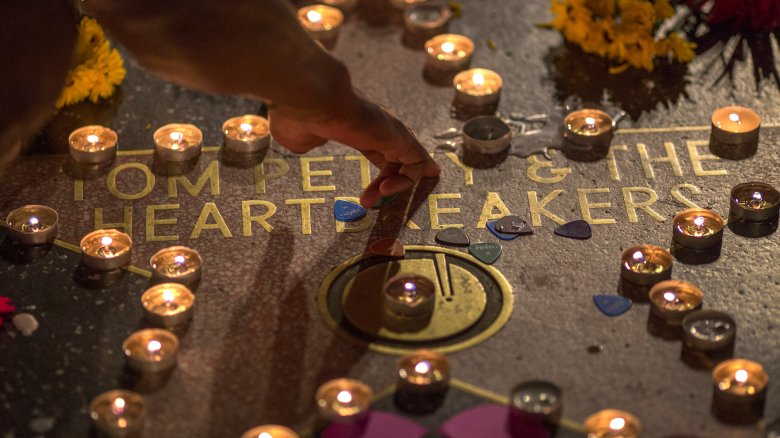 Getty Images
Hindsight can be an eerie thing, and everything was hunky dory when he kicked off his 40th anniversary tour. He wasn't shy about saying it might be his last, telling Rolling Stone, "I don't want to spend my life on the road."
That was in December 2016, after a three-year lull in touring. It was the longest they'd been off stage in 25 years, but Petty said he had other priorities he was thinking of. There were other ways he wanted to spend that time, like with his granddaughter. "I'd be lying if I didn't say I was thinking this might be the last big one."
That's not to say there weren't big plans in the works, though. Mike Campbell stressed that the possibility of calling it quits had nothing to do with conflict or the typical drama, saying they still had "a chemistry and a telepathy between us that is really rare." At the time, Petty was still overseeing his own SiriusXM radio station, producing albums, planning dates, and tossing around the idea of doing a few shows based on the Wildflower album. But the final words would prove heartbreaking.
He said, "We're very aware that time is finite. At the end of the year we'll say, 'What do you feel like doing?' Then we'll figure out where to go next."
He fought his record company over $1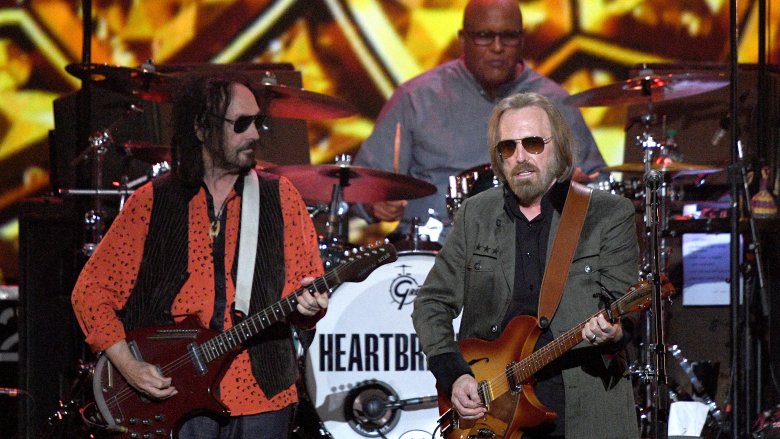 Getty Images
Petty released Hard Promises in 1981, and it wasn't easy. His huge popularity was great and all, but it also influenced the label's decision on how to roll out what they called "superstar pricing." That was MCA's catchy name for putting a higher price tag on albums they knew were going to sell well, raising the price of Hard Promises from the standard $8.98 to $9.98.
Having none of that nonsense, Petty took a stand. He told The New York Times (via Ultimate Classic Rock) that while MCA had been great when it came to selling and promoting, "They couldn't see the reality of what it's like on the street — they couldn't see that raising the album's price wouldn't be fair." Petty didn't balk, telling MCA he would rather not release the album at all than raise the price. Either it was $8.98, retitled Eight Ninety Eight, or it just wasn't going to happen. He didn't want to be the one that resulted in album prices going up, and even though he told Tom Snyder he knew it was going to happen eventually, he was happy when he won and it wasn't with his album: "This was just very pleasing to me because it was one situation where the audience actually won an issue."
He was vocal about how he didn't like newer music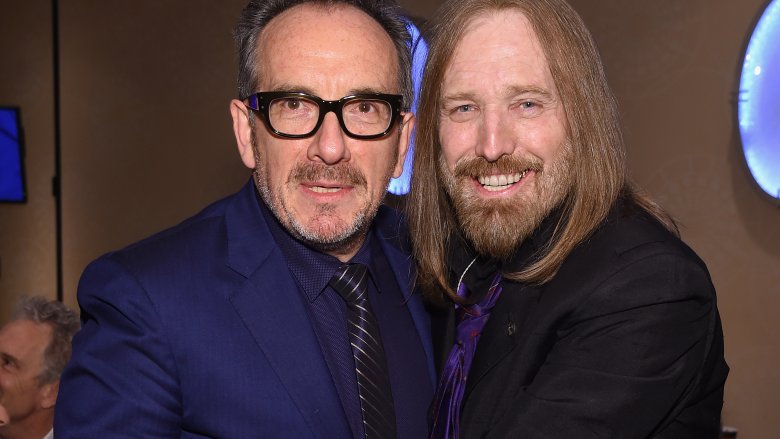 Getty Images
Listen to any of Petty's music, and it's clear his influences come from that sweet spot in music history where country and rock 'n' roll were running side by side and changing how the world thought. Elvis was his inspiration, after all, and he's worked with greats like Roy Orbison and Johnny Cash. When it came to new music, he wasn't shy about saying what he thought. When he talked to Rolling Stone in 2013, he said he couldn't think of any music he'd heard lately that impressed him, but he clarified his comments at a recent show. He'd said modern country was like "bad rock with a fiddle," and he meant it. "It does seem to be missing that magic element that it used to have. ... I don't really see a George Jones or a Buck Owens or anything that fresh coming up," he said.
It's not just country that irked him, either. In 2006, Esquire quoted him as saying he never would have been successful if he'd had to start his career then because "radio doesn't take a chance on anything anymore; they've streamlined the playlists to the lowest common denominator." Lamenting the fact people would rather listen to the same thing over and over instead of something new, he also said that's a product of the time. With so much focus on school, kids didn't have time to be creative — and that made him sad.
He hit it big in England before the U.S.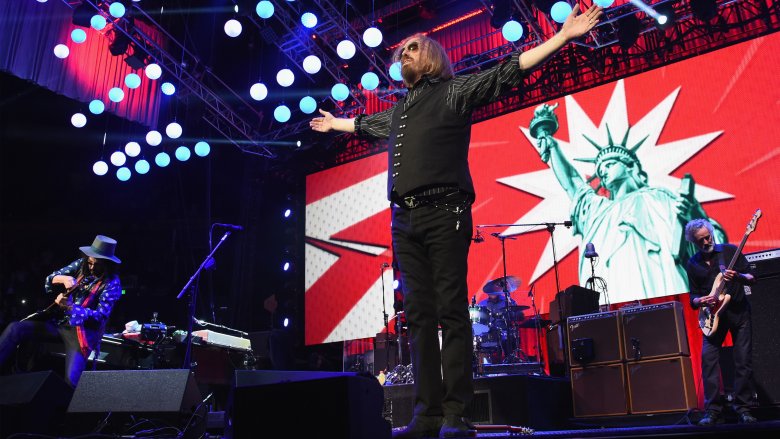 Getty Images
You can't get much more American than Tom Petty and the Heartbreakers, but they were something of a U.S. flop until they headed across the pond to impress English audiences with their sound. In 1976, the group released its debut album to poor sales. Rolling Stone said it wasn't until they went to England to tour with and open for Nils Lofgren the album started to sell. It was only a matter of weeks before they were a headline act, breaking into first British then American charts.
It wasn't an easy tour, either. According to Rolling Stone, the Heartbreakers' increasing popularity led to some serious tension between Lofgren and the American upstarts. Campbell went on record as saying the more of a reaction they got, the less room on stage they got, too. As for Petty, he just called them a string of expletives.
He believed music was true magic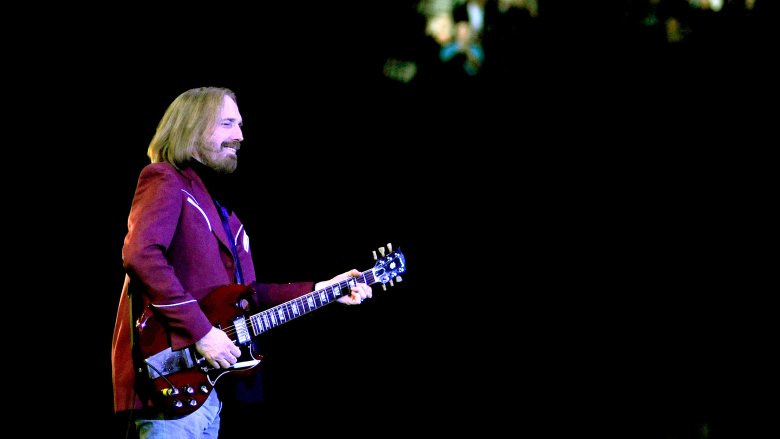 Getty Images
There's something ethereal about a concert, and Petty's shows were nothing but. He used the word "magic" to describe every part of the musical experience, from telling MTV about the magical process of songwriting — "it's kind of like an orgasm," — to once telling The Telegraph, "Music is probably the only real magic I have encountered in my life. There's not some trick involved with it. It's pure and it's real. And it moves and it heals and it communicates and does all these incredible things. It's been so good to me that I want to be good to it."
Head to a magic show, and you'll see some tricks. Head to a concert, and you'll feel that same mysterious force, without the deception. According to Petty, that's real magic.
He'd seen the effects of it, too, and told NPR that if he thought about the connection music made between him and those who listened to it, he felt it was equal parts thrilling and terrifying. "Cause it's kind of like, 'Did I do that?'" he said. He even claimed he'd heard of two people who had come out of comas to his songs. If true, that would indeed be real magic.
He intentionally bankrupted himself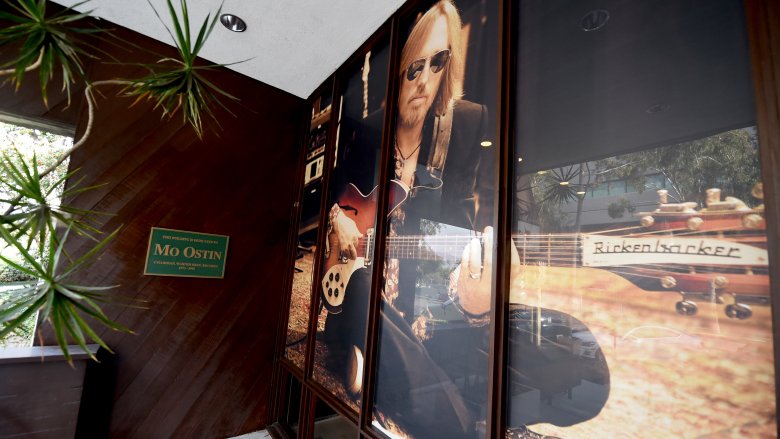 Getty Images
The music industry is built on trades, contracts, and shady dealings, and in 1979 Petty had enough. The group had originally signed with Shelter, but when Shelter was bought by MCA, Petty made it clear he didn't appreciate being part of the deal. History quoted him as saying it was like being "bought and sold like a piece of meat," and he was unhappy with the terms of his contract. To be fair, they weren't great terms. They already had two major albums sell extraordinarily well, but they hadn't seen much in the way of financial gain from it. That's mostly because artists didn't get royalties until they paid studios back for everything from their advances to marketing expenses, studio time, and tour expenses. Sound shady? He thought so.
The album looming on the horizon was Damn the Torpedoes, and it's the one that everyone knows. Petty sat on it, refused to release it under the contract he was under, and took on all the recording and production costs himself. That put him a whopping $500,000 in debt, and he declared bankruptcy. It was all intentional, as a way to get some leverage in court when it came time to demand release from an unfair contract. It worked — MCA relented and re-signed the group, and Damn the Torpedoes was a major success.
A broken hand nearly ended his career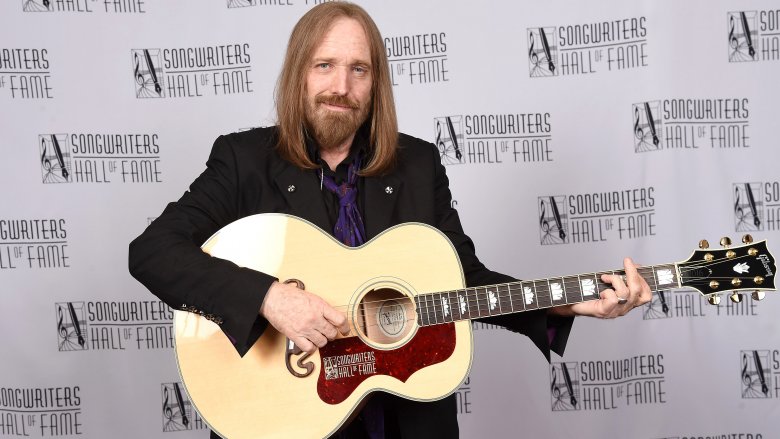 Getty Images
Anyone familiar with the creative process knows there are things that come easy and things that come hard. Southern Accents came with what Ultimate Classic Rock described as "roiling chaos," and amid the album's birthing pains was some serious insanity. Drummer Stan Lynch even said, "Tom was dancing with the devil at that point. ... Something was going to happen real bad." It wasn't helped along by the drugs, and it almost ended his career one day when, frustrated by the whole mess, Petty stormed out of the studio, punched a wall, and shattered his hand.
"I had been working on the album for over a year, and I thought I was finally about done. ... But I sat down and listened to one of the songs and I knew it still wasn't right," Petty said later, insisting it wasn't pure fury that caused the accident. His doctor told him he may have lost his ability to play guitar, but when he was interviewed in 1985 (via The Chicago Tribune), the only remaining evidence was a scar. In 2012, Petty said the old injury was acting up again, but he chalked it up to old age (via Digital Spy).
His first guitar lessons came from the Eagles' Don Felder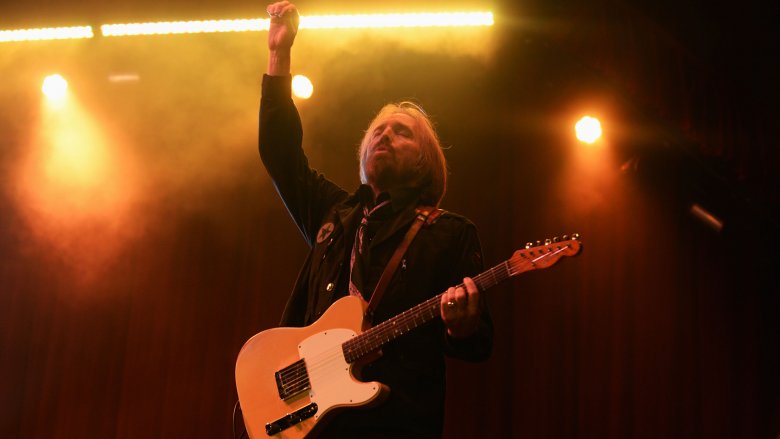 Getty Images
Even the best have to start somewhere, and Petty started at a local music store in his Florida hometown. Also spending time in the same Gainesville music store was Don Felder, who would go on to his own kind of fame with the Eagles. He talked to Gibson about how he got his start and said early in his career he was working at the store to build up enough credit to buy equipment. Part of his gig was giving lessons, and he said, "One day, this kind of scrawny, scraggly, blond-haired kid came in and wanted guitar lessons." He gave him lessons, and they ultimately became friends. They hung out, they played together, and those lessons obviously stuck with the young Tom Petty.
Just don't remind Don Henley of that. According to Ultimate Classic Rock, he had a front-row fan thrown out of a concert for yelling about Felder during Henley's introduction of their new guitarist. The fan pointed out Felder had taught Tom Petty, and it earned him an escorted trip to the door.