John McEnroe And Bjorn Borg's Tennis Rivalry Explained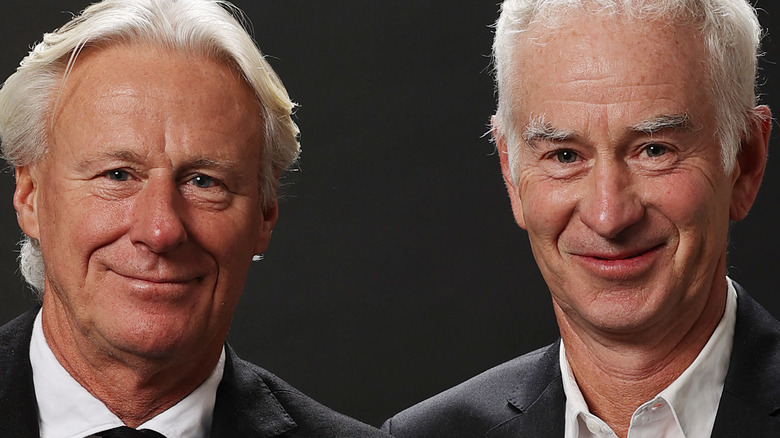 Clive Brunskill/Getty Images
Tennis greats John McEnroe and Bjorn Borg ushered in the modern era of professional tennis — an era filled with big personalities that continues into the 21st century. McEnroe burst onto the scene as a teenager at Wimbledon in 1977. By the end of the 1980s, he had won seven Grand Slam titles. However, what he may be best known for is his feisty temper. He argued with umpires, broke rackets, and was even kicked out of the Australian Open in 1990. Since his retirement, when players lose their cool on the court, they are often compared to McEnroe.
Swedish-born Borg was quieter than McEnroe, rarely showing any emotion at all. His chilled attitude and good looks brought new fans to the sport. He won 11 Grand Slams from 1974 to 1980. Much of his time as a professional player overlapped with McEnroe's, leading to intense and lengthy matches between the two as they both vied for top ranking throughout their careers.
John McEnroe was disappointed when Bjorn Borg retired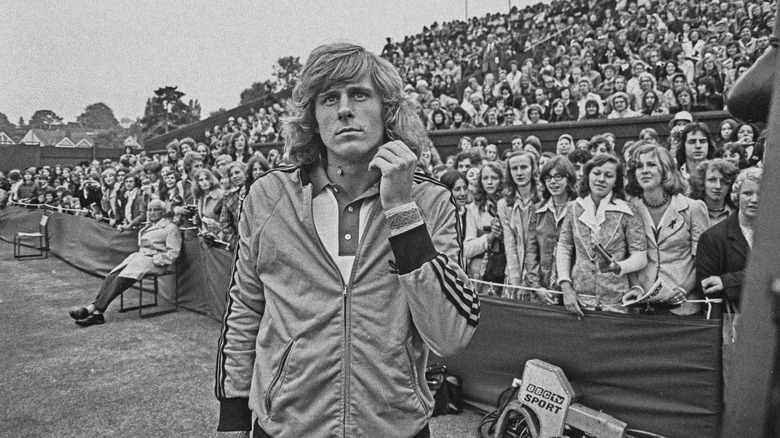 P. Shirley/Getty Images
According to the International Tennis Hall of Fame, the 1980 Wimbledon final between John McEnroe and Bjorn Borg is among the greatest matches ever played. It lasted four and a half hours, with Borg finally winning the trophy in a match that he referred to as "a match that I will remember for the rest of my life." The following year became McEnroe's turn to beat Borg. McEnroe stated that Borg had an "aura that I can't explain." However, the wins and losses began to have less of an emotional impact on Borg. In 1983, his increased lack of drive to stay on top signaled to him that it was time to retire.
As previously mentioned, McEnroe stayed on the professional tennis tour until the 1990s. Despite losing to Borg seven times during his career (and beating Borg seven times as well), McEnroe did not want Borg to retire so early. He stated that he wanted Borg to continue playing because "[H]e made me a better player. Even if I had lost my No. 1 ranking, I would have preferred he kept playing ... " (per UBI Tennis). 
John McEnroe and Bjorn Borg became friends off court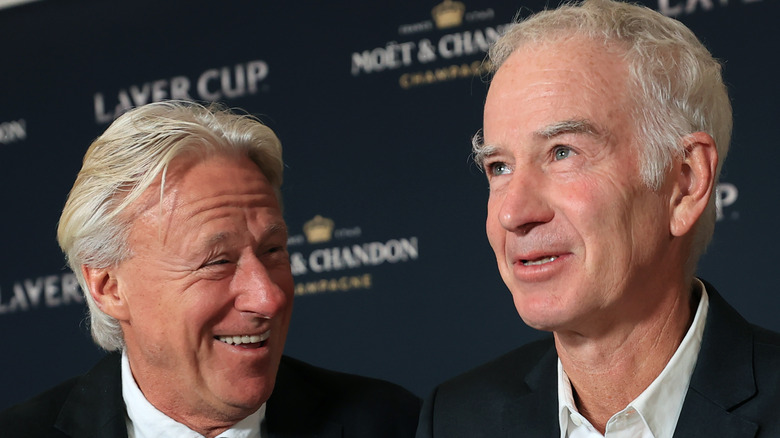 Carmen Mandato/Getty Images
Bjorn Borg has since voiced his admiration for John McEnroe. "John respected me and I was probably the only guy who respected him," Borg explained. Though their rivalry was shorter than John McEnroe and the general public would have liked, he and Borg became friends off the court. In 2018, Borg stated, "We call and see each other. That's very rare in sports in general. We understand each other ... " (per Tennis World).
In some way, the rivalry was reignited in recent years. Since the 2017 inception of the Laver Cup tournament, McEnroe serves as captain of Team World, while Borg is captain of Team Europe. The Laver Cup is a chance for tennis players to play for a team in an otherwise solitary sport, save for doubles and the Davis Cup. Over the past few years, Laver Cup players include Novak Djokovic, Alexander Zverev, John Isner, Rafael Nadal, and the tournament's founder, Roger Federer.