What Happened To Serial Killer Larry Hall's Twin Brother, Gary?
According to The Cinemaholic, Larry Hall (above) may have murdered up to 40 women. Born seconds after his twin brother Gary in 1962, the serial killer is believed to have committed a series of petty offenses in his hometown of Wabash, Indiana. Hall's crimes later escalated to kidnapping and murder. Collider explains that he kept a low profile and pursued a hobby as a Civil War reenactment actor until a 15-year-old named Jessica Roach went missing. CNN states that Roach's remains were later discovered in Illinois. Investigators then learned that a suspicious man in a van had been seen talking to young girls. That man was none other than Hall.
Hall eventually confessed to kidnapping and strangling Roach. For this, he was sentenced to life in prison without the possibility of parole. Hall, however, was also a suspect in the 1993 disappearance of Tricia Reitler (via Newsweek). In fact, he had confessed to her murder, only to recant his statements. Prosecutors then sent prisoner Jimmy Keene, undercover, to extract information from Hall about Reitler's murder. Although Hall also confessed to Keene, he did not disclose where Reitler's body could be found.
Investigation Discovery reports that, as of yet, he has not been charged with her murder. Despite this, Hall's twin brother Gary believes that he undoubtedly killed Reitler. In 2011, he told CNN that Hall was "the most prolific serial killer in U.S. history." Gary added that he was not surprised that his twin brother had turned into a murderer.
Gary felt that there was something off about Larry
Despite being twins, CNN reports that Gary Hall (above) always thought that Larry Hall was much different from him. He told the publication, "He was the backward twin. I was the more dominant, outgoing twin." Per Collider, Larry also had a speech impediment and a low IQ. At birth, he had been deprived of oxygen. While Gary was sociable and friendly, Larry was the complete opposite. Ultimately, Gary believes that Larry may have begun killing while they were still in high school. Gary also revealed that his brother tried to kill him. He recounted to CNN, "I just woke up out of a sound sleep to see my brother standin' over me with this humongous long limb, getting ready to smash my skull."
Despite referring to his brother as "evil," The Cinemaholic states that the two had an unbreakable bond while growing up. They also shared a love for Civil War reenactments. According to Newsweek, this, however, has done little to deter Gary from the truth about his brother. When Larry was convicted of Jessica Roach's kidnapping, Gary stated (per CNN), "It just all fit together; it all made sense. There was all these questions growin' up with him and, you know, him bein' a young adult and everything, and him not havin' a girlfriend." Gary has reportedly also tried to get Larry to confess to all of the murders he's committed.
Gary Hall lives in relative anonymity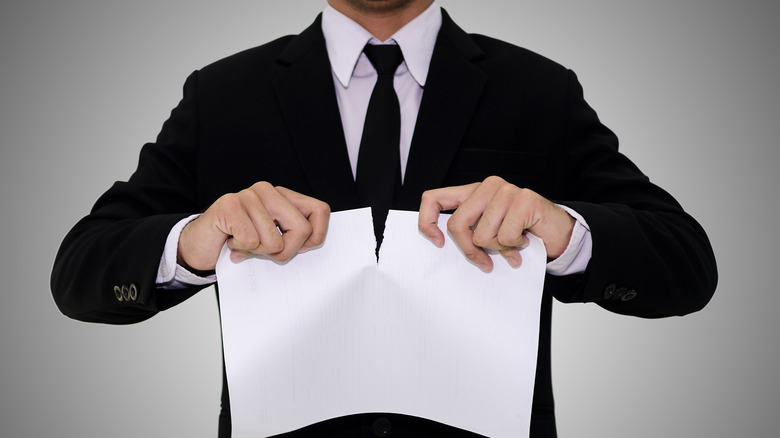 Srijaroen/Shutterstock
Per The Cinemaholic, Gary Hall has maintained a private life, and little is known about him. It's believed that he is self-employed and resides near Wabash, Indiana, in a town called Huntington. Newsweek notes that he is currently 59 years old. Larry Hall, also 59, is currently imprisoned at the Federal Correctional Institution Butner Medium II in North Carolina. That being said, many have wondered whether Gary may have played a role in his twin's crimes. Christopher Hawley Martin, the author of "Urges: A Chronicle of Serial Killer Larry Hall," thinks it could be a real possibility.
According to Newsweek, Larry sent Gary a "multiple page-hate letter." Martin explained, "He said Gary had been talking to police and that Gary had told police that he (Gary) knows where several bodies are buried." When Martin asked Hall about this, he stated that "he was tired of protecting his brother." Moreover, Larry implied that Gary knew about the body's locations because Gary had buried them himself. Even so, CNN writes, that there is nothing that indicates that anyone other than Hall committed these crimes. The publication states that Gary actually met with Tricia Reitler's parents and was taken aback by their ability to forgive Hall. He told the outlet, "All they want is their little girl back. They don't want to punish Larry anymore."