Why Some Aren't Convinced Jean Harlow's Husband Paul Bern Died By Suicide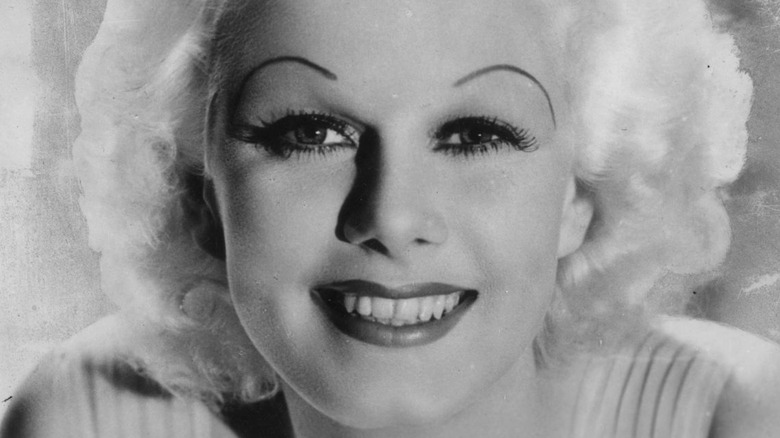 Evening Standard/Getty Images
Actress Jean Harlow had a short but legendary life and career (via Britannica). The sultry star is remembered for being the original "Blond Bombshell" and for starring in films like "Hell's Angels" and "Dinner at Eight." Harlow's premature death from kidney failure at the age of 26 (per History) only further cemented her legacy in Hollywood lore. As Closer Weekly explains, Harlow's personal life was memorable but messy. Despite her young age, Harlow was married three times before her death. Per Country Living, she was only 16 when she married a wealthy man named Charles McGrew. That marriage ended when Harlow decided to pursue acting and stardom.
In 1932, she married Paul Bern (via Country Living). According to Calisphere, Bern was born in 1889 and is credited for helping Harlow's career. SFGate reports that he worked for MGM and believed that Harlow had more than just beauty; she could really act. Bern's IMDb states that he was a film producer, director, and screenwriter. Nevertheless, his accomplishments in early cinema are overshadowed by his mysterious death. On September 5, 1932, Bern was found dead in the couple's Beverly Home from a gunshot wound to the head.
He left a note for Harlow that read, "Dearest Dear, Unfortuately [sic] this is the only way to make good the frightful wrong I have done you and to wipe out my abject humiliation, I Love you. Paul." He added, "You understand that last night was only a comedy" (per Country Living). The Patriot Ledger writes that Bern's death was ruled a suicide, but many believe otherwise.
Paul Bern was married ... to someone else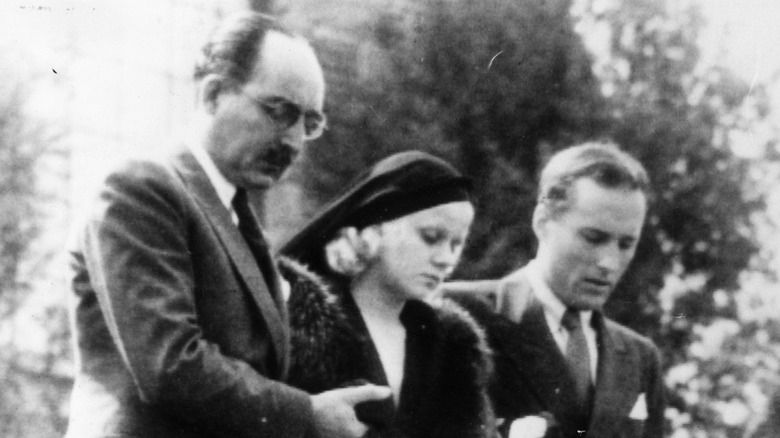 Keystone/Getty Images
The Patriot Ledger reports that MGM, Harlow, and Bern's employers were satisfied with the conclusion that his death was a suicide. In fact, SFGate explains that when Bern's body was first discovered, MGM was called in lieu of the police. Harlow had not been home when her husband had killed himself; she had reportedly gone to her mother's home for dinner. As to why Bern had decided to end his life, Louis B. Mayer, who was then the head of MGM, cited Bern's impotence (he was nearly twice Harlow's age). The police then uncovered a shocking discovery. Despite his recent nuptials to Harlow, Bern was still married to his first wife, Dorothy Millette.
SFGate explains that Bern and Millette met in Toronto, got married, and moved to New York City. For reasons unknown, Millette was later sent to a sanitarium while Bern moved to California to pursue a career in the entertainment industry. Bern and Millette kept in touch and he financially supported her. However, Bern eventually met and married Harlow. According to The Sunday Post, it's been theorized that perhaps Millette murdered Bern for his betrayal. Days after Bern's death, Millette, per a 1932 article from The Healdsburg Tribune, killed herself by jumping off a boat in the Sacramento River.
Film Daily writes that this made Millette look guilty. But as SFGate points out, Millette likely killed herself because Bern had changed his will, making Harlow, rather than Millette, his beneficiary. This meant that she had lost both her husband and her finances.
Was his murder covered up by MGM?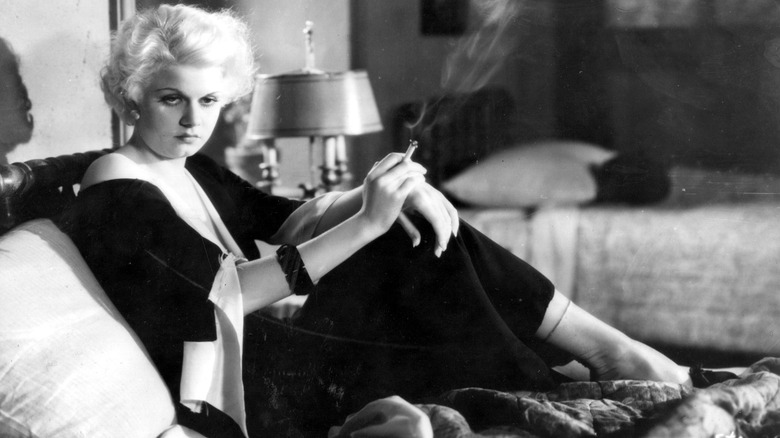 Evening Standard/Getty Images
SFGate reports that rumors still persist that Bern was the victim of foul play. The Patriot Ledger theorizes that Millette did indeed kill her estranged husband. Shortly before his death, the publication notes that a neighbor saw a "woman in black" at Bern's residence and heard arguing. The theory is that Millette then shot and killed Bern before taking a limo home to San Francisco. When MGM arrived at the scene of the crime, they felt that a scandal would ruin Harlow's career. Thus, they decided to fabricate a story that Bern had killed himself.
However, SFGate writes that Millette did not have enough time to go to and from Los Angeles and San Francisco. There is also no other evidence that indicates that she murdered Bern. Bern, on the other hand, had a history of depression. Despite MGM's best efforts to keep Bern's past under wraps, The Healdsburg Tribune states that the news emerged that he had been married to Millette shortly after.
Per The Sunday Post, this revelation did not hurt Harlow's career in any shape or form. She never spoke about Bern's death and she quickly moved on with her life. Harlow married for a third time and later divorced (per SFGate). At the time of her death in 1937, she was dating actor William Powell. The house where Bern killed himself, known as the Harlow/Bern house, still stands at ​9820 Easton Drive in Beverly Hills (via House Beautiful). Eerily, it was later sold to Jay Sebring, who died alongside actress Sharon Tate at the hands of the Manson Family.