Legendary Actor R. Lee Ermey Met His Wife In One Of The Most Unusual Ways Possible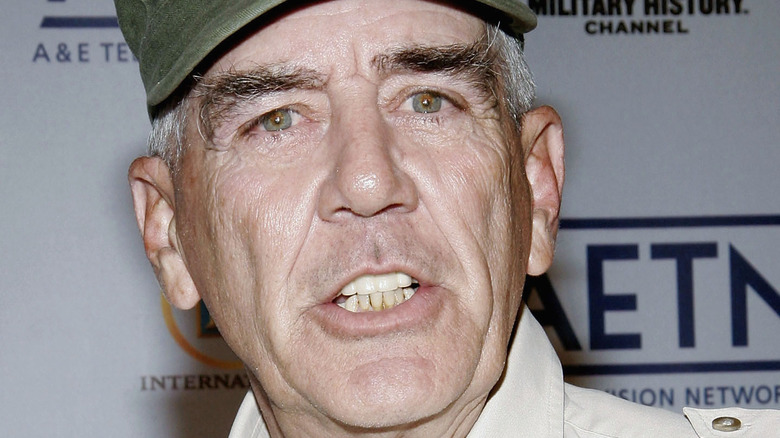 Fernando Leon/Getty Images
Even if you don't immediately recognize his name, there's no doubt that you know who R. Lee Ermey was and have seen him scream down some poor, unsuspecting little soul on a movie screen at one point or another in time. Remember watching all of those big, tough men in "Full Metal Jacket" cower beneath his piercing shouts as he spewed vicious obscenities and brutal insults right into their faces as a Marine instructor? Or how about that ornery old sheriff from "The Texas Chainsaw Massacre" who kept Leatherface tucked away in his basement like some rabid dog? Yeah, that guy.
As an actor, Ermey was more often than not typecast as the angry old timer/unmerciful authority figure with a colossal chip on his shoulder, and it worked well for him. The late "Saving Silverman" star actually spent intensive time in the military as a Marine Corps drill instructor — in fact, about half of his dialogue in "Full Metal Jacket" was improvised, as The Washington Post reports. After his time in the Marines, and prior to his role in Francis Ford Coppola's "Apocalypse Now" in 1979, Ermey was a renegade business owner. That's a whole lot to unpack, but let's take a closer look at that last part, because at the core of it, there's actually an interesting little romantic narrative that resulted in unexpected matrimony (via Entertainment Weekly).
Ermey met his wife after fleeing Japan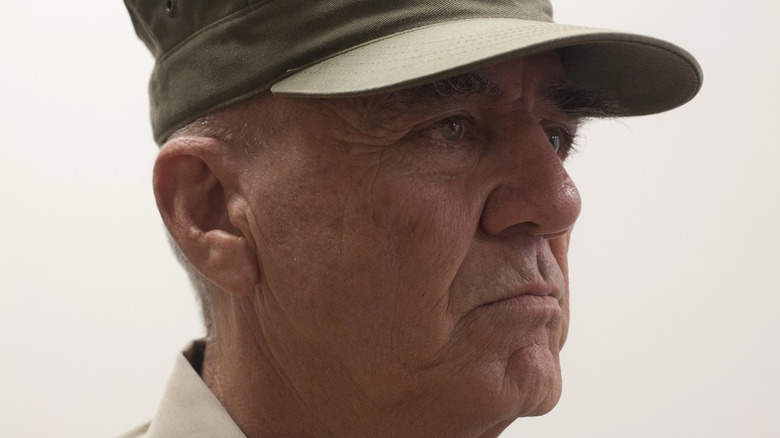 David S. Holloway/Getty Images
"I stumbled into show business when the Vietnam films were starting," Ermey once shared. "After medical retirement from the Corps, I didn't know what to do, so I bought a run-down bar and [brothel] in Okinawa." While it's not entirely orthodox for a retired Marine officer to run an illegal business overseas, you've got to make ends meet somehow, right? Naturally, Japanese authorities took notice of Ermey's endeavors and started keeping a keen eye on his back at all times, as Entertainment Weekly reports. 
"I was doing a little black-marketing and the Okinawan FBI was hot on my trail, so I boogied on out to the Philippines," he went on (per Entertainment Weekly). After fleeing to a new country in search of a fresh start, Ermey enrolled in the University of Manila where he pursued dual studies in Criminology and Drama, as IMDb reports. Shortly after arriving, he met Nila, a 21-year-old Filipino native. They ended up marrying and starting a family (via Inquisitr). 
Ermey's life with Nila
Aleksandar Grozdanovski/Shutterstock
While living in the Philippines with his new wife, R. Lee Ermey started looking into acting prospects and appeared in several films produced by Filipino directors. According to Inquisitr, he caught the eye of Francis Ford Coppola who decided that the former Marine turned actor was a perfect fit for a small role in "Apocalypse Now." Together, Ermey and Nila moved back to the United States and had two children (he fathered two others in a previous marriage, according to IMDb). Despite his on-screen reputation as a mangy, angry old man who had nothing but brutal things to say to his fellow soldiers, Ermey's longtime manager Bill Rogin described him as a "family man, a kind and gentle soul" (via Newsweek).
Ermey and Nila — who earned the nickname "Mrs. Gunny" — stayed married for 43 years. The two even appeared in a reality TV series together in 2009 titled "Locked and Loaded with R. Lee Ermey," though it only aired for one season. R. Lee Ermey died in 2018 after a difficult bout with pneumonia took his life at the age of 74, as Newsweek reports.